Celebrating through wins and losses
Exploring how MVHS sports teams reflect after competitions
On Aug. 24, 2018, the Varsity Football team had its first win in two years, defeating Westmont High School 22-12. This was also Coach Ceazar Agront's first game as head coach. Agront remembers the team "beat the brakes off" Westmont and the locker room filled with energy after the game. To celebrate, the football team went to In-N-Out.  
 For the team, In-N-Out is not only a fast food restaurant that serves burgers, fries and shakes, but is also their go-to for post-game celebrations. According to senior and Football defensive captain Aditya Mishra, these late night excursions to In-N-Out are usually filled with "good vibes." 
Mishra notes that these celebrations are most often tied to a successful game, but to determine whether or not a game is successful, the team does not merely consider the numbers on the scoreboard. Mishra explains that there are many other factors such as physical ones that are outside of the players' control that contribute to the outcome of games.
"Winning and losing doesn't really define what happened [in the game]," Mishra said. "Sometimes a loss [occurs because] the other team [is just] bigger [and] they've had more time [to practice]. There's a lot of stuff that could go on. I think [celebrating] shouldn't matter whether you win or lose."
Agront agrees with Mishra and adds that the dinners at In-N-Out are the players' rewards for "[working] hard [after completing] a week of practice" and also allows them to increase their team chemistry.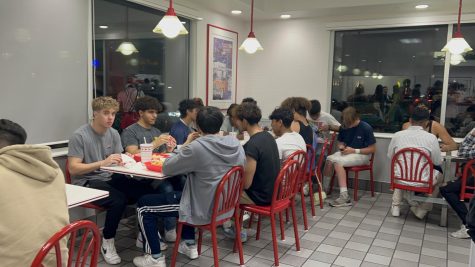 Likewise, sophomore and Varsity Girls Volleyball outside hitter Kiana Mark views the short excursions to boba shops such as Tea Era and Tea Top as a chance to get to know her teammates better off the court. On top of these, Mark says the team also bonds through their end of the game tradition of giving each other compliments. 
"After winning or after any match in general, we like to end with compliments where we say how a certain person did something amazing during the game," Mark said. "[Our head coach Nicki Ezatagha usually] starts off the compliments. She gives off three or four and then lets us finish it off. We'd just keep building on and also talk about how the game went."
While the positive energy at the post-game celebrations mainly comes from the happiness of the team being together, Mishra ultimately says that the motivation of playing at upcoming games and completing future goals helps the team maintain that positive mindset. 
"We have goals for the playoffs," Mishra said. "We have goals for things in the future like to keep that going. [We] just gotta stay hungry about it."
However, at the end of the day, Agront says the best motivation that players receive is neither from the coaches nor from winning games but rather from their peers at school. 
"One thing that we always want to do is try to increase school spirit in general," Agront said. "Come support, get the crowds big and just have a good time. That motivates the student athletes because you guys are their peers, they feel supported by you guys and then they play harder and have more fun. It's a memorable experience that goes with them and probably their peers for the rest of their lives [as well]."