FUHSD's new schedule for 2022-23 school year adopts mandatory delayed start time
Exploring decisions behind the schedule and its response from the community
FUHSD will adopt a new bell schedule for the 2022-23 school year in accordance with the Senate Bill 328 signed by Gov. Gavin Newsom, which requires a mandatory start time of 8:30 a.m. or later for all high schools in California. During the creation of FUHSD's new schedule, Fremont Education Association members spent months gathering data from surveys taken by parents, students and staff to incorporate their opinions into the decision making process.
"We hope that by providing as much advance notice of this change as possible, you and your family will have ample time to prepare ahead of the planned bell schedule change," FUHSD said on its district website. 
As Lead Negotiator for the FEA, History teacher Bonnie Belshe became involved in the process for the new schedule in late November of 2021 when she created a schedule committee at MVHS. At the start of second semester, Belshe began working with FEA President Jason Heskett and FUHSD Lead Negotiator Tom Avvakumovits by visiting the five school sites and listening to what each site's schedule committee had gathered from their surveys. Belshe shares that FEA members from all sites reported that "the number one concern was getting out as early as possible," along with the number of tutorials per week and the time of lunch and teacher collaboration.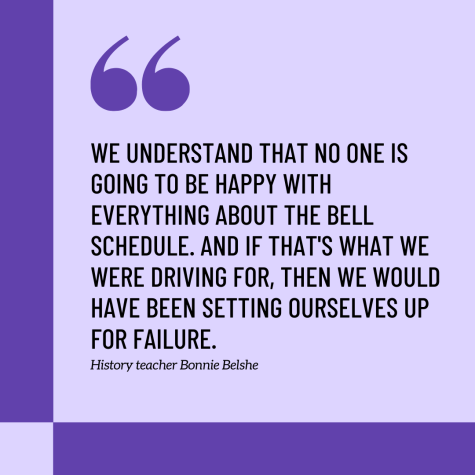 To discuss these concerns, Belshe, Heskett and Avvakumovits organized a larger group meeting where two representatives from each school site were present. Belshe put the results of this meeting in a survey to send to all FEA members to gather more input, which she notes yielded an "incredibly high response rate."
"I actually got more people to care about what's gonna happen with the bell schedule and that's huge," Belshe said. "That also was really important to me, because I wanted to make sure that we were hearing from the voice of as many FEA members as I possibly could get to be a part of responding to the survey, because then it was that survey response that was going to drive for looking at the possible bell schedules." 
The survey results were discussed in another meeting, when members decided on the two finalized bell schedules that would be voted on, one with four block days and the other with two. At this meeting, staff requested that students' input on the number of tutorials per week be taken into account, so a form was sent out regarding the ideal number of tutorials. The results indicate that 89% of FUHSD students prefer three tutorials over two tutorials. Sophomore Varshetha Senthilkumar, who favors three tutorials, appreciates that student opinions were taken into consideration when developing the schedule, since it "gave us a chance to speak."  
After the two different bell schedules up for consideration were sent out, all five FUHSD school sites voted for the schedule with four block days and three tutorial periods. Belshe then presented it to the FUHSD board and announced it to the community. 
"There is no bell schedule that's ever going to make everyone happy," Belshe said. "We were very clear to both ourselves and when talking with people, we understand that no one is going to be happy with everything about the bell schedule. And if that's what we were driving for, then we would have been setting ourselves up for failure from the very beginning. Our focus, my focus in particular, was making sure that FEA members had a say, and we were listening to that survey data in the process as we worked — and that I feel successful with."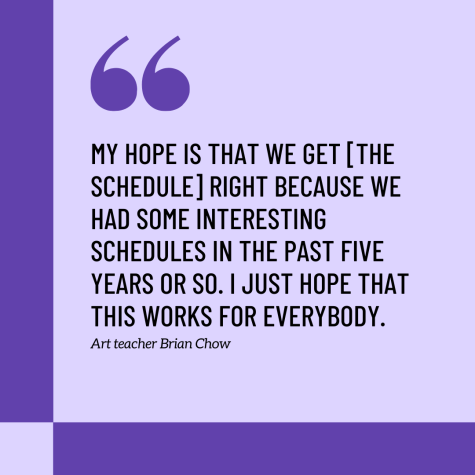 When Art teacher Brian Chow looked over the new schedule, he was pleased that MVHS will continue a four-block week because he believes his curriculum works best with this schedule. However, he recognizes that having lunch later in the day will be "so much more challenging" and wishes that the length of passing periods be "revisited." In spite of this, he agrees with high schools starting at a later time. 
"I think that's the primary reason to change the schedule, in my mind, to improve the learning experience for students," Chow said. "Just knowing that as young people, as teenagers, you need your sleep and rest. I think biologically your body's a little more awake, a little bit more receptive and primed to learn a little bit later in the day, rather than so early in the morning."
Unlike Chow, Senthilkumar says that she is "not that big of a fan of the late start" since it would impact after-school activities like her tennis practices and games. She also explains that because MVHS's tennis courts do not have any lights, she will most likely have to end up missing more class to attend the earlier practices and games. Given the mandatory start time, however, Senthilkumar believes that the schedule is "well thought out." 
Although Chow heard varying student opinions about the later start time, he is hopeful that the new schedule will be beneficial for the community. 
"There's a lot of challenges in creating a schedule that are beyond just putting the timeframes on there," Chow said. "But I think generally, it's a good thing that we're making a change. My hope is that we get it right because we had some interesting schedules in the past five years or so, and the pandemic had different schedules, so I just hope that this works for everybody."