FUHSD implements new bell schedule for 2022-23 school year
Major schedule changes include an 8:30 a.m start and seven periods on Monday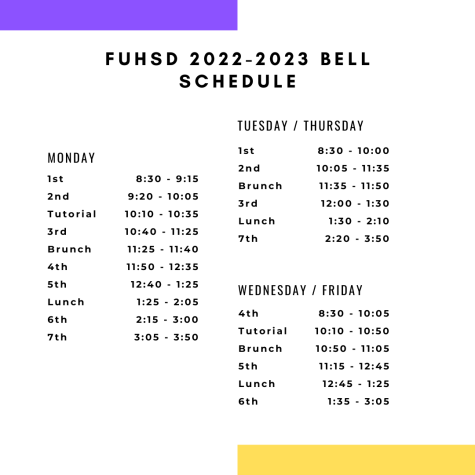 FUHSD will transition to a new bell schedule for the 2022-2023 school year in accordance with Senate Bill 328 which was signed into law by Governor Gavin Newsom in 2019. School will start at 8:30 a.m. every day with all seven periods on Monday and block days on Tuesday through Friday.
There will be three Tutorial periods each week, a decision supported by 56% of Fremont Education Association members and 89% of FUHSD students.
This is the first time in district history that the teachers union voted for the same bell schedule at all five sites. With 94% of MVHS FEA members responding to the ballot, 79% were in favor of four block days over two.