Buying and renting a house in Cupertino
Detailing the process of acquiring property in Cupertino
Located in the pocket of Silicon Valley, the city of Cupertino contains Apple Headquarters, with Facebook and Google only a short drive away. Cupertino was also recently named the most educated population in the U.S. by Dwellics, bolstering its academic reputation.
George Tan, a realtor for the Mary Tan Realty Team, believes that Cupertino is a desirable place to live due to its competitive schools. The team has sold more than 1,500 houses in Cupertino in the past 12 years. 
Senior Nikhil Kaviraja explains how his family moved to Cupertino in the summer of 2014 because the school system in Cupertino was more "rigorous" compared to New Hampshire, where they lived before. Kaviraja's family first rented an apartment before moving into a house for more space. He says it was hard to find a house to rent in the first place because most houses on the market were for sale. 
Tan describes how although the Mary Tan Realty Team's main job is to sell houses, they also help owners who want to rent out property. When showcasing the house to potential tenants, Tan describes how his and his team "get the house ready" through taking photographs and then posting them on rental sites such as Zillow and Craigslist. When inquiries come in, potential renters have to fill out an application which includes getting recommendations from previous landlords. Once a renter is selected, the team then helps set up monthly payments to the landlord.
In Cupertino, Tan sees a lot of people wanting a house on quiet and private streets that are walking distance from schools — for example, houses on Columbus Avenue and Hyannisport Avenue are more desirable since they're near the local elementary school, middle school and high school. Another big factor Tan sees is whether the house can accommodate senior citizens since many buyers live with parents or grandparents who must have their bedroom and bathroom on the first floor.
"[Renters] need help taking care of the kids or they just want to take care of their parents or grandparents," Tan said. "Having a bedroom on the main floor where the elders don't have to go up the stairs every day is a big deal [since they would] be able to walk to either maybe a park or maybe the library. So neighborhoods that are close to De Anza Boulevard are very popular as well because parents can walk to the grocery store, they can walk across the street to the library." 
However, this demand for quality housing that is also close to schools outweighs the supply of available and affordable housing in the city. Junior Abhinav Hemmady's family chose to live in Cupertino specifically for the highly ranked public schools and safe neighborhoods. Hemmady, who rents an apartment, thinks the factors that make Cupertino stand out also contribute to the high prices of houses. However, he still thinks the city is a good place to live.
"I would say compared to a lot of different cities, Cupertino is definitely more towards the safer side," Hemmady said. "And for schools … this is a great ranking, so people want to move their children here … and for elementary schools it's an opportunity. Now that [local elementary schools are] closing down, some people don't want to stay here."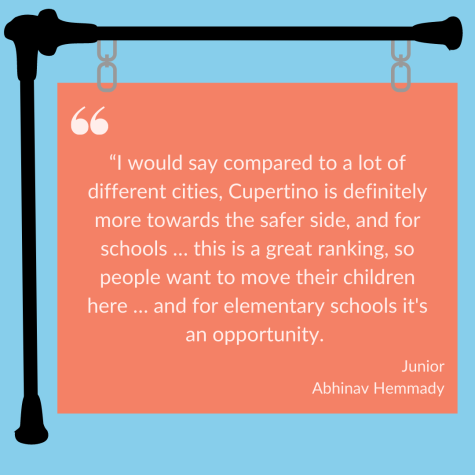 Even though many parents move to Cupertino for educational opportunities for their kids, Tan thinks it's interesting that buyers either have no time to do remodeling or are looking for a "fixer upper," which means that the original condition of the house doesn't matter as much. 
"If houses, let's say, [are] in [their] original condition, then some buyers like that because then they can kind of take the time to remodel themselves, change the floor, put in new kitchen cabinets, countertops, remodel the bathrooms," Tan said. "Some buyers don't have that time and they rather look for newer houses that are ready, either remodeled or brand new houses. There's so many buyers out there right now in this market that any condition of the house will suit a lot of people."