Regnart parents discuss their views
Regnart Elementary School parents share their thoughts on the school closure
The CUSD School Board voted 3-2 on Oct. 14 to close Regnart Elementary after the 2021-22 school year, leading to mixed responses in the residential neighborhood. Since the vote, some parents have been talking among themselves to see if there's anything they can do to stop the closure.
One reason for the closure has been the continued declining enrollment in CUSD schools. Since 2015, the school district has lost 4,900 students and is expected to lose 4,000 more in the next eight years. In a school consolidation FAQ document, CUSD states this trend has been caused by factors such as record low birth rates, high housing costs and "empty nesters" staying in their houses, preventing new families from moving in. 
A tight budget was another driving force behind the district's decision to consolidate schools. Declining enrollment, increased costs for pensions and higher prices have put a strain on CUSD's operating budget, leading to the Board decision to close Regnart, Meyerholz and Muir Elementary Schools. 
Francis Hu, 32, whose son is a third grader at Regnart, finds the news heartbreaking. She doesn't believe that closing schools is a "smart choice", especially since the district "just resumed" in-person classes.
"Our family and our kids have gradually resumed our normal life and normal school life," Hu said. "It's all of a sudden [that] CUSD decided to close our school."
Hu states that her son loves Regnart, and she herself believes the faculty and the organization at the school are beneficial to her child. Her son has many friends at Regnart, so when he heard of its closing, he was devastated too. 
Although Hu feels that the change is sudden, CUSD Board President Jerry Liu says the discussion about closing schools began in 2019, and It was mentioned in public documents. 
"In 2020, we commissioned a Citizens' Advisory Committee. They made a presentation to the board and came back with recommendations to close schools," Liu said. "That's when you probably saw a lot of the 'Save Lincoln' and 'Save Regnart' signs. I would say by October of 2020 you would really have to not be paying attention to know that was happening."
According to Regnart PTA co-president Eunice Peng, CUSD has turned away students in recent years because they limit enrollment to a certain number. As of right now, Regnart has two kindergarten classes with 24 students each.
Peng adds that the "best-sized" elementary schools have three to four classes per grade and that Regnart was not allowed to have three kindergarten classes even though there could've been enough students.
Hu says she is aware of family friends who have been refused enrollment into Regnart due to the capacity limit. She and Peng believe that there are enough families who want to enroll their children in this school to be able to keep up a sustainable capacity. Peng also compares the size of Regnart's population to the size of other Saratoga Elementary School populations and believes that other schools have equally small, but sustainable student populations like that of Regnart.
Local resident Tracy Kosolcharoen, 35, was planning on sending her two preschool-aged children to Regnart and was shocked to hear of its closing. With the new $2.7 billion universal transitional kindergarten bill passed, which expands access to full-day transitional kindergarten programs, Kosolcharoen says it doesn't make sense to close schools since there will need to be more room for the increased number of students.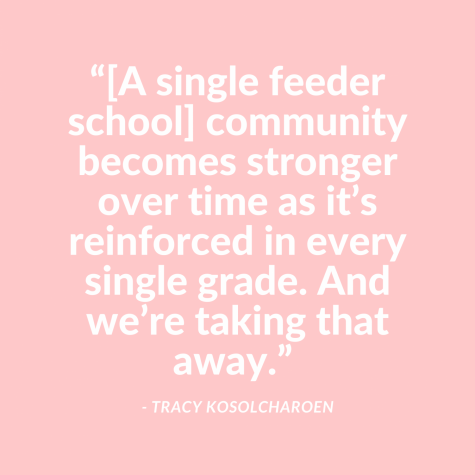 "It seems like we're crowding more kids into fewer schools," Kosolcharoen said. "The CUSD enrollment forecast ignored [universal] pre-K. Even though I'm sure they knew about it, [they] ignored it."
In response, Liu states that the information the Board was given while making the decision to close schools did not have any mention of the universal transitional kindergarten program. CUSD could only predict the number of students coming in after the announcement was made.
"What we were told was [that] they don't expect it to be a huge number — [maybe] a few hundred," Liu said. "[But] that wasn't part of the material in our decision-making process."
Kosolcharoen also notes that closing Regnart affects the MVHS population since most of the kids who go to Regnart Elementary School will eventually attend MVHS. According to her, closing Regnart would result in a loss of a "direct feeder" straight through Kennedy Middle School and into MVHS.
Kosolcharoen says that the two schools Regnart students would be sent to, Lincoln Elementary and Blue Hills Elementary, are split feeder schools — a portion of the kids in these elementary schools go to Lawson Middle School or Kennedy Middle School, and a smaller portion of those kids go to MVHS. According to Kosolcharoen, if Regnart is closed and the students are distributed to Lincoln and Blue Hills, the Monta Vista "feeder system" will be "destabilized a little bit." 
"[A single feeder school] community becomes stronger over time as it's reinforced in every single grade," Kosolcharoen said. "And we're taking that away." 
Additionally, some parents are upset is because of the increased traffic that will result in moving students to other elementary schools within the district. According to Hu, no formal traffic study was done while making the decision to close Regnart despite parents' concerns about the increased congestion that moving to Lincoln Elementary would cause. 
Liu does affirm there was no quantitative traffic study done while making the decision to close schools. While discussing with his colleagues on the board, Liu brought up the question of the traffic around the Lincoln area as well. Liu said he received two answers.
"With the Regnart kids going to Lincoln, we don't expect it to exceed 700 students. At one point, years ago, Lincoln had 700 students. Therefore, it should be OK," Liu said. "The other answer I got was that the district is working with Fremont Union around Monta Vista schedules, and they're working with the city to look at how to mitigate traffic." 
While some parents continue to fight the closure, other parents are not as concerned. April Vicchrilli, whose child is in third grade at Regnart, says that Regnart does not have a very good facility compared to other schools her children have attended. Vicchrilli also feels that, due to statewide declining enrollment in California, it was inevitable that some schools would have to close.
Vicchrilli also notes that having a differing opinion from many other parents in her neighborhood is difficult because it puts her in an "awkward situation" with parents who are outspoken against the school closure.
"The strongest voice is against the closure," Vicchrilli said. "Those [who] aren't against it have to stay quiet. Everyone on [the Whatsapp chat] is hating that the school is closing. So if I come in and say, 'Well, hey, I think it's OK,' everyone's going to hate on me. So I'm just not even going to get involved."
Although Vicchrilli is indifferent to the school closing, she recognizes that CUSD keeping the property under its control is a sign that the board may reopen Regnart if the situation changes in the future. However, both Peng and Hu are concerned about how the closure would affect the friendships that each of their sons made at Regnart.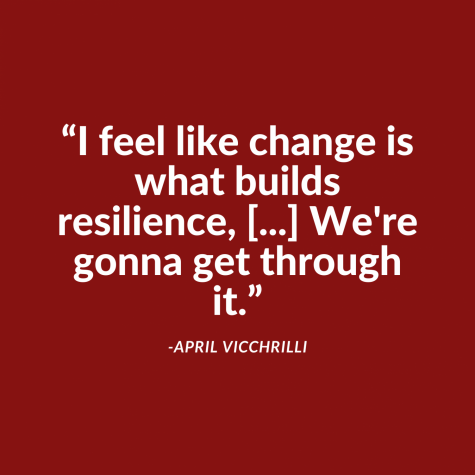 "[My son is] telling me, 'Mom, my best friend is going to try to convince his dad to go to Lincoln, and I'm going to try to convince you to send me to Blue Hills, and we'll just keep working on it until one of you guys can agree so we can be together,'" Peng said. "I just feel like it's such a sad thing for our kids to be going through."
As someone who has already experienced her kids leaving behind friendships in other schools, Vicchrilli is looking to her son to see how he feels about the situation. 
"I feel like change is what builds resilience," Vicchrilli said. "[My child is] not worried about it, so I'm just taking his lead and not worrying about it either. We're gonna get through it."