Back in action
MVHS teacher athletes discuss their journeys through sports
History teacher Hilary Barron was three years old when she first started dance, taking ballet lessons and dabbling in jazz. Her love for the sport carried into high school, when she competed on the dance team, and into college, where she eventually became president of her university's non-competitive dance organization, the Orchesis Dance Company at Cal Poly. After graduating, she worked at Kennedy and Hyde Middle School and ended up connecting with the dance coach at MVHS "who was kind of phasing out." She "[helped] a year as an assistant coach" and took over the program at Monta Vista for about nine years. Ultimately, it was dance that led Barron to teach at MVHS. 
Like Barron, English teacher Megan Choate began dancing at a young age. Choate's experience with dance eventually led her to join cheer in high school. However, Choate says softball was her main sport in her youth, since her parents introduced her to T-ball when she was five.
Guidance counselor Clay Stiver also participated in T-ball at the age of six. In addition to baseball, Stiver dabbled in soccer and competed in YMCA-organized basketball competitions throughout his childhood. When Stiver entered high school, he transitioned to playing basketball for his high school as his main sport. However, Stiver regretted dropping his other sports — therefore, in college, Stiver branched out into playing other sports, such as flag football. Ultimately, however, basketball remained Stiver's main sport and was what Stiver coached when he started working at MVHS.
While Barron, Stiver and Choate enjoy competing in recreational sports, they struggled to continue competitive sports as they took on other commitments in their lives. However, they all found ways to continue their athletic journeys, with Choate choosing to run "casual, not competitive" marathons, Barron taking yoga classes at home and Stiver hitting the gym. According to Barron, as the time she spent on commitments other than sports began to grow, she felt like it was time for her journey as the MVHS dance coach to wrap up and for her to begin a new chapter in her life as a parent and teacher.   
"When I was coaching, we were practicing four days a week after school for two hours a day, plus camps in the summer, plus competition season, which [would take] full Saturdays, so I was just ready to explore other challenges," Barron said. "It's hard coaching, not just the time commitment, but also the emotional commitment of the ins-and-outs and ups-and-downs and troubleshooting all the various things."
Nevertheless, Barron still appreciates the sport — she follows local studios and ballet companies like the New York City Ballet on Instagram, and describes professional dancers as "amazing and inspiring to watch." In addition, her 3-year-old son is currently taking dance lessons and performed in his first recital last year, which Barron finds "wonderful."
Similarly, with "a lot of life stuff happening" when Stiver was about 30, he wanted to take a "little bit of a break" from his five-year coaching career with the Varsity Boys Basketball team. However, according to Stiver, he "eventually would love to get back into coaching," as he enjoys the competitive experience and cherishes the relationships that coaching a team sport brings him.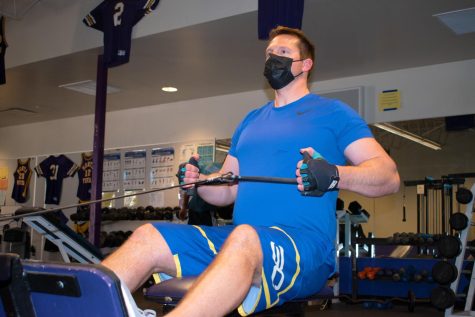 Despite his busy schedule and the fact that he's "not in as good shape as [he] was when [he] was younger," Stiver has found ways to continue his passion for sports. To still enjoy the exhilaration that competing brings him, Stiver started to lift more weights, run miles and play golf to "have some kind of a competition with [himself]."
As for Choate, during the COVID-19 pandemic, she found herself missing physical activity. Since she had always enjoyed running because of the "runner's high" and feeling of accomplishment afterwards, she decided to begin training for a marathon, which she says further helped her "fall in love with the sport of running."
"[The marathon] was really special because it was actually on my birthday," Choate said. "They had canceled it because of COVID, and it got rescheduled to my literal birthday, so it was really special. My best friend ran it with me too. And I had a birthday crown and sash, so everyone was wishing me a happy birthday. It was a really warm, positive experience."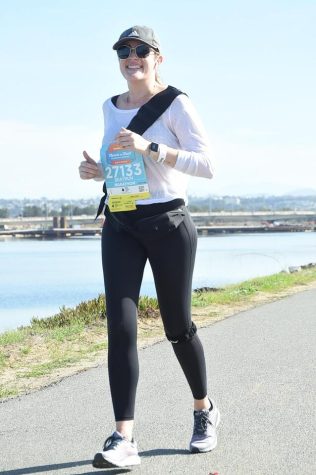 Throughout their childhood and into their adulthood, the relationship that Barron, Choate and Stiver had with sports changed, as seen through their experiences; however, the community that these sports introduced into their lives – whether it's the people Choate met while running, the students Barron worked with at MVHS or the teammates Stiver played with in his high school basketball career – has been an unchanging factor that influences their passion to continue sports.
"In high school, it was a way to just be involved at school," Choate said. "I think that [sports]  help make the high school experience special, just the community of friends that come with that and peers who are enjoying the same thing. Now as an adult, and moving into running, it's more of something that is self-fulfilling for me. But when I want to seek that community aspect, it's great doing things like a marathon or half marathon … sharing in moments where we're all individual runners, but we come together to do a race."