Cupertino Citizens serving through Neighborhood Watch
Exploring how civilians help law enforcement work towards a safer neighborhood
The United States National Neighborhood Watch, a nationwide crime prevention program, serves  as a network of civilian eyes and ears for law enforcement and has been integrated into Cupertino since  1972. The Watch consists almost entirely of resident volunteers who work as part of a web of participants in their immediate area to quickly and accurately notify authorities if something is amiss.
Cupertino Emergency Manager Thomas Chin, who coordinates responses in the event of emergencies and disasters in Cupertino, explains that the Cupertino Neighborhood Watch has a unique responsibility since Cupertino does not have access to its own designated police force or fire department. 
"We take those services that are provided by arrangement for the fire district or through a contract with the sheriff," Chin said. "Individuals that live in [our] community and businesses have a little bit [of a] different role here in our city because of that arrangement. And because of that, we want to make sure that we are able to utilize everybody and their eyes and ears for the community in an emergency and on a day-to-day basis."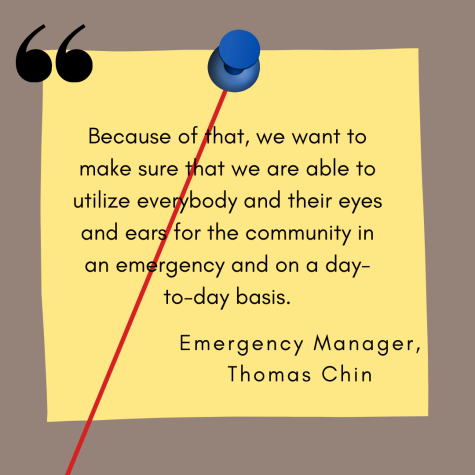 Citizen Corps Coordinator Kenneth Ericksen says that because of Cupertino's lack of a designated law enforcement force, the Cupertino Neighborhood Watch made changes to get more "integrated into the city" and use volunteers and block leaders to "coordinate information going in and out." The Cupertino Neighborhood Watch's neighborhood zones can be found at here. 
Cupertino Neighborhood Watch block leader Hillary Farkas has been a part of her Neighborhood Watch since late 1980, which was around the time that the City of Cupertino had just begun sponsoring the Neighborhood Watch program locally. Farkas explains that for her street, the Cupertino Neighborhood Watch began as a regular block party. 
"Sometime between the late 1980s or early 1990s, on a cold and dark December night, three homes on another adjacent street, Scotland, were burglarized," Farkas said. "On that same night, a house on Stelling Ave. was broken into [while] a young teen remained at home. She had the presence of mind to understand what was happening, locked herself into the bedroom and called her parents, who in turn called the sheriff. The robbers heard the sirens and got away. After that, the other four streets joined us in Neighborhood Watch, and since all the street names come from areas and places in Scotland, the city dubbed us the Highlander Neighborhood."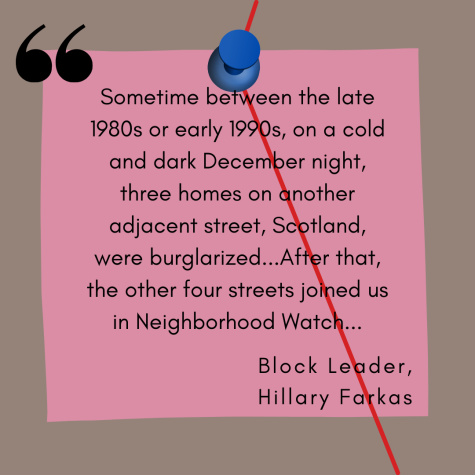 The events that sparked the Highlander Neighborhood led to the current Cupertino Neighborhood Watch, and Farkas became a Neighborhood Watch coordinator during this time. Neighborhood Watch Block Leaders generally serve as a verbal or written link between the City and the civilians of their block. They meet throughout the year with their block and maintain a good community with events such as National Nights Out. Chin says that the Neighborhood Watch is for all levels of commitments, and there aren't necessary responsibilities like patrolling their neighborhood. 
"You can be a neighborhood watch member and only receive emails if that's your level of interest," Chin said. "If you want to be a builder of neighborhood watch programs in our community, we're happy to help facilitate that too. This is really a community Grown program. And we need engaged members of our community to be a part of it."