Karen Maleski's life of learning
MVHS alum and current long-term substitute reflects on her past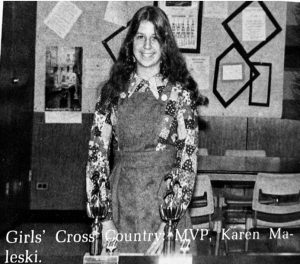 Karen Maleski's fascination with literature began at a young age when she picked up books her mother left on the coffee table. Maleski became enamored with novels — including "The Jungle," "The Member of the Wedding" and "My Name is Asher Lev"— even though they were meant for adults. Nowadays she is a long-term substitute for three classes in the English Department through the end of the 2021-2022 school year.
Maleski became the long-term substitute for Stacey Cler's classes in September after applying for the position at the end of August. She initially joined believing Cler would return after a few weeks. However, Cler passed away on Nov. 1, and seeing that the students she was substituting for needed a teacher, Maleski took up the substitute role for the rest of the year.
Maleski is returning to MVHS as she grew up in Cupertino and attended the school in the late 70s, distinguished by Rock and Roll music at lunch and smoking areas on campus. Although she was a self-described "middle-of-the-road student," Maleski adored school. Her fondest high school memories are from the back-to-school season.
"I liked fall because we would come back [to school] and there would be [the] marching band, and there was a cannery down in Sunnyvale that used to stew tomatoes," Maleski said. "It just felt like the beginning of the school year, with a new year, new friends and the smell of stewed tomatoes."
In high school, Maleski filled her schedule with extracurriculars. Every season, she was on a sports team, participated in softball outside of school, was part of the local drum corps and played two instruments.
In terms of academics, Maleski enjoyed taking a variety of classes. Some of her favorite classes included a film literature elective where students "made films, studied films and watched films," band with the young and energetic Mr. John Galli and a geometry class featuring a textbook packed to the brim with funny cartoons. 
Maleski graduated in 1979 and then attended UC Davis to major in computer science. After earning a degree, she became a software engineer for 15 years. Maleski then left her job, later leading her into substitute teaching.
"I took over mother responsibilities in my household, and so I did a lot of part-time jobs," Maleski said. "[As my daughter] got older, I started working in the schools. The first time I worked in a school was in Plumas County as an aide in the mountains. I then worked with students who were in continuation school. When my daughter began high school, she went to Homestead, and I became a substitute at the community [college] over there, near the district office."
Maleski said she enjoyed substitute teaching and primarily substituted for STEM teachers in classes like Biology and Precalculus. In addition to substitute teaching, Maleski spent spare time studying for a master's degree in biology.
Despite having a bachelor's degree in computer science and in the process of earning a master's degree in Biology, Maleski's childhood love for literature never waned. According to Maleski, she was a Shakespeare fanatic in high school and while in college, was buried in Bradbury's novels. One of her favorite hobbies to this day is visiting the library. Her passion for reading was the deciding factor in her decision to commit to being a long-term substitute in the English department this year.
Maleski finds that the MVHS community, especially her fellow English department teachers,  was extremely welcoming and helped her transition into her first long-term teaching role. 
"They made all my lesson plans," Maleski said. "They meet with me as often as they can and send me everything that they are doing in their classes. If they have handouts, assignments or materials, they ensure that I have access to everything. I have three different curriculums, and I didn't know that this was what it would be like before I started. Every single one of them takes time to support my curriculum, which has just been really amazing."
Halfway through the school year, Maleski relishes her time back at MVHS. While much has changed since her time at the school four decades ago, one thing that has stayed the same is Maleski's devotion to education.
"[My favorite part of teaching are] the students," Maleski said. "Sometimes you get tired waking up at five o'clock in the morning or at night when you've been grading; you're feeling old, and you're thinking you would rather just be gardening right now. Then you go to class, and the energy is contagious, and it gives you happy energy [because of the] young people in the room. They're easy-smiling and easy-laughing and, I'm just going to say it, adorable, to someone my age."