RoundUp returns to FUHSD campuses
Examining the use of the herbicide RoundUp at MVHS
"Anger, betrayal and concern for the health and safety of students and staff," was what English teacher Kate Evard thought when she first saw signs that MVHS was reapplying the herbicide RoundUp.
RoundUp is a broad spectrum herbicide meant to control weeds in areas where it is applied. Despite the International Agency for Research on Cancer deeming RoundUp's active ingredient Glyphosate "probably carcinogenic," other evaluations, including one by the Environmental Protection Agency have found that there are "no risks to human health." However, more than 124,000 lawsuits have been filed against Monsanto, the company that owns RoundUp and billions of dollars have been spent to settle the claims.
Evard informed MVHS principal Ben Clausnitzer of reports that RoundUp could be linked to increased risks of cancer and Monsanto's history of liability in lawsuits. 
"As is often the case, I'm not as worried about myself as I am people of reproductive age or pre-reproductive age, and I do have colleagues who are pregnant or nursing," Evard said. "And it just doesn't make sense to me to use something like that when it's known to cause harm."
According to Evard, she was later informed in either an FUHSD board meeting or from Clausnitzer that RoundUp would no longer be used on the FUHSD campuses. 
"I was surprised how easy it was for [RoundUp] to be removed," Evard said. "To be taken care of by the board, it was like, 'Wow, good job' because it had already been banned in so many [other] institutions … so I was really amazed that it happened [so quickly]."
However, RoundUp was never officially banned from FUHSD or its campuses. In a previous story for El Estoque, FUHSD Associate Superintendent Christine Mallery stated that RoundUp usage had merely been suspended. Due to the COVID-19 pandemic, Evard says the issue went "off her radar." After returning to school, however, she saw the same signs that she had seen in 2019, indicating that Roundup was being used on campus.
MVHS Facilities Manager Eddy Medal confirmed that MVHS and all other district sites are using RoundUp again. In the interim, FUHSD spent over six months piloting the usage of alternate pest control to RoundUp, including the usage of steam machines. However, Medal says that other measures were "not very reactive." 
"There's a lot of people that have concerns about [RoundUp] and maybe there's different methods," Medal said. "I've tried a ton of them. I come from Santa Clara University, where we went through the same thing. We tried to find different ways to go around [and] eradicate weeds, and it's a really hard process because weeds are relentless."  
Facilities director Erik Walukiewicz says that there are some downsides to the alternatives to RoundUp. He notes that using line trimmers or weed wackers, which are often brought up as an alternative to chemical control, are just as, if not more, dangerous.
"There are drawbacks with using [line trimmers] because we need to have a little line trimmer going at a couple thousand RPMs," Walukiewicz said. "Hit a rock and then the rock will go flying through a window. We've cracked windows and things using the line trimmers, so that's actually very unsafe to have around kids."
Walukiewicz adds that alternative weed control "wasn't a cost effective or feasible solution," and that groundskeepers at the sites wanted to use RoundUp again after difficulties controlling weeds. 
Despite the difficulty of eradicating weeds, Evard believes that the safety of the community and even the environment are in jeopardy with the use of RoundUp.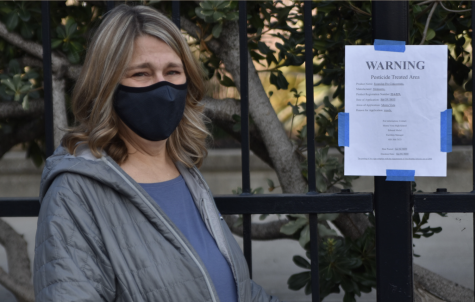 "I was brought up in a very environmentally conscious family," Evard said. "We didn't use that stuff, especially when we found out what and how damaging it is to human health and also animals. It runs off, it goes into creeks and it goes into the ocean. It doesn't just go away."
Medal admits that RoundUp can be dangerous and the fact that it has been used on school sites like MVHS "makes a lot of people paranoid or scared." However, he notes that RoundUp has been approved by the state and is similar to any other chemical product: if used correctly, it is perfectly safe, but if used improperly, it can become dangerous.
"It's not something to play around with just like your household chemicals," Medal said. "You don't use [household chemicals] improperly because it can be dangerous. Just the same as any other product." 
FUHSD follows the California Healthy Schools Act, which requires 24 hour prior notice to pesticide treated areas and 72 hours post notice. In addition to the posting requirements, all FUHSD staff, including teachers, are required to take an annual class about Health and Safety in the Workforce. District employees spraying RoundUp must also wear protective equipment and are trained in its specific potencies.
Medal says that MVHS doesn't "use [RoundUp] in high traffic areas" with many students, such as the Student Union and in areas near the Rally Court. In these areas, groundskeepers pull out weeds individually. For added precautions, the district doesn't spray on extremely windy days or during school hours when students are on campus.
RoundUp is part of FUHSD's Integrated Pest Management (IPM) system. APES teacher Kyle Jones explains that an IPM "is a way to deal with pests where you sort of start with less invasive, less chemical methods to deal with pests." Jones believes that using IPM is the most effective way against pests and says that the strategy "would probably be what I would go for." He describes not heavily relying on RoundUp but also not banning it as a "reasonable compromise."
According to data submitted to the Department of Pesticide Regulation, MVHS used RoundUp nine times in 2021. All nine applications were applied in the location designated "Landscape (outdoors)." 
Walukiewicz says that he would feel safe spraying or being around RoundUp areas and that the proper safety measures are being used.
"I've got three daughters," Walukiewicz said. "I trust them at their schools with RoundUp [and] their schools use RoundUp. I have no problems with it if it's used properly and people are trained. We've never had any employees have issues with using RoundUp. People are safe."
Despite how Medal and Walukiewicz are both reassured regarding the safety of using RoundUp, Evard believes that using RoundUp is unsafe and that the detriments outweigh the benefits.
"I just don't believe that we should be using any kind of chemical like that around children, adults [or] anyone in the community," Evard said. "There are numerous school districts and other organizations in the country that have banned its use and I don't know why we don't do the same. The manufacturer, of course, wants us to believe that it's safe, but there are plenty of cases where it has been proven that it is harmful and causes cancer. And I don't know why we're taking that risk. It sends a bad message to the community."