'Dawn FM' flawlessly captures a new era of redemption and realization
The Weeknd pushes the boundaries by releasing one of the most well-polished albums of 2022
"You are now listening to 103.5 Dawn FM / You've been in the dark for way too long / It's time to walk into the light" — Dawn FM
"Dawn FM" is the 5th studio album released by Canadian singer-songwriter, The Weeknd, real name Abel Tesfaye. After Tesfaye gained rapid recognition for his chart-breaking album, "After Hours," fans developed high expectations for his next album. Nonetheless, "Dawn FM" delivered, with a star studded track list that includes collaborations with Tyler, The Creator, Lil Wayne and Jim Carrey. Along with producers Max Martin, Calvin Harris, Swedish House Mafia and more, "Dawn FM" puts forth a strong team of talented artists, all set on bringing Tesfaye's twisted story to life.
One of the main contributors to its success is that "Dawn FM" is a cavernous album that provides listeners with a safe space to reside in. The euphoric disco vibes and Tesfaye's anti-hero appearance thrill listeners as they follow each new era of tear-jerking self awareness that he presents. As his cinematic story unfolds, Tesfaye stays true to the picture that his past albums created of a man who has sinned. However, "Dawn FM" finally allows Tesfaye to reflect on his past actions and to embrace his previous mistakes.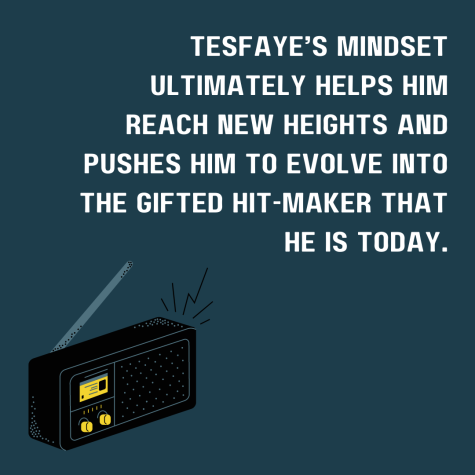 Starting off with an EDM, dance-pop song, "Sacrifice" is a loose summary of the Weeknd's rise to stardom. Tesfaye croons about the decisions he's made thus far, and reflects on how they've affected his life. "Sacrifice" offers verses that emphasize the importance of boundaries and the struggles people feel in committing to relationships. Its blatant lyrics and catchy melody make it one of the most popular songs on the album, destined for mainstream radio. Contrary to the popular idea that partners should make sacrifices in the name of love, Tesfaye offers an alternate message — "I don't wanna sacrifice / But I love my time." This showcases his realistic ideals of prioritizing his time and music over his lover. Tesfaye's mindset ultimately helps him reach new heights and pushes him to evolve into the gifted hit-maker that he is today.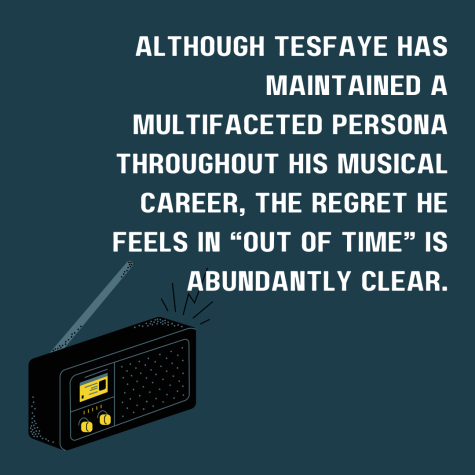 Tesfaye's willingness to push the boundaries of modern music allowed him to include a sample of Japanese city pop song "Tomoko Aran" at the beginning of "Out of Time" which serves as a beautiful transition into a wistful ballad full of yearning. "Out of Time" sends listeners back in time with a glimmering 80's-inspired beat and woeful lyrics that explain how the trauma in Tesfaye's life ruins his relationships with others. Although Tesfaye has maintained a multifaceted persona throughout his musical career, the regret he feels in "Out of Time" is abundantly clear. Tesfaye's self-reflection pushes listeners to follow suit and "Dawn FM" continues to explain the imperfect lifestyles that many people live.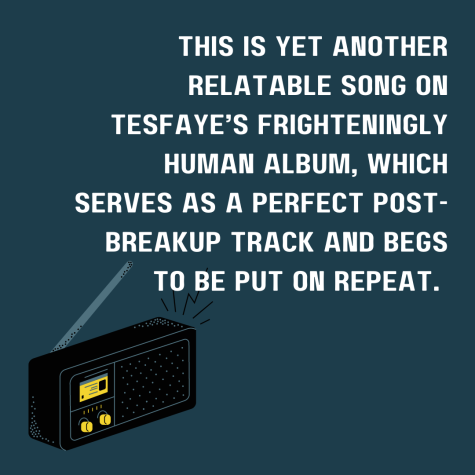 "Less Than Zero" perfectly portrays the yearning that Tesfaye feels for a previous lover. His suave voice and the indie rock beats create a flawless blend of familiar nostalgia. On this penultimate track, Tesfaye starts to reveal his own feelings and shares that his inability to open up causes lasting issues with those he cares for. This is yet another relatable song on Tesfaye's frighteningly human album, which serves as a perfect post-breakup track and begs to be put on repeat. "Less Than Zero" is an ode to self-loathing and hopelessness, which is a recurring theme throughout Tesfaye's albums.
While there are many hits on Tesfaye's 51 minute album, "Here We Go … Again" is one of the few songs that fall short and serves as a minor let down. When two of the most influential Alternative R&B artists (Tesfaye and Tyler, The Creator) come together to collaborate, expectations are elevated. However, "Here We Go … Again" barely surpasses these presumptions with its disoriented, repetitive lyrics. The only thing that manages to salvage the lyrical mess is the beautiful fusion of Tesfaye's angelic voice and Tyler, The Creator's baritone sound. 
"Dawn FM" is a 16-song album that infuses new artistic styles with Tesfaye's popular falsettos. Tesfaye outdid himself with "Dawn FM," not only by setting the bar high for upcoming music in 2022, but also by showing off his gifted story-telling abilities. Few albums are able to impact listeners at such a deep level, while bringing them through all stages of life — the past, the present and the future. Tesfaye's soothing voice helps listeners escape from the dark throes of life while simultaneously spreading the message that dawn is coming.
Rating: 4/5