Letter of recommendation season is here
Exploring the process of requesting and fulfilling this important aspect of one's college application
With most college applications being due between November and January, many teachers have been confronted with an onslaught of requests for letters of recommendation from seniors. In order to prepare, English teacher Shozo Shimazaki writes a draft letter for each student who requested a letter before the end of the previous school year. One source of support Shimazaki finds helpful for his LOR process are resources like release time and financial support (for every 10 recommendation letters) supplied by the district, particularly as the deadlines of college applications have become digital.
"I remember when I first started getting lots of letter requests, it was before the digital age," Shimazaki said. "And I remember that the main deadline was Jan. 1, [so] most of my holiday vacation was writing out all these letters … I had this huge stack. But now, that date is Nov. 1, so it just makes everything compact."
But even before that stack of letter requests appear on teacher desks, seniors must confront the challenge of choosing which teachers to ask. Senior Jayden Lee moved to MVHS from Fremont High School his sophomore year, and therefore focused on asking his sophomore and junior year teachers for letters of recommendation. During remote learning, he found it difficult to get to know teachers.
"It's hard to engage when it's online," Lee said. "So unless you were talking a lot in online school, which there were a few opportunities obviously, then it was even harder to get [to know teachers]."
Likewise, Shimazaki has heard from counselors that seniors might be asking more sophomore teachers for letters because of remote learning.
On the other hand, senior Sotirios Kougiouris knows people who only want to ask their teachers from in-person learning, because they found it hard to stay in touch with previous teachers.
"I know a lot of kids [who are] kind of became stuck with only asking teachers they'd had during online learning because their previous teachers were all in person," Kougiouris said. "It's not like they could go visit them or anything. It felt kind of weird asking."
In spite of the challenges, Shimazaki enjoys writing letters of recommendation because it gives him the opportunity to focus on his students and comment on them outside of their academics.
"I can give a snapshot of [them] as a person, as a human being, how they're concerned for others, how they treat each other," Shimazaki said. "The other part though is that students will come back, and if they feel like my letter was helpful in getting into a school, obviously their joy is partly my joy. So that's awesome."
About the Contributor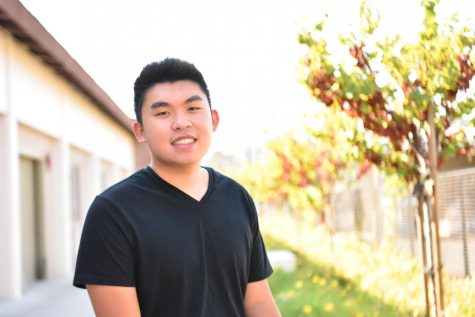 Gavin Hung, Website Editor
Gavin is currently a senior and a second year staff writer for El Estoque. In his free time, he enjoys watching short films and documentaries, spending time with his family and walking his dog, Milo, who is always looking for a treat.