Counseling department starts the year with two vacancies
Students' and administration's reactions to staffing changes
With the new school year and a return to in person learning, MVHS administration reported in an email that members of the guidance team will be departing from the school due to varying circumstances.
Guidance Counselor Monique Balentine, who advises students last names A — GOU, is on maternity leave for the first semester. Jessica Coscia, who was counselor for last names GOV — L until 2021, moved to Massachusetts with her family. College and Career Counselor McKenna Parfet also took a job as a guidance counselor at Valley Christian in San Jose. 
One of the three openings has been filled — former Fremont High School Assistant Principal Secretary Mary Depew is the new College and Career Advisor. However, neither of the guidance counselor positions have been filled yet, with initial interviews occurring on Aug. 3. 
No candidates from the interviews accepted a job at MVHS, and a second round of interviews was held on Aug. 17. 
Senior Ojas Karnavat, a former member of the School Site Council, grew close to Coscia during his sophomore year when he worked with the council with her. From this, their relationship grew and Karnavat began going to her for advice on "basically anything," from academic to personal issues. 
After a conversation in which Coscia described the effort that staff members put into  developing student schedules, Karnavat was inspired to take on a summer project automating the course selection process as a product for schools to implement.
"I remember she casually mentioned, 'If you could build that, that would be great,'" Karnavat said. "That was the initial inspiration for [what] I've been doing over the summer. It has evolved a lot but it came out of that conversation with her."
When Karnavat found out Coscia was leaving, he was surprised and wished he had the opportunity to talk to her more about his updates on the project.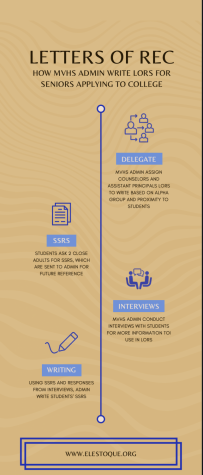 Senior Suryaansh Dongre, who has Balentine as his counselor, said he was not surprised at the turnover rate of counselors as he believes MVHS wears on their mental health.
"The counselors were always a mainstay of my high school experience," Dongre said. "They were always there even though I never really utilized them that much."
Dongre doesn't feel as impacted by Balentine's leave but knows that his letter of recommendation will now come from someone who knows him even less.
Clausnitzer explains that while guidance counselors provide advice to students about mental health challenges and course selection, they are also involved in the process of writing letters of recommendation for seniors applying to colleges.
When applying to colleges, seniors are often required to submit one to three letters of recommendation — at least one from teachers of their choice and one from a member of the school administration or guidance teams. The third writer may be a guidance counselor, assistant principal or Clausnitzer himself.
In order to write a student's letter, counselors and admin receive two secondary school reports (SSR), which are forms filled out by two MVHS staff members of the student's choice; then they conduct an interview to get to know the person a bit better before writing the letter of recommendation. 
Principal Ben Clausnitzer believes it will be "challenging for the folks that are new" to write personalized recommendation letters for students that they may not have met, but he thinks that after a new counselor and long-term sub counselor are hired, they will be able to handle the workload.
"There's certainly that challenge of sitting down, making sure to read information about the student and meeting the student," Clausnitzer said. "But there are nine of us writing [letters], so we'll make sure we catch up with [our two new staff members]."
Due to his lack of interaction with the counselors, Dongre expresses little concern about the quality of his third recommendation letter. 
"I honestly think [my] new counselor is going to have the same frame of reference as Ms. Balentine, since I didn't interact with her much," Dongre said. "My GPA, my extracurriculars, things like that — that's what [the new counselor is] going to have access to. I feel like their [letter] will be the same quality as Ms. Balentine's if she were the one writing it."
Karnavat feels mildly concerned at Coscia's departure, but intends to build a close relationship with the new counselor. 
"I'm a little worried about it, but I think I'll figure it out," Karnavat said. "I haven't entirely processed what [Coscia's departure] means, the implications for me, so maybe this will change in the coming weeks, but for now, I think I'll [be alright]."