MV Drama's virtual spring musical
Reviewing the spring production of "Bright Star"
From May 6 through 9, community members can watch the video of MV Drama's spring musical, "Bright Star." With a runtime of an hour and 15 minutes, the musical follows Alice Murphy at two different points in her life — once at 17, growing up in a small town and once at 37, where she works as a magazine editor. During her teen years, Alice meets and falls in love with Jimmy Ray Dobbs and they become teen parents; however, through difficult circumstances, the three get separated until they are reunited 20 years later.
Auditions were announced on Dec. 18 and due to COVID-19, many aspects of production were altered. One of the most noticeable differences was the masks actors were required to wear during in person filming. Rehearsals began on Zoom with cast members separately recording their lines and choreography. Scenes were then edited together by Drama members and staff, including director Hannah Gould. Since the musical was filmed in parts, actors were not able to see the completed play until it was released. For many actors, seeing the completed production gave them a chance to reflect on the unique process.
"I wouldn't say this was easy to pull off just because of all the different settings we were in, online and in person," junior and member of chorus Ivy Wang said. "As a junior, I don't always have that much time to focus on extracurriculars anymore but [this musical] took all of my attention and effort, and I feel like it was a chance for me to express myself. When I joined the 'Bright Star' performance, we all worked hard to make it work and I think it went really well."
Sophomore Maggie Yang, who plays Alice Murphy's mother, Mama Murphy, also shares how the role was both intriguing and challenging as a sophomore who is not familiar with motherhood.
"Playing Mama Murphy turned out to be a really fun role to play because I essentially had to think like a strict mom," Yang said. "I've always been on the receiving end of a mother's care so it [was] definitely a new experience that got me thinking about how mothers need to act to influence their children as Mama Murphy does for her daughter. It was a new family and cultural dynamic that I had the opportunity to test out through the production."
Junior Ronit Avalani similarly had many aspects of his character, Jimmy Ray Dobbs, to learn and rehearse. Avalani's preparation included dialect coaching, emotionally connecting with his character and even throwing a heavy backpack full of books to replicate the idea of throwing a baby in order to understand the feeling of losing a child. "So there were two aspects of my personality," Avalani said. "I have to learn about the compassion, learn about the flirtatiousness that is required to play my character but then the second half, I go into more of a somber but also reflective [character] and I guess mature in a way. The change between that is something I had to study a lot, because there was a very drastic change in terms of script, so embodying the lines was very different and difficult for me to do at the beginning, but I feel like I got the hang of it as I went along."
While Yang and Avalani worked on developing their roles, sophomore Jiya Singh, who played the young protagonist Alice Murphy, recognized how much this particular production resonated deeply with her passion for singing and acting.
"Playing Alice kind of reminds me of exactly why I love performing," Singh said. "It's so exhilarating performing for an audience watching and relying on you to take them through an entire story start to finish. But it's more than that — acting gives me this sense of comfort by playing [a] fictional character who can be completely different from yourself because it's hard enough to be yourself. But playing another personality as someone else is so interesting as you learn all their little quirks and cultural differences."
Wang also believes that the musical's success was not only due to the contributions of the actors, but also the support of the Choir and advanced Dance teams who trained actors in music and choreography. As a dancer, guitarist and chorus singer, junior Ivy Wang held a different, but crucial part of producing a musical.
"I felt like one of the busiest members there [because] I had to run across the stage and then break out into song and keep my voice steady, which was much more tiring than it looks," Wang said. "And our script was no joke, it was about 86 pages long and a lot of my friends had trouble memorizing the lines since doing [a musical] online can sometimes make you lazy if you're not paying attention. But I think even with all the pressure, in the end, it's always worth it to perform."
Despite the Drama members' mixed feelings of excitement and nervousness, Avalani found this unique experience to be invaluable, especially the social aspects of working behind the scenes with actors and choir members.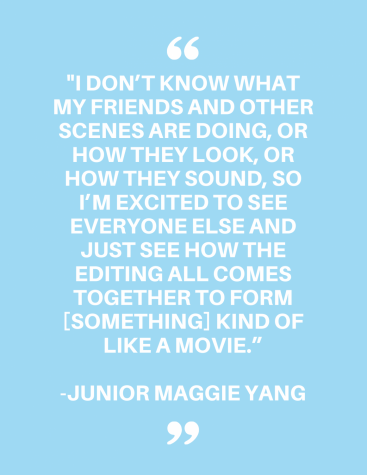 "I think my favorite part of production was, honestly, meeting new people," Avalani said. "Getting to know them through rehearsal [and] laughing when [someone] made mistakes would be funny during rehearsal. We definitely kept it completely safe because of restrictions because of COVID-19. And what continued to motivate us was saying, 'Oh, we made a mistake but that's OK because we will try again and get this right' and because of that never-give-up mindset, we were able to make it a success."
With the official release of "Bright Star," Yang describes how she is feeling knowing that the musical will now be available for the community to view the story of Alice and how watching herself live makes her feel.
"I'm super excited about the production coming out but at the same time I'm nervous, because people are gonna see me, and they can rewind as many times [as they want]," Yang said. "And that's kind of scary, personally, but generally, I'm really excited because instead of how normal shows are, you get to see the whole process come together and that was one thing that was missing. So I don't know what my friends and other scenes are doing, or how they look, or how they sound, so I'm excited to see everyone else and just see how the editing all comes together to form [something] kind of like a movie."