Ode to libraries
How my book-filled room has helped me reminisce about the library environment
A
s a self-identified introvert, the library was my salvation, my lifeline. It's a location where I'll never be bothered and it's virtually criminal to make loud noises. I don't think I've ever missed a month at the library since I was five. The saying of my head being up in the clouds embodied me perfectly at the library.
So many of my fondest memories are associated with my time spent in libraries. Upon walking into the library as an eight year old, I would hold my mother's hand as I peered curiously at the vibrant fish in the Cupertino Library's quaint aquarium. As it was time to leave, I would complain as I still had piles of books left to read. Even more recently, I still hold onto memories from my sophomore year literature class with my infomercial group. Doing ridiculous accents and having the most ridiculous fails for the easiest scenes was one of the moments I should have cherished before quarantine.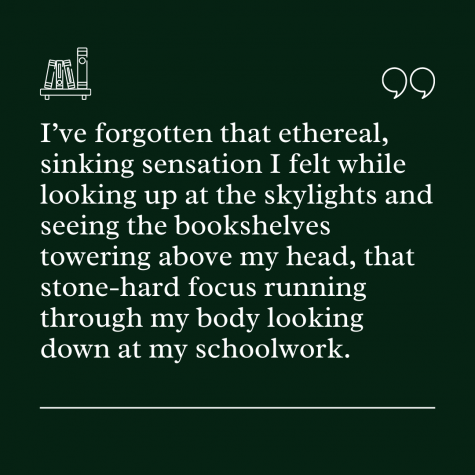 Nowadays, it feels like it's been a millennium of social distancing and Zoom calls. Has it really been more than a year since I've been in my corner at Los Altos Library? I've forgotten that ethereal, sinking sensation I felt while looking up at the skylights and seeing the bookshelves towering above my head, that stone-hard focus running through my body looking down at my schoolwork.
When I try to recreate that perfect haven of studying through quarantine, I fail miserably. Like eating cereal with a fork, all I grasp are laments and echoes. Fragments of the comfortable, enveloping feeling of a leather cushioned chair, the silent, yet not silent atmosphere of the library, and the relief of my problems disappearing as I wander through the bookshelves all flash through my mind.
Once I took a moment of self-reflection, I realized my inability to function asynchronously leads back to my library withdrawal. Nothing else seems to push me to work than the library. A virtual study session with friends? I'm muting myself and turning off my camera two minutes in. Taking notes at the dining table with my parents' cooking as background noise? Count me out. There was an inherent serenity in all libraries that flicks a switch within me, allowing me to truly relax.
There's so much about libraries that adds the missing pieces that fit my puzzle. Is it the peaceful, yet energetic environment? The assurance that I will not be bothered and instead left alone to my studies? The constant fear of the notion that all eyes could turn to me at the slightest noise? Does the pressure force me to commit all parts of my body toward the task at hand?
Looking back, I've noticed that the void of libraries is apparent in my daily quarantine life. I continue to drift around my home for the perfect study spot like some lost ship looking for its destination, and subconsciously try to create some rudimentary library studying environments within my house. I've agonized at the constantly noisy dining table, watched papers fly away in the piercing wind outside and even isolated myself in my dusty garage.
My best attempt was my bedroom. Perhaps it was the large amount of books on my shelves and the large window with sunlight streaming in that reminded me of Cupertino Library's bookshelves, as well as the warmth of the sun through its windows. I can't replicate the quiet murmurings of the library's background, but the RnB playlist reminds me of the tranquil emotions I associate with libraries.
To be frank, no matter how desperate I am, I can't blind myself into thinking that my room is the library, though it's not all that bad. My air purifier's constant stream of fresh air and the faint woody smell of my book collection remind me of the pleasant aroma of the library. Glancing down at the pile of textbooks at the front of my desk puts me back in my study niche with a comfortable chair underneath me and study material laid out in a neat stack.
Yes, I want to see my friends again. Yes, this mask chafes my ears. Yes, Zoom school sucks. But these are all backseat priorities to me. If I'm being honest, this pandemic has made me realize how desperately I need the library. My bedroom may not be perfect, and will definitely fail to live up to the library of my expectations — a quiet brick and mortar building with light streaming through the large windows and knowledge emanating from its 7-foot-tall shelves — but I'm simply making the best out of a terrible situation.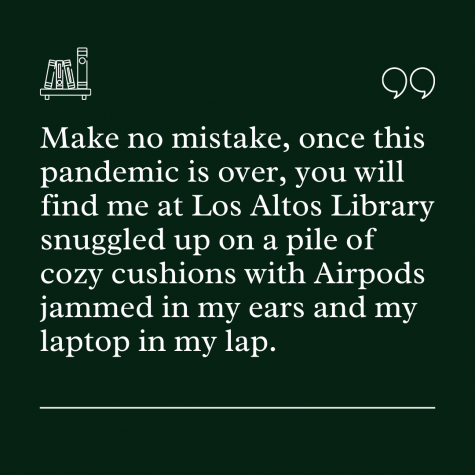 Although I'm admittedly not the most focused when studying in my house, these half-hearted attempts have strengthened my appreciation for libraries and my yearning to find my study corner again. Make no mistake, once this pandemic is over, you will find me at Los Altos Library snuggled up on a pile of cozy cushions with Airpods jammed in my ears and my laptop in my lap.