What's in store for Biden and Harris
Taking a look at the plans for the next four years under the Biden administration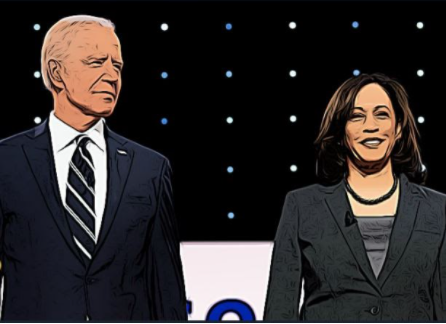 The next four years will be a time for pivotal change. With President-elect Joe Biden and Vice President-elect Kamala Harris preparing for their formal inauguration on Jan. 20, 2021, there are several problems and areas of improvement that Biden and Harris will inherit from the Trump administration, which they'll need to properly address. 
Senior Baasil Ali believes the most pressing issue that the prospective White House officials have to solve is the COVID-19 pandemic. 
"I think the biggest part of that is going to be distributing vaccines, because the vaccine has been created with a 95% success rate," Ali said. "You need to take two different doses at separate times … so that's [over] 600 million distributions. The government is going to have to play some kind of role in helping distribute these vaccines or teaching people how to administer the vaccine themselves or funding the actual distribution."
Mitigating the widespread effects of COVID-19 has not only a physical aspect to it but a political one as well. Senior Shriya Kaushik claims that in order to truly get through the pandemic, the nation must fully embrace its reality.
"I think [an] issue that Trump's administration dealt with is politicizing the entire Coronavirus and dividing the country based on whether or not wearing a mask was science or false," Kaushik said. "I really think that Biden and Harris need to step up and take charge of unifying the country."
In addition to addressing the ongoing pandemic, the new administration must address environmental problems, considering the Trump administration has rolled back over 120 environmental safeguards for drilling and logging. As per the Paris Climate Accord, countries must work together to make significant, measurable progress towards reducing global warming by 2050. If we don't cut carbon emissions in half by 2050, the consequences will be detrimental, with unbreathable air and several diseases being simultaneously rampant.
Vice President-elect Harris is looking to invest in the solar energy sector as she believes it is vital to combating climate change. However, senior Arnav Raut claims that nuclear energy, though it has its drawbacks, is the most effective way to go about saving the environment throughout the next three decades. 
"We need to go into remissions and invest in ways to bring the carbon out of that atmosphere and put it back in the soil," Raut said. "Because the amount of carbon went from 240 parts per million to 380 [or so], which is an increase of 50% in 50 years [or so], which is insane."
Raut also believes that the administration should address the potential threat of nuclear reactors and plants.
"I think nuclear energy needs to be less of a taboo and be seen as a serious alternative," Raut said. "Because of Chernobyl and Fukuyama [incidents], there's been a lot of taboo about the safety of nuclear energy, but it's a lot safer now."
On top of the country as a whole, the new administration's plans will have an impact on Cupertino citizens as well. Considering that Biden is planning on increasing individual income tax for annual earners of at least $400,000, the impact it would have on Cupertino would be significant as a large portion of households fall within or above that annual income threshold.
However, Raut believes that the new income tax will have little to no effect on Cupertino adults, including his parents.
"It's not going to do much," Raut said. "I think that [with] those taxes it's not really about redistributing the wealth. It's about having more money for Social Security and better benefits for veterans [for example]. I think that's a much more complex problem that taxes can't even put a dent in."
Senior Viveka Ramanathan shares her thoughts on Biden as president, addressing the prospect of his policies being a little far-fetched. As a result, she feels that Democrats would need to secure the Senate for the next four years.
"I feel like right now, along with our entirely politically-divided country, a lot of Biden's policies seem kind of extreme or more leftist," Ramanathan said. "We need the Senate; otherwise, his policies aren't going to get passed, and we're not going to make any efficient change. I think, regardless of what happens, whatever he implements is going to bring change and it's going to bring change efficiently if we all work together to make it happen."
With all these factors to consider for the next four years, it's safe to assume that Biden and Harris are going to need to put in a lot of work to effect change that this country needs, so we can overcome problems related to the virus, environment and economy.