Strawberries À La Mode
Taking a closer look at the popularity of the strawberry dress and its effects
Pale, blush pink fabric. Delicately puffed sleeves and soft frills. A long skirt made up of layers of airy tulle. And most eye-catching of all — glittering ruby strawberries looking almost delectable enough to eat. It seems to come straight out of the most whimsical daydreams.
Known as the strawberry dress, this $490 midi-length dress was created by fashion designer Lirika Matoshi. It has been worn by multiple celebrities, including singer mxmtoon, model Tess Holliday and internet personality Marzia Kjellberg. With their broad reach on platforms such as Instagram, influencers have the power to spread trends through social media. However, junior and Fashion Club Co-President Nabeeha Ahsan, who first saw the dress in an Instagram post, believes that the strawberry dress caught on primarily because of its flattering design.
"I do think that influencers did play a role in it, but another thing is that … everyone who I've seen wearing it has looked really nice in the dress," Ahsan said. "I think it works on everyone, and I know the price is high, but high prices are usually something you see in high-end clothing." 
Although the dress was released in 2019, it's only started blowing up on the internet this past summer. Senior Catherine Vo, who drew fan art of singer mxmtoon in the strawberry dress, believes that the sudden popularity of the dress during the COVID-19 pandemic is due to the rise of the cottagecore aesthetic, which she describes as "fairytale-esque." According to the New York Times, cottagecore is "where tropes of rural self-sufficiency converge with dainty décor to create [a] … pastoral existence." 
"I think [the dress is] mostly [a trend] right now because everyone really wants to go outside," Vo said. "That sounds so stupid. But it's just kind of, 'Oh my gosh, I wish I was in a field in a pretty dress on a picnic, but I can't, because I'm inside due to corona.'"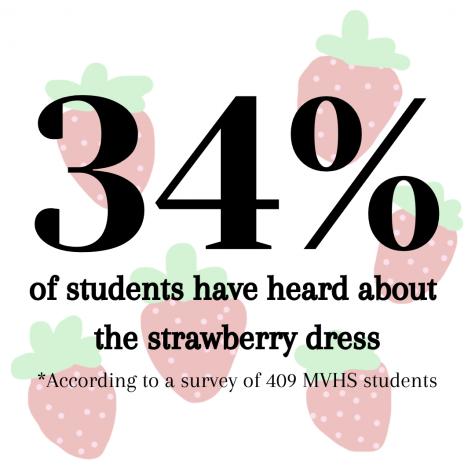 Across the internet, the strawberry dress has spread far and wide, spurring the creation of photo edits, fan art, memes and TikTok videos. It's an outfit in the video game Animal Crossing and has inspired mxmtoon to write a song of the same name. Art teacher Brian Chow believes that trends with a scope like this start with the right attention.
"I don't think it really takes much, to be honest," Chow said. "You could start a trend right now and see if it hits. And I think that's the key part. If it hits, if you are able to use your followership or the right people get eyes on it, and all of a sudden you get a shout out … you can get more hits on your social media, then it just takes care of itself at that point. It's actually scary in a lot of ways."
Similar to cheap imitations of high-end brands, one result that has emerged from the dress's explosive popularity is knockoff versions, which can be found on websites such as AliExpress, Etsy and YesStyle. While that isn't an uncommon occurrence for brands such as Gucci or Louis Vuitton, the strawberry dress is manifesting itself in more unique ways: DIY versions.
"I've seen people [on TikTok] making it from scratch, or buying materials or making something very similar but keeping it for themselves and not selling it, so they don't profit off of stealing other designers' work, which I think is really cool," Vo said. "And someone else made a similar thing … but instead of strawberries, it was golden stars, and the dress was navy blue. So I think people can take their own creative liberty with seeing the dress how they want."
Ahsan, however, believes that the situation is slightly more complex, even if the homemade dresses are not being sold for profit. 
"I think this is very dependent on what the original artist thinks," Ahsan said. "I think that a lot of times if you were to see a piece of art online, for example, I know that it would be pretty divided as to whether you could just print it out to keep for yourself or not."
Chow views the situation as a "slippery slope," but recognizes that there are two sides to it — while the actions can lessen business for Matoshi, there are some benefits to having people sew their own versions of the strawberry dress.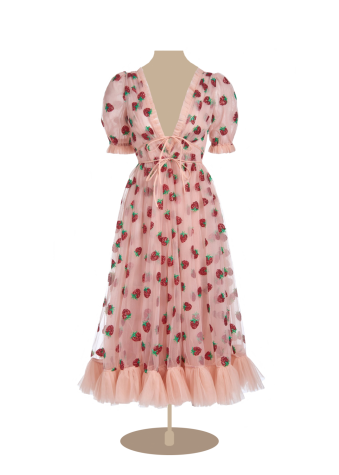 "To make a dress is actually kind of hard," Chow said. "A lot of people could do it, but a whole lot of people can't do it well … And I think maybe on the other side of that is if people are making it themselves, then they kind of appreciate it. 'I did this but it took a lot of work. And yes, it is actually worth it to buy that thing for that price, because it has this quality in these features to it.' And then now you're seeing the value in the product."
Despite the current reputation of the dress and its effects, Ahsan thinks that the popularity of the strawberry dress won't last long. She believes that new trends will consistently crop up and replace old ones.
"The dress itself, I don't think it's gonna be something that sticks around forever," Ahsan said. "Obviously, no shade to the designer. It happens with everything. But I think in a few years, people are gonna be like, 'Oh, why were we so obsessed with that?' 'It's so ugly' or something like that."
Chow believes, though, that some types of art have the power to stay important and survive the cycle of trends, as long as there's interest in them. While others may dissipate into pop culture, it's also possible that they'll come back again with time.
"I think if an artwork becomes irrelevant, it will become relevant again," Chow said. "And I'm not talking about fads. There's some things that just don't seem to go out of style, at least within a lifetime. But I think a lot of things still become relevant. I mean, you could just use the word 'retro' and all of a sudden, anything that's old is relevant."
Ahsan finds that just as the cottagecore aesthetic has a "traditional aspect" that's now been modernized, fashion often follows a pattern of the revival of old trends with a new twist. She believes that although the strawberry dress may eventually fade away in time, other things will emerge to take its place and catch the public's attention.
"I don't think that you saw as much of the trend recycling back in the day," Ahsan said. "But I definitely am not upset about it. I think that fashion is a flexible thing. Trends will come and go. And before you know it, the trends from the 90s and the 2000s will be back again. And maybe even the 2010s, even though I really don't want to see [the] galaxy [trend] again."