One last hurrah: seniors share their original senior trip plans
In February, seniors Rukmini Banerjee and Jennifer Liu booked an all-inclusive vacation package — flight, transportation, meals and hotel rooms covered — to unwind at Puerto Vallarta, Mexico for their senior trip. Banerjee and Liu's friend group had long planned for the trip to be spontaneous in schedule, as their main goal was to "do nothing," relax and destress from the results-oriented atmosphere of MVHS. 
"The past four years has been so stressful — you're always working towards something … whether it's working towards taking the SAT, taking subjects, college apps, waiting for decisions, waiting for [waitlists]," Banerjee said. "In Mexico, there's nothing you're working towards … We can just do whatever we want. And that's why we were really really looking forward to the trip because we didn't really have an itinerary or anything we were supposed to do."
When the school closure was announced, Banerjee and her friend were initially in denial, presuming that COVID-19 wasn't a concern in the U.S. given the low number of cases. To Banerjee at the time, the pandemic seemed like a "blip in the road" that countries would eventually rebound from once testing became widespread and a vaccine was developed. As a result, Banerjee's friend group didn't fathom that their senior trip would be canceled.
"We were really disappointed because we've been looking forward to this for such a long time," Liu said. "Me and my friends were talking about how when school first got canceled, we were like, 'Okay, as long as we still have senior prom, as long as we still have [graduation] and the senior trip.' And then obviously [graduation] got canceled, and senior prom got canceled. We're just still keeping hope for the senior trip, even though I think we deep down know that's not going to happen."
Once cases in the U.S escalated during late March, Banerjee acknowledged that Mexico did not have a prevention plan against COVID-19 — even if the U.S recovered, Mexico wouldn't be open to tourists.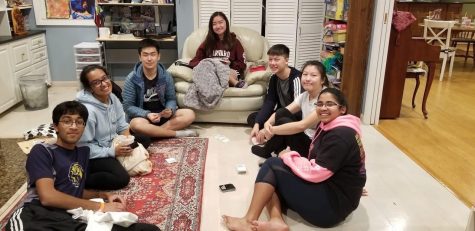 To Banerjee, the cancellation of her senior trip made her frustrated at the government's inaction in responding to COVID-19, as "everyone deserves to have a senior trip." 
"I mean, it's just like a last hurrah," Banerjee said. "You're supposed to be able to just enjoy a few weeks with the people who you cared the most about throughout high school. Now, you don't even get that. And it's not as if it's our fault, like we did something. This is the actions of negligent governments and negligent people who have absolutely no relationship with us. And that's just really unfair." 
Banerjee says that shelter-in-place helped her realize that she needed to be more grateful for what she had while she still had it, because attending college in the fall, or even an experience such as eating out, may not be possible anymore. 
Senior Catherine Choi was also looking forward to enjoying her senior trips: one to Korea with three of her friends and one to Europe with her family. Choi's sister had just graduated from medical school this year, so Choi viewed the summer as a great opportunity to relax with loved ones at the end of her high school career.
"I've been so busy every summer with summer camps or internships so I just wanted to go to Korea [and] see my family in Korea," Choi said. "And I just really like the Korean culture … I feel like Korea is just really pretty in general — all the road shops are really pretty."
Choi and her friends had started planning her trip to Korea in 2019, but by February of this year, they became more aware of the threat of COVID-19 and the possibility of travel restrictions or a school closure. In fact, Choi's friends had joked about embarking on their trip before the shelter-in-place orders that would come in late March. 
Currently, Choi is leaving her options open and is still considering eventually moving forward with her senior trip to Korea. She feels that after shelter-in-place orders are lifted, travelling to Korea may not be dangerous in comparison to staying in the U.S. Testing for COVID-19 typically costs around $150 in Korea, compared to thousands of dollars one could expect to spend in the U.S.
"It's a lot safer to be in Korea because you can get tested whenever you want," Choi said. "Unlike here, they just asked us to stay home right? … If you get the coronavirus here, it's really expensive to get treated. But in Korea, … even if we go to the airport and we get coronavirus, [it's] a lot cheaper [to] get it treated."
Overall, Banerjee feels that while not everyone has the same vision of a senior trip, every senior should have the option to enjoy one. Though Banerjee notes that her friends' plan to go to a resort in Mexico is one that may be unusual, even holding a party with friends over the summer can be a great last memory to share with fellow seniors.
"Even if you think that this is a chance you may not have because you're gonna be too busy in summer or it just won't work out, you should still plan it," Banerjee said. "Even though we couldn't go, we still had the fun of thinking that we were. We had all of the group chats that we were making and [we'd] be like, 'Oh my god, our hotel has a pool on the roof. Oh my god, the hot tub is open 24 hours.' And even if we don't get the actual experience, I'm glad we had the novelty of planning it."