Quarantine chefs
Students take up cooking and baking during shelter in place
Senior Shreya Ramakrishnan revealed her handcrafted masterpiece: chocolate cupcakes with cream cheese strawberry frosting and chocolate swirls on top. They were presented beautifully and tasted delicious, aside from one error: she was halving the recipe she was using, but had forgotten to halve the amount of salt she put in.
"So my cupcakes were amazing and then they were just a tad too salty just because I put in extra salt," Ramakrishnan said. "And I was like, 'Oh my God, if I just halved the salt this would be Master Chef material.'"
Ramakrishnan has always enjoyed baking as a form of stress relief, but before the shelter-in-place order she stuck to fairly simple recipes, such as vanilla or chocolate cupcakes or chocolate chip cookies. 
"Once quarantine started I just had a lot more time on my hands, and since I couldn't go out to eat anymore … I wasn't really getting my sugar fix," Ramakrishnan said. "So I had to start baking and I just decided to go for more complicated recipes since I have the time anyway."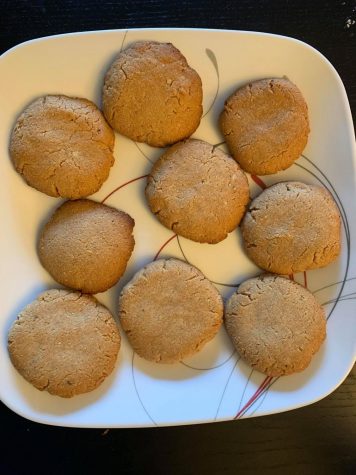 So far she's baked a strawberry cake, a double-layer carrot cake, chocolate chip cookies, marble cupcakes, strawberry shortcake cupcakes and banana cupcakes with cinnamon cream cheese, to name a few.
Similar to Ramakrishnan, junior Roma Ankolekar has also taken up baking during the shelter-in-place, as she has more free time. She has done other activities, such as reading, playing guitar and spending time with her family but has not tried cooking or baking.
"We're going to be going to college next year, so cooking and baking are some essential skills which I believe that everyone needs to have," Ankolekar said. "And so my mom and I started baking together … and I had a lot of fun doing it."
Ankolekar found recipes from YouTube, but since she didn't have much experience cooking on her own, her mom helped her start baking. She has also baked food by herself, but she enjoys the time she gets to spend with her mom.
"My mom is actually a doctor so she's still going to work during this quarantine period," Ankolekar said. "So when she's at home and we bake together it's a lot of fun because I get to talk to her as well."
Sophomore Raj Gokidi often helps his mom around the kitchen but sometimes he'll take over completely. He started cooking after recording the process for making pasta for a Spanish project.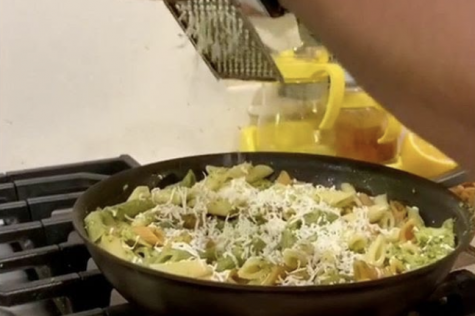 "Once I did [the Spanish project], I realized that I had a lot of time on my hands and that cooking was actually fun," Gokidi said. "[If I could cook],  it could take stress off my mom, my dad because they're still having meetings and office stuff."
Gokidi is a Boy Scout, so he has cooked for himself before when he goes camping, but he usually doesn't cook outside of that. During shelter-in-place, he has made pasta and helped his mom make garlic naan and other Indian recipes.
Through cooking more often, Gokidi has gained a better grasp of ingredient measurements, such as how much salt or pepper he should put in a dish. Due to her experience, Ramakrishnan has also gained a stronger sense of baking in order to predict how an online recipe will turn out.
"I feel like every time I bake, I adapt the recipe based on what I'm feeling," Ramakrishnan said. "Like if the batter doesn't look thick enough I'll be like, 'Oh, it's not thick enough' and I'll just add in flour and sugar, or if it's too thick I'll just add some milk' …  [But] I never make note of what changes I do. And then whatever changes I do the first time will always come out well just based on intuition. But then I can never replicate it because I don't know what I did the first time."
Ankolekar on the other hand usually sticks to recipes that she finds on YouTube, and finds the methodical nature helpful.
"It's not as hard as it seems," Ankolekar said. "When you watch baking channels or cooking channels, there's like 10,000 different steps so it makes it seem really difficult, but when you follow a simple recipe and you do it yourself, it's not that bad."