MVHS YouTubers during shelter-in-place
Students experiment with filming and posting videos during remote learning
With the start of remote learning, many MVHS students have used their extra time at home  creatively. Some are learning new instruments such as the ukulele and guitar, while others are dedicating time to creating online content. Junior Elizabeth Lee delved into her passion for filming and editing by starting a YouTube channel during quarantine. 
Lee explains that she always wanted to start her own YouTube channel because she enjoys filming and editing videos, but the demanding workload at MVHS prior to shelter-in-place made it impossible for her to find enough spare time to film. With remote learning, Lee decided to film her first video, a makeup transformation into an Asian Baby Girl. 
Lee also adds that because she recently began using a new video editing app, DaVinci Resolve, she spent a whole day to film, edit and post her transformation video. Similarly, junior Conner Yin also spent an entire day posting his videos on a Youtube channel that he started during quarantine. 
Yin's channel mainly features music covers and self-made beats, which take anywhere from six to seven hours to practice and record, in addition to the time it takes to create thumbnails and edit the video. 
"I have a virtual keyboard — I play on there and then I export it to GarageBand or other various music tools like Audacity," Yin said. "So you can either just edit directly on the software or play it on the piano. And then once you're done, you just add a whole bunch of effects."
Like Lee, Yin had always wanted to start a Youtube channel. 
"Honestly, [the channel is] just for me to express myself creatively," Yin said. "And just have a place to post it so people can enjoy it if they like."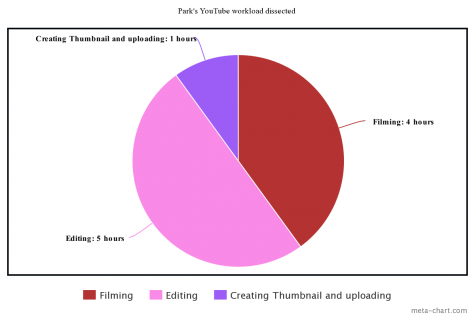 Lee and Yin both emphasized that their YouTube channels are mainly created for themselves. According to Yin, YouTube allows him to be more engaged with his musical passions, while still letting him find activities to pass time during quarantine. 
"[The channel will] mostly just be a hobby," Yin said. "I don't really expect it to be a job or anything. But I would love for a lot of people to hear my music so that way I can spend more time on it." 
Additionally, senior Brett Park started a YouTube channel for his Thumbpaint creation, which had already gathered 175 thousand followers on Instagram. His first video, uploaded one week ago, shows Park customizing his Nintendo Switch and the second video, published three days ago, is about Park's college decision. Park explains that it takes him approximately 20 hours to produce each video and, like Lee and Yin, he had always wanted to start a YouTube channel. 
"When I created Thumbpaint, it was almost a security blanket for me to express my ideas and thoughts as my character Thumb did all the talking for me," Park said. "But I always wanted it to be me who was spreading those messages, so I always wanted to start a YouTube channel to make the ideas in my comics more personable for my audience so that they could relate more to them." 
Both Park and Yin explain that they utilized already-established Instagram accounts to help  their new channels off the ground; they are able to promote their videos on Instagram, where their followers can click the YouTube link to view them.   
"I have 1000 something Instagram followers, so it kickstarts the YouTube channel," Yin said. "Then it starts getting recommended to people on YouTube. Otherwise, I [would] share [my videos] with people that I know in person and hopefully expand my audience after that."
Yin also hopes that when quarantine is over, he can continue to produce more music and reach out to more audiences. 
Additionally, Lee expresses that she has paused her YouTube channel due to AP testing, but hopes to continue her channel into senior year. Lee hopes that when the shelter-in-place is over, she can dedicate her channel to vlogs. She believes that being able to record her travels and reflecting on her childhood can be rewarding. 
"It brings back a lot of memories that I cherished," Lee said. "So, I think right now, [the channel is] more focused on finding myself."