Grocery stores implement safety measures in light of COVID-19
Exploring Whole Foods COVID-19 safety measures and public opinion about the measures taken
While a majority of Cupertino's facilities remain closed to the public, grocery stores such as Trader Joe's, Sprouts and Whole Foods are identified as "essential businesses." In order for shoppers and workers to maintain social distancing rules to decrease the spread of COVID-19, all stores are implementing safety measures. 
Stores mandate only a certain number of people are allowed in a store at one time while remaining shoppers must wait in a line outside standing on 6-foot markings. Shopping carts are regularly sanitized by store employees and customers are required to use grocery bags from the shop itself. 
Whole Foods recently released a "COVID-19 Response" on their website that states: "Whole Foods Market recognizes the important role we play in our communities, especially during this challenging time. As we prioritize the health and safety of our customers, team members and partners, we remain committed to ensuring that all customers have access to the items they need, taking action to support our Team Members and doing our part to help contain the spread of COVID-19."
"
I guess it's because everyone's really sick of being stuck at home. So [people] just [go] out with the mentality of 'OK, I'm still healthy now"
— Freshman Kripa Mayureshwar
Freshman Kripa Mayureshwar has gone grocery shopping many times at India Cash and Carry, Whole Foods and Sprouts, since the shelter-in-place order was put into effect on March 19 and thinks that while these measures are very important, she also recognizes that many people tend to become more relaxed as time passes. 
"People have started to take the whole [COVID-19] situation a little less seriously," Mayureshwar said. "I remember I went [to Whole Foods] a couple weeks ago and there were store associates walking around the store, making sure that everyone was implementing social distancing."
Mayureshwar feels a little more concerned about going shopping these days, given her perceived "relaxation" on the part of many other shoppers. 
"I guess it's because everyone's really sick of being stuck at home," Mayureshwar said. "So [people] just [go] out with the mentality of 'OK, I'm still healthy now. I'm not going to get sick in the future if I haven't already gotten sick now,' but that's really not how it works. I think it's a combination of boredom and ignorance and honestly a little bit of selfishness, because you're not conscious about the harm that you could cause to other people."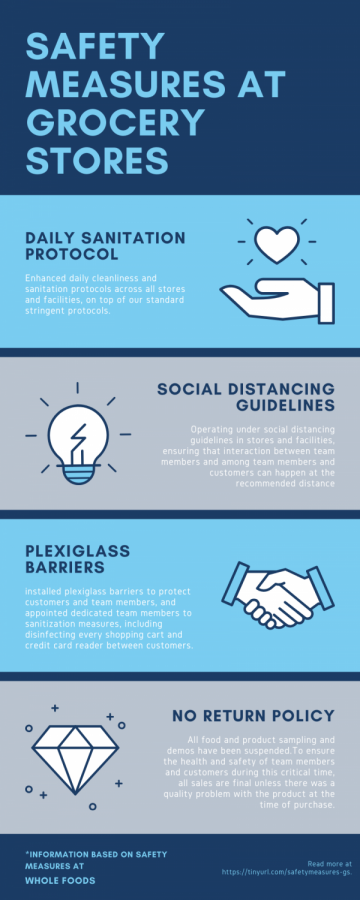 In addition to making sure shoppers follow social distancing, store employees from grocery stores like Sprouts are also asking customers to wear face masks before entering the store. 
"Masks should definitely be mandatory because symptoms can be dormant and you could be passing the virus onto other people unknowingly," Mayureshwar said. "Even though there is a shortage [in face masks] right now, they are really not that hard to make by yourself. They're so easy to make — even if you don't know how to sew them [you can use] a bandana or an old piece of cloth."
Mayureshwar's father, Mayureshwar Chitrijan, has a lot of experience with shopping during the shelter-in-place and thinks that the safety measures taken at stores are "good and necessary," but still flawed, especially for smaller businesses with a limited number of employees. 
"I do feel [the people who don't wear masks are] being a little irresponsible," Chitrijan said. "The masks were never meant to prevent the wearer of the mask from getting infected. They were meant to prevent others from getting infected. And so when people [don't wear masks], they are not caring enough for their fellow human beings. It is a combination of being selfish and careless."
In contrast, sophomore Daniel Matthew, who has not gone shopping since the shelter-in-place order was implemented, thinks that masks have a limited safety aspect. While he acknowledges that they do provide some protection, he believes they are used for psychological aspects. 
"Masks [seem to be] more for comfort than for [actual] safety," Matthew said. "And comfort is important right now, especially during [COVID-19,] it is very important because the more comfortable people are, the safer they feel. If people don't feel safe right now, they can easily panic, which is [not what we want]."