Dear healthcare workers
A letter of gratitude for our heroes
Dear healthcare workers,
Last week, our journalism advisor asked us to share something we were grateful for during our Zoom class session. While a number of my peers mentioned the newfound bonding time they enjoyed with their families, I and many others wanted to thank our essential workers, our healthcare frontliners, our superheroes for the sacrifices you constantly make so we can safely stay home. 
The cabin fever and emerging anxious behaviors that people staying at home experience are justified; yet looking from the perspective of those working at COVID-19 hotspots makes our stress seem a lot smaller. In addition to putting our time in perspective, you make all our efforts feel worth it — staying at home so you can stay at work.
The Octavia Lab at Central Library is putting 3D printers to use during this challenging time to make PPE for workers in L.A. County and UCLA hospitals. #WorldHealthDay pic.twitter.com/kLDtvQjhmT

— L.A. Public Library (@LAPublicLibrary) April 8, 2020
Not to mention the disappointment and outrage you feel from seeing people in your communities disregard shelter in place orders or prioritize other things — what could be more important than a life? Hopefully not immediately opening up the economy or stockpiling and profiting off masks. 
And while the media causes stress from its onslaught of frightening headlines, it's hard to grasp that for some of you, informing the media brings risks of being reprimanded or even fired by hospitals. 
It must be extremely difficult witnessing firsthand the aftermath of each battle you fight alongside your patients and their families and getting lost in the bigger picture of the war against the virus. I can't imagine the stress and emotions you feel every day from the choices you have to make at the hospital and at home, where you make the scary sacrifice of risking you and your family's health to take care of patients. 
With your position to heal, choices of who to help first could possibly lead to moral injury: trauma from not being able to act on principles. Many of you started in the healthcare field from a desire to treat patients, but now, resource shortages are forcing you to limit treatment.
FDNY #Engine289 #Ladder138 #Engine287 #Ladder136 #Engine307 #Ladder154 #Engine325 #Ladder163 #Engine316 #Engine324 #Battalion46 show their support to the medical staff at @NYCHealthSystem Elmhurst for their heroic response to COVID-19. #ClapBecauseWeCare pic.twitter.com/EjUc7S1TGI

— FDNY (@FDNY) April 5, 2020
I sincerely feel for your frustration from the lack of personal protective equipment (PPE) and action from those higher up who promise you their support but don't take you seriously enough. The thought of relying on President Trump's moods or governors' requests to get PPE and treat patients is alarming enough. 
It's an unnerving time, and getting up everyday to do your job is even more daunting. But everyone, myself included, is in full support, rooting for you in appreciation and gratitude. We are so proud of you for stepping up to do your part as a healthcare worker and enduring the demands on your physical and mental health. 
As a student journalist, I've talked to medical students, my local social services organization and community members who are asking the community to come together to fund the donations of PPE. As an athlete, my coach and my team are coming together in an effort to express our gratitude and encouragement to you. As an informed citizen, my family and I are staying home.
We support you.
Right now, it is even more clear that you are important and necessary: the backbone of our society. I respect your courage, resolve, professionalism and dedication as the model of sacrifice for us as we stay home and cheer you on. 
Thank you. 
Take care,
Andie
About the Contributor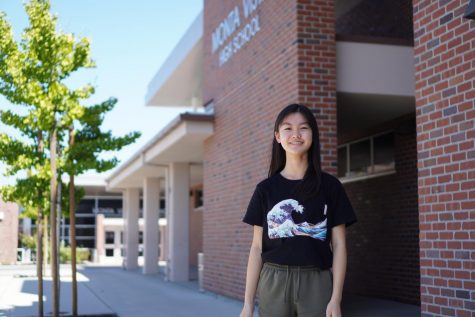 Andie Liu, Managing Editor
Andie is currently a senior and a managing editor for El Estoque. She runs on the track team and plays the erhu, a traditional Chinese instrument. To relax, she listens to violin and cello concertos while reading, drawing and attempting to meditate.