The importance of the shelter-in-place order
How different members of the MVHS community are following the guidelines
On March 31, Santa Clara County updated the existing shelter-in-place order, which requires all residents to remain at home with the exception of going outside to perform certain essential activities. The order, effective until May 3, is meant to prevent the spread of COVID-19.
Senior Audrey Luo believes shelter in place is a good method of control as California has put stricter enforcement than other states in the U.S., but she is still apprehensive about how many people are taking it seriously.
"A lot of people are still blowing it off and not taking it as seriously as we need to in order to actually flatten the curve," Luo said. "Just through social media, that's a big one, I see a lot of kids, like the younger generation, kids are making fun of it or not taking it seriously but also [in] the media and politics."
Luo notes that she is doubtful of President Trump's commentary on March 24 that the pandemic would be under control by Easter, mentioning that according to the New York Times, "if we social distance for like another two weeks, there will still be over 120 million people affected, versus if we did it for two months there would be only 14 million affected." Trump has taken back his initial statement on March 30, stating that now, recovery will occur in June.
Sophomore Lydia Lu, who has remained sheltered in her house with the exception of trips to the grocery store and walks around her neighborhood, believes more can be done by the government to stop the spread of the coronavirus.
"The government probably doesn't want to do this, but I feel like they should think about enforcing more through using the police or putting a law saying that you can't go out, you can't be hanging out with other people," Lu said. "In our area, especially, people are going out hiking, but they take that opportunity to go outside and hang out with other people. What I think they could do is enforce it more so people understand there could be a consequence if you go outside, you aren't following the order."
Parent Paul Liu remarks that the U.S. is limited in its power to control what citizens are doing, therefore making it difficult to take many of the actions other countries are using to limit the spread of the virus. He believes that the actions California has already taken have been effective. Liu himself continues to work from home, and refrains from going outside; even his family's groceries are delivered directly to his house.
"This is in the USA," Liu said. "In China, you can order everybody to stay home and there are people monitor[ing] your movement. But in [the] USA, I think this is what the government can do. You cannot force people, if you go outside, they arrest you. That's not possible to do in the USA. But I think [it's] already good enough. The government is doing everything they can, I think California is doing a very good job."
While Lu does feel the need for stricter enforcement of the order, she also recognizes that what is already being done will greatly improve the situation; according to The Washington Post, evidence has shown that the earlier citizens act to social-distance, the better the spread of the disease is able to slow. While there are certain people not taking the order seriously, most are still following the terms and restrictions.
"It is effective because, especially with social distancing, the viruses are less able to spread amongst people," Lu said. "So people are social distancing and actually staying at home and taking the precautions necessary to make sure that the virus isn't spread amongst our community. And it's going to help a lot with reducing the amount of people who are contracting COVID-19."
Senior Iris Yuh states that she doesn't leave the house, and her family orders food and groceries online when needed. However, she also believes that some people aren't taking the shelter-in-place seriously enough, and that the younger generation are easily influenced by their friends, disregarding the consequences of going out.
"I know a friend of mine went out to hang out with their friends last week, I think, and they're pretty young college students and I think they didn't take it as seriously," Yuh said. "I think [young] people have this whole mindset of, 'Oh, it's never gonna affect me, so I'm going to be fine' … I guess [for] some people it hasn't really fully hit them yet until it actually affects them."
Luo also believes the U.S. in general can be more strict, and encourages people to stay home but remain calm about the situation. Her grandmother lives in Boston and has "various health issues" — Luo says that testing the elderly or sick like her would be beneficial.
"I think definitely being more strict with how long we're in a lockdown situation where we don't go outside as often," Luo said. "Also just testing more — the U.S. does not have enough test kits right now but in the chance that we can manufacture more, that would probably be one of the key things, like testing asymptomatic people who may have been in contact [with the coronavirus]. Just to kind of nip it in the bud."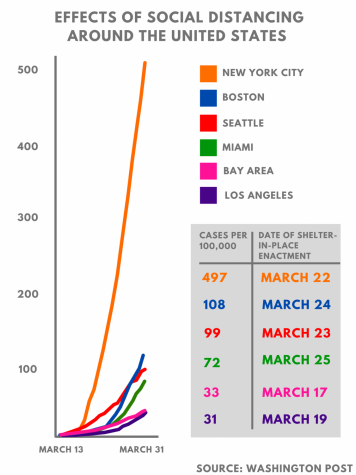 According to Yuh, her grandparents in Taiwan are following guidelines seriously, and also mentions that an older family friend that lives in California who has existing health conditions is also following the shelter-in-place earnestly; her family has referred them to resources online to help them with grocery shopping as well to minimize going outside.
"Their son is around 20 something years old and he's making sure that they don't go out because he's really worried about them because he doesn't want them to contract the virus because their health is already not as good," Yuh said.
Luo and her family had plans to travel the entirety of June before Luo leaves for college, but due to the coronavirus, her plans are now very unlikely to occur.
"I personally don't think it's that big of a deal," Luo said. "I think we're really privileged to be living in the area where we can stay home and have supplies and live relatively normally, besides just not going outside which, also, as teenagers, we already spend a ton of time inside. So I don't think it's personally affected me that much versus how it has like other core communities. But [it] also definitely sucks because I want graduation."