Dancing through a screen
Dance Academy USA holds classes through video calls while under quarantine
With school closures across the nation and classes being moved to online platforms, dance classes in Cupertino are following the same trend. One particular studio, Dance Academy USA (DAU), holds its classes via Zoom, an application often used for regular academic classes, giving dancers the opportunity to work out and practice with each other.
Junior and dancer at DAU Sydney Hirai finds it difficult to find the same kind of space that her dance studio offers at her home, which has caused restrictions with her dancing. However, she says that instructors do their best to run each class with the regular plan.  
"Classes are all held on Zoom like school, and in the beginning of class we do some sort of workout whether it is cardio or some dance technique based exercises," Hirai said. "Once we are all warm we either learn a short combo/dance or work on our recital piece that we perform at the end of the [school] year at our dance recital."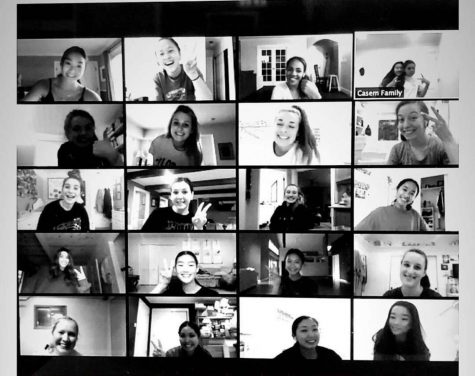 Sophomore Sabrina Yanagihara, who is also a dancer at DAU, explains that there are some benefits to the new adjustments of dancing at home like being able to learn at her one pace. For her, she says that the only difficulty is trying to stay focused, when away from the studio experience.
"It's most challenging for me to find the motivation to put as much effort in as I do in class," Yanagihara said. "Because when I'm at home doing the exercises alone it's a lot easier to cheat or slack off because there's no teachers or peers to really keep me in check."
Class of 2018 MVHS alumna and dance teacher Emily Lee, who was previously a dancer at DAU, took on a teaching role in 2015. She explains that energy is a big part of dance and that aspect is compromised by online classes.
"I feel like a big part of dance is being surrounded by love and support and it's hard to feel through a screen," Lee said. "Usually I like to do 'call out groups' and celebrate different ways of execution of my combos and even in just regular groups, usually the other dancers who are not in the same group will cheer and clap. I feel like the energy is so hard to convey via Zoom so essentially it just turns into 'learn this and then leave'. That isn't what dance is supposed to be."
As these classes are all taken through online platforms, not being in the environment alone is enough to cause difficult adjustments for dancers both physically and mentally. 
"Although we are still in class with our teacher, just communicating through a screen makes it very difficult to have one on one critique for everyone to benefit from," Hirai said. "Space is a huge restriction we all face, but technological glitches also restrict our class. If we can't hear our music or a student has lagging issues it puts our whole class to a halt taking up the short amount of time we have."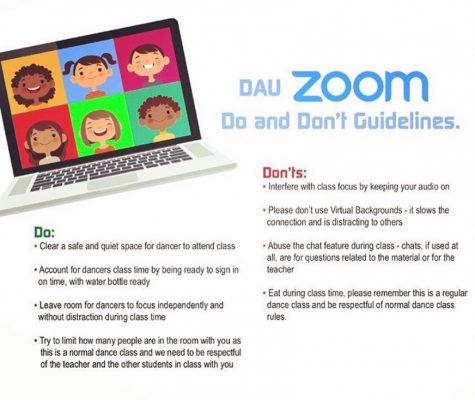 With these changes, the dancers are focusing on maintaining self discipline and focus to stay on track. The classes continue to be held in effort to keep the dancers on track for future plans.
"I think a little bit of setback to my progression is inevitable for me, but as long as I can continue to find motivation and maintain a decent amount of effort to put into class time, it'll be manageable," Yanagihara said.
Hirai, Yanagihara and Lee are all trying to make the best of the situation. Lee begins each class with a mental check in to keep in touch with how students are doing and to do her best to treat it like a regular class. 
"I have learned how to teach more thoroughly that's for sure," Lee said. "It has really surprised me how willing the kids are to actually log on and take class and commit to choreo even with the limited space! It's inspiring to see how willing they are to make things work to pursue their passion for dance during this super crazy time."