Swipe right?
The rise in teenage dating apps like Yubo and Spotafriend

Dating apps marketed to teens under 18 as platforms to meet and chat with friends online have been on the rise with the inception of apps like Yubo and Spotafriend. The design of these platforms replicates those of any other dating app meant for adults — you can build a profile, swipe through requests to accept or decline them, send direct in-app messages and purchase premium memberships for extra features.  
Junior Albert Xu downloaded both apps the summer after his freshman year, after first hearing about the apps through other friends. Xu says he initially downloaded them without any intention for a relationship but eventually grew to enjoy talking to people from around the Bay. 
"I feel like if it weren't for the fact that they live so far away, you could be friends in real life. But because they live so far away, talking to them online is the only way you can go."
"You meet [people] everywhere," Xu said. "You go online, you play games, you pick up people along the way — people that you actually really like. I feel like if it weren't for the fact that they live so far away, you could be friends in real life. But because they live so far away, talking to them online is the only way you can go."
Xu was hesitant to tell others about his use of the apps, citing a negative stigma around dating apps, and even cut his usage only a few weeks into his experience.
"I'd say Spotafriend is sort of [a] dating app, but it's marketed as a meetup app because dating apps have that stigma," Xu said. "I do look for attractive people that have already swiped me, and I swipe them back. We match, we talk and that's basically the gist of things, and I feel like in terms of online dating, it pretty much fits the stereotype. You don't really feel a connection because you're going through so many people at once." 
Matching with his boyfriend of seven years on the dating platform OkCupid, English teacher Randall Holaday supports the rise of dating apps for teens and adults as he says it brings more freedom to all kinds of personalities. He used the website for the same reason Xu first downloaded the apps — to expand his circle of relationships. 
"At least for [my boyfriend and I], after college, moving back into your home area, your circles are pretty much people that you've known for a long time, and so it's just another way of extending that circle out," Holaday said. "It seems like a natural extension … The connections and how high schooler students interact is very different than how it was from mine." 
As an educator who works with teens daily, Holaday does worry that using these apps can leave underage users vulnerable to adults possibly lying about their age.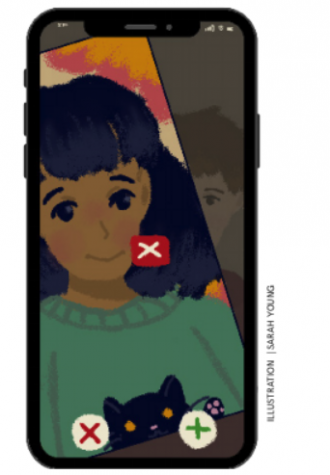 Yubo does try to counter these fears by verifying users with an external app, Yoti, that requires users to send in photos of identification and videos to prove potential users' age. It's meant as a digital ID, but Holaday says an essential factor in regards to safe usage of the apps is parental consent. 
"I know that there was the lying of [users'] ages to get on Tinder, and I knew that that was happening," Holaday said. "I'm concerned about my students' safety. On apps like this where they're possibly interacting with adults, I don't want them getting a situation where there's somebody lying about their age or them getting [in a] situation that's out of their control."
Xu doesn't know if he ever encountered any communication with someone over 18 while using the app, but he trusts the verification process. He did struggle with communication, however, usually because of misinterpretation of tone of certain texts and the amount of time it would take him to reply. For people on the app, responding to a text "slowly" could be interpreted as disinterest, and leaving someone "on read" could mean something more. 
Student advocate Richard Prinz believes long distances and relationships held purely online can be detrimental to a person's mental health and usually last a shorter amount of time. He prefers anyone to use online communication only as an extension to bonds people hold in person, and not leave the entire relationship digital — which he believes is the backbone to apps like Yubo. 
"I think if it just promotes more online relationships, I think that's a little not so healthy," Prinz said. "They say something, and there's not the person there, and it's taken out of context … With online dating apps, who benefits really are the people who [make the apps]. They want more and more people to get involved, and they keep coming up with something newer … to get people hooked in, and they're the ones making tons of money on all this." 
After a while, Xu found it addicting to be on the app and talk to multiple people at once. This dependency made him appreciate interactions in real life as opposed to something that's "artificial and manufactured." For Xu, the premium features some teens pay for prove that the existence of the apps aren't necessarily to create long-lasting relationships, but likely for companies to profit off its underage users. 
"In some cases, [the apps] do allow you to connect with people, but such connections are really rare occurrences and more often than not, the time you spend in order to find these people really isn't worth it," Xu said. "You get really invested into a person that you talk to, even multiple people, and it's really hard to prioritize off your phone because you just waiting for them to come online. I would prefer real-life interaction as opposed to something that's artificial and manufactured by these people who are, you know, making the app for money."