MVHS Color Guard and MVHS Marching Band perform at the 2019 annual Cupertino Tournament of Bands competition
MVHS Color Guard takes second place and Marching Band takes third place at their second competitive event of the year
On Oct. 12, both the MVHS Color Guard (MVCG) and Marching Band (MVMB) performed at the 49th annual Cupertino Tournament of Bands. This event serves to give local high schools' competitive Color Guard teams and Marching Bands in Northern California the chance to perform and compete against each other. MVCG ended up placing second in class 4A, which is a categorization of the overall size of the performing group, and MVMB ended up placing third in class 4A as well. 
According to band director Ricky Alegria, both MVCG and MVMB started preparing for this event prior to the beginning of the school year. Members of both MVCG and MVMB attended a five-day band camp over the summer to learn the choreography and [MVCG/MVMB] music for  the performance. Once the school year started, students had weekly practices every Tuesday, Thursday and Saturday.
Alegria explains that he initially felt nervous about the performance despite the hours of work they put into the performance. Despite this restlessness, Alegria says he knew his students would be able to perform well regardless. 
"It's one of those situations where right before the band goes on [to perform], you just really don't know what you're going to get," Algeria said. "I have to admit — I'm nervous before every single performance [marching band does]. After [they started to play], I just knew we were going to do a great job. I knew that they had the momentum, the energy and the passion to have a good performance and that's exactly what happened."
Color Guard coach Grantis Peranda saw the work MVCG put in and parts of the show MVCG  wants to focus on moving forward. 
"We made sure we had our rehearsals and we pinpointed the spaces or the parts in the show that we really wanted to focus on," Peranda said. "There [were] more new [parts] tonight — we put in our third part [and it] is the first time we did our performance in full uniform."
While MVCG added a part to their performance, According to senior and MVMB member Eric Liu, combining these two performance groups brings a visual to the music.  
"I think [combining both groups for a performance is] a really important thing because [Marching Band provides] the music, [and] the Color Guard provides the visual aspect, which allows them the audience to see the emotional influence that music has on them," Liu said. "So I think that a good coordination between the two [teams] is of utmost importance."
In addition to having Algeria and Peranda respectively directing MVMB and MVCG, staff members also contributed in helping students pull off the performance, including first year front ensemble instructor Tito Taragas.
Due to MVMB not having a front ensemble instructor in years prior, Taragas felt immense pressure in his new role.  He also comments on the growth of the ensemble group.
"I was honestly expecting only having four students [in the front ensemble this year], but [we] went from [having only] four students [to] having 10 students in the section that I teach, so that's pretty cool," Taragas said. "I feel like [compared to] the level they were [at] last year, [this year they were] 20 times better than what they are [before]."
Despite improving tremendously from last year's performance, Taragas still believes that there is more progress to be made. When taking mental notes of ways to improve for next year, he comments on the need for students to be focused. 
"I feel like [Marching Band] could have a more solid show as a whole," Taragas said. "I felt like some individuals did better than others and I feel like if we want to have a good performance, then everyone has to have a good show … [This can be solved by] being focused before you perform, and not having anything else in your head before the show in general."
From a student's perspective, Liu saw this performance as one of the MVCG and MVMB's best performances. Because of this, Liu believes that the band generally tends to work better under adrenaline due to higher stakes during this competition. 
Peranda echoes a similar sentiment, believing that the performance was successful, adding that the minimal errors made is a good sign for MVCG.
"I believe today was run very well," Peranda said. "There were a few mishaps that we had but overall the guard the guard perspective, executed very well very clean. [However, we still have] some [parts of our performance] to work on and another part [to our performance]."
With MVCG and MVMB just starting their season, Peranda hopes that both groups can outperform at every performance they go into in future competitions. 
"I hope that [MVCG and MVMB]  go as far as they can," Peranda said. "We have two more competitions to go to. I don't know what's going to happen but [I'm] hoping for the best."
About the Contributors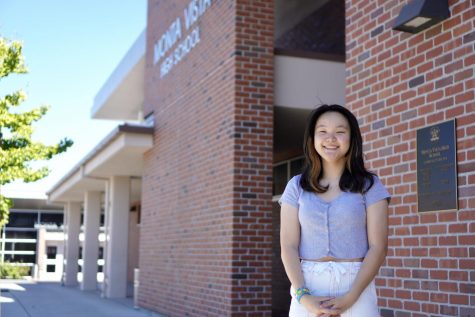 Justine Ha, Managing Editor
Justine Ha is currently a senior and a managing editor for El Estoque. She enjoys taking photos, producing videos, driving to nearby beaches and viewpoints in the Bay Area, and exploring new cafes with friends.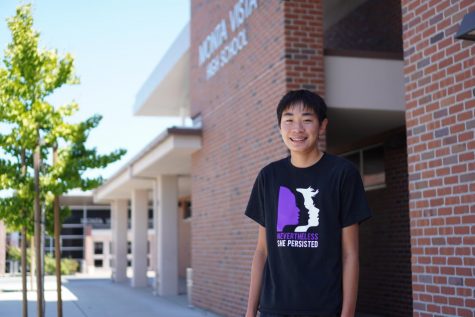 Lance Tong, Sports Editor
Lance Tong is currently a junior and sports editor for El Estoque. He is a member of the MVHS Volleyball team. Lance enjoys watching sports and studying for APUSH in his spare time.