A stellar liaison: Octagon and JDRF
Examining the partnership between Octagon and JDRF over the years
5:00 p.m. Set up. On Oct. 5, 77 Octagon volunteers file into Great America in Santa Clara the day preceding one of the most momentous and far-reaching events of the year — Octagon's annual partnership with the Juvenile Diabetes Research Foundation (JDRF), a non profit organization that funds for Type 1 diabetes research and advocacy. Volunteers set up the stands, track and direction signs in preparation for a smooth sailing event rundown. 
5:45 a.m. Shift one. On Oct. 6, Octagon volunteers serve breakfast, hand out water and guide participants through the walk route, rallying walkers along the track that winds through Great America amusement park.
JDRF is a family-friendly marathon event — attendees sport shirts lettered with the supported family member's name or a team name, returning participants embrace one another and volunteers cheer for participants by blowing whistles and displaying posters.
According to Trudy Esrey, a 12 year JDRF volunteer, a JDRF volunteer coordinator and Stanford diabetes researcher, the Octagon and JDRF partnership was set into motion at least a decade ago by logistics chairman Lisa Fischer-Colbrie. Fischer-Colbrie's children went to MVHS, and her son has Type 1 diabetes. 
Due to this connection, Fischer-Colbrie reached out to bring in volunteers for JDRF; initially, cheerleaders on the dance team were recruited. Eventually, Octagon got into contact with JDRF and have participated in this early morning event ever since. 
JDRF's smooth sailing is made possible thanks to Octagon's prevailing commitment and proactivity — according to Esrey, Octagon has been "incredibly organized, responsive and helpful, willing to do everything we ask" in terms of coordination, communication and request fulfillment. 
"Year in and year out, the liaison between MVHS Octagon and JDRF is always so stellar," Esrey said. "There's something about whoever steps into that job, and maybe it's just the type of student that's at MVHS."
"
"I have dealt with a multitude of high school groups, and none have been as consistent in showing up and getting the work done as Octagon."
— Trudy Esrey
In addition to Octagon's proactivity, another facet of the long standing partnership between Octagon and JDRF is the club's consistency, as Octagon is a "responsive and reliable organization." 
Several years ago, the Octagon and JDRF marathon was anticipated to be hosted on a Sunday, the morning after MVHS's homecoming. According to Esrey, every single volunteer who signed up from Octagon showed up early in the morning, when "by rights, [the volunteers] should have been sleeping in." Though a few looked "a little sleepy," all volunteers participated. 
At that moment, Esrey knew that Octagon and JDRF had a "really, really good relationship." For Esrey, Octagon doesn't just sign up — Octagon shows up and got the work at hand done in a respectful fashion. 
Senior and co-president Aditi Mukkara believes part of the reason why Octagon has received positive commentaries from JDRF is due to the fact that Octagon underscores volunteer etiquette. 
"During our meetings, we like to emphasize … how we act during our events, and [being] respectful to the coordinators because they have a lot going on too," Mukkara said. "Not just doing what they say, but when [we're] done, asking if they need anything else. Going there and being active the whole time — a lot of our members end up following through with that … We have a lot of great members like that, and I think that's why [JDRF] likes us coming." 
Junior and vice president Nicholas Hsieh, the primary organizer for the JDRF and Octagon joint volunteering event, notes that what makes JDRF a spotlight for Octagon is the friendly environment.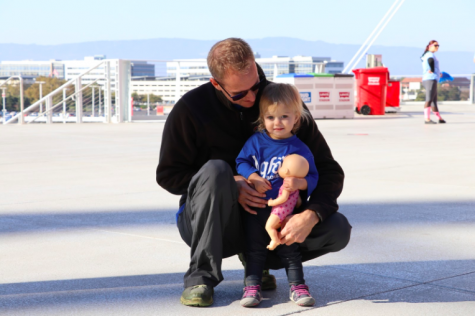 "It's just the people that are there — everybody is super friendly and super enthusiastic about helping out," Hsieh said. "It just shows how into the walk they are and how much everybody there cares about helping to end Type 1 diabetes. It just brings out the best in people."
Mukkara echoes a similar sentiment with Hsieh, as it was "rewarding" for Octagon to take part in because JDRF leaves a "lasting impact." According to Mukkara, volunteers liked knowing that they were contributing to a sizeable cause  — all the 5:45 a.m time slots are always filled.
"[With JDRF], you get to see how you're helping," Mukkara said. "All these families — they have stories and you end up interacting with a lot of them just through the volunteer event. And so it can be really eye-opening for a lot of our members, just to hear what other people are going through and knowing that they're helping out at such a great event." 
Assembling the inner-workings of the event, Hsieh believes that it was the easiest to communicate through email with JDRF regarding concerns and inquiries, as JDRF was friendly and patient with Octagon. However, according to Hsieh, the hardest process of the collaboration was coordinating and relaying messages to and from the estimated 77 Octagon volunteers. 
"It was hard to make sure that everyone was up to date with all the information [and] that everybody knew what to do at the event," Hsieh said. "Some people couldn't make it for other reasons — it was hard to communicate with. Sometimes they were really last minute, so [I] had to be super in sync with the [JDRF] coordinator and make sure everyone's there. Because if people don't show up, then it's hard to make everything happen."
"
"Every year, I get asked by JDRF their staff, 'How do you do it? How do you always have so many great volunteers?'… And I always tell them because I have MVHS Octagon."
— Trudy Esrey
Esrey wants volunteers to take away the sentimental merit of why JDRF is important for the attendees and the difference they can influence the kids — for Esrey, it's not just a matter or "showing up and handing out T-shirts." 
"Before I send people out onto the walk route, I do tell them … why it's so important, and what a difference they make for the kids and how special these kids feel because they have to deal with this disease every single day of their lives with no end in sight," Esrey said. "That day is their special day. I want these volunteers to know what a difference it made to these kids. That in numbers, those kids feel empowered, whether the number is a large number of families or friends or complete strangers and volunteers that have come to support them."
Esrey is very appreciative of Octagon's commitment and initiative to take responsibility, and expresses sincerity to Octagon for being such an "outstanding group, really and truly."
"Every year, I get complimented — every year, I get asked by JDRF their staff, 'How do you do it? How do you always have so many great volunteers?' because they're always struggling," Esrey said. "And I always tell them because I have MVHS Octagon."
About the Contributor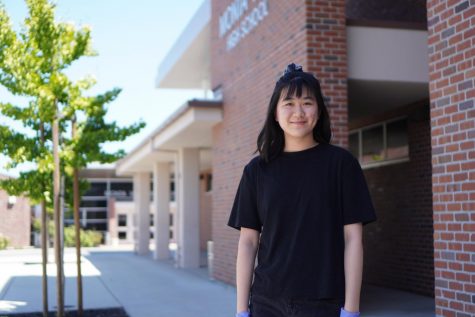 Annie Zhang, Entertainment Editor
Annie Zhang is currently a senior and a Entertainment editor for El Estoque's multimedia platform. In her free time, she enjoys spending quality time with her younger brother, designing spreads, watching sunsets and listening to R&B music.