El Valedor presents at national yearbook workshop
Junior Lydia Lu shares her COVID-19 social media strategy at yearbook webinar
On Nov. 17, junior Lydia Lu began her presentation about El Valedor's social media strategy at the Walsworth Social Success webinar, a virtual event targeted at high school yearbooks' social media teams. She had recited the presentation only once before the previous day and was now smiling at an audience of yearbook students, editors and advisors from across the country. Throughout her presentation, she would share tips on building a social media presence and effectively connecting with high school students during the COVID-19 pandemic. 
Lu currently serves as the communications editor for El Valedor, a position that was created this year in order to inform students about ASB cards and yearbook sales. Lu explains that while she has always been interested in social media marketing, she realized she could help El Valedor with their social media presence when the managing editors approached her with the position. 
This year, Lu and other El Valedor staff began using different Instagram features such as polls, stories and IGTV to promote their content. They have created at least 64 posts since the beginning of the school year which include staff profiles, yearbook content teasers and countdowns. Their recent theme reveal video was reposted by staff on Instagram stories and received over 1,200 views, which Walsworth consultant and the webinar's organizer Jim Jordan thought was "particularly impressive."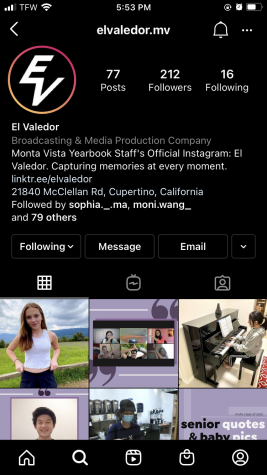 With these changes, El Valedor's Instagram page has grown from approximately 60 followers to 210 followers as of Nov. 17, but El Valedor's adviser Julia Satterwaite acknowledges there is some room for growth.
"I wasn't surprised when Walsworth reached out to me and said, 'Hey, we noticed that your Instagram account is doing some cool stuff. Would you be willing to have a staff member from El Valedor present for this national webinar?'" Satterthwaite said. "I was like, 'Yeah, absolutely I would, and I knew exactly who that would be.' And [Lu] did just such a phenomenal job … I just think she is going to continue to grow our presence and continue to generate excitement about our yearbook." 
At the webinar, which had 117 viewers, Lu shared five distinct tips. First, she encouraged other publications to use all features on each social media platform, referring to the success of the theme reveal on IGTV video and El Valedor's Instagram polls. Next, Lu highlighted the importance of consistency and scheduling when uploading content updates. Earlier in the year, Lu analyzed Instagram analytics for the yearbook Instagram page and was able to determine the optimal time to post updates to ensure the greatest of visitors will view them, around 3:30 PM – when students get released from class.
Lu also shared the benefits of engaging with the school community through social media. Lu explained that by tagging photographers, sources and writers, students felt more involved in the yearbook's social media and were more likely to repost the content. Lu concluded with three additional tips: partnering with other organizations on campus, posting content that has to do with students' lives on and off campus and including a wide variety of content. 
In addition to the work she has been doing at El Valedor, Jordan also recognized Lu for her speaking abilities and expertise on the topic. He emphasized the power of social media marketing for the yearbook and its effect on the school's buying community. 
"One of the things a strong online presence does is it shows your buying community, whether it's parents or students, that you are making a yearbook that is worth purchasing," Jordan said. "Once you show people the product you are [creating], this coverage of this crazy and historic year, everybody is going to want to buy it, but you have to prove to them that the product is of value." 
As the second semester approaches, Lu and the El Valedor staff are working on creating more yearbook sneak peaks. They also plan to continue implementing staff spotlights to introduce El Valedor staff to the student body as well as new photo contests where the winners would be featured on a specific page at the end of the year. Lu concluded that while she was nervous during some parts of the presentation, she was glad at the end to be able to share El Valedor's social media successes on the national stage. 
"The webinar was really exciting because I had never done anything at that level, one being it was a national webinar and just talking about social media in general," Lu said. "Throughout the presentation, I kind of eased into [speaking to an audience]. I began to feel more confident that I knew what I was talking about … Overall, it was a really great experience and it was really enriching."