Girls Water Polo: MVHS falls to Harker HS Water Polo 14-5
MVHS loses to Harker HS for the second time of the season
On Oct. 10, MVHS faced off against HHS again. The MVHS girls water polo team fell to Harker HS (HHS) almost one month ago.  This time however, MVHS had the privilege of playing in their own pool. However, MVHS lost their chance to beat Harker once again.
According to head coach Randy Kenyon, while pregame hopes were high, MVHS had a lackluster start, including numerous turnovers and missed shots. Junior Jen Prall saw the problems as a result of intensity.
"We didn't come out with 100% energy," Prall said. "We knew this game was going to be hard so we didn't come out playing our best."
During the first quarter, Kenyon admitted he was frustrated with the team's play.
"A lot of my frustration is [because] we have a lot of potential on the team, and we've played very good games and played very well [in the past]," Kenyon said. "We've played this team before, last time we played [HHS], they really beat us, this time, we really had a wonderful opportunity and a potential to come out strong, [but] we came out a little bit flat."
While being down 7-2 after the first quarter, the Matadors had a strong turn around, scoring three unanswered goals. Kenyon saw MVHS play in the second quarter as more of what he was looking for.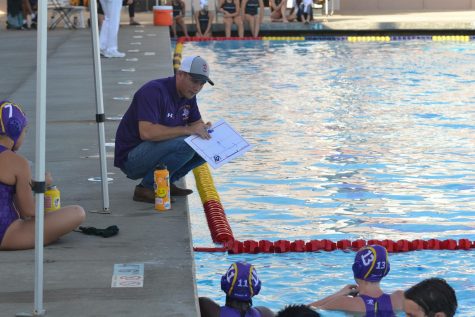 "In the second quarter, we really brought it. You could see, it was a one or two goal difference in just the second quarter alone," Kenyon said.  "That's the type of energy, the type of fire, that really helps us accelerate and win games. When we can really bring it, like we did in the first [half], that's when we really like to see."
Following a strong start to the second quarter, HHS scored three straight goals to bring the game back to a five goal HHS lead. According to junior Christy Feng, communication and mindset were both issues in the pool.
"I don't think we really had good communication throughout the team." Feng said. "I think it was mainly our mindset, because we lost to them before, our mindset going into the game was, 'we lost to them before so we're gonna lose to them again.'"
HHS continued to stretch the lead in the third quarter while keeping MVHS scoreless throughout. Kenyon sees scoring goals as a large motivational booster, but not necessarily the most motivational.
"When we score a goal, it's hugely motivating, but more often than not, it's when you come back on defense and you're able to stop a goal, and are able to score." Kenyon said.  "We were able to do that a few times this game. We did it a little bit in the second [and] third, that's when you get really motivated."
Another fourth quarter ended in a 14-5 HHS win. Prall reflected on her performance and wasn't happy with her effort.
"I think I played pretty bad[ly]," Prall said. "While it was my best game, I don't think I put all of my effort in."
Kenyon doesn't believe that the loss is representative of his teams overall potential and skill.  He believes that the team can play better.
"For the rest of the season, I see us going up and up, today wasn't very representative of how we actually can play,"  Kenyon said. "We can really bring it, we can really play and I believe and I know that we can continue to do so in the later half of this season."
About the Contributor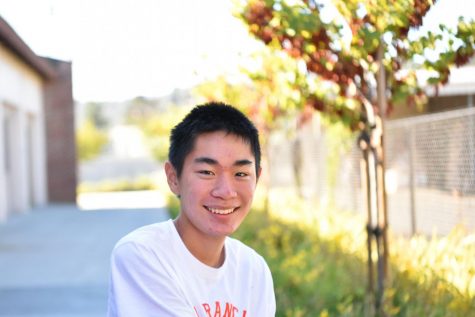 Lance Tong, Managing Editor
Lance Tong is currently a senior and managing editor for El Estoque. He is a member of the MVHS Volleyball team. Lance enjoys watching the Giants and studying for APUSH in his spare time.