Reaching out to new faces: Matador Mondays
Leadership's Matador Recognition commission celebrates members of the MVHS community
Clips of giggly friends flash across the screen, each racking their heads for words to describe a person they love — some serious, others sarcastic. As the first Matador Mondays Instagram video created for junior Sylvana Northrop concludes, the words, "We love you Sylvana!" pop up on the screen and sum up the sentiments of each person: shared admiration and adoration of their friend.
Matador Mondays is a new project kick-started by Matador Recognition (Mat Rec), one of the Leadership class's four commissions. Responsible for recognizing MVHS staff and students  throughout the year, Mat Rec organizes events like staff brunches and Valentine's Day heart searches. In the 2018-19 year, the committee started teacher shout-outs over the announcements. To take it a step further, Mat Rec member and junior Melannie Ooi explained that the commission wanted to try out a new angle this year.
"In the past, we did teacher shout-outs, but it wasn't really consistent — it was once every so often," Ooi said. "And so with Matador Mondays, we decided that we could better recognize students that we don't recognize as much as well as more teachers, just covering more ground."
The initial idea for the Instagram story promotion project occurred by chance from a brainstorm session and took off, according to Mat Rec member and junior Akash Dubey. 
"One day, all of Mat Rec were just in the gym lobby and we were brainstorming ideas, and one of us said, 'What if we make an Instagram account?'" Dubey said. "And then we were like, 'Oh, sure, but what are we going to post on it?' And then we just started spitting out ideas and Matador Mondays came out of it."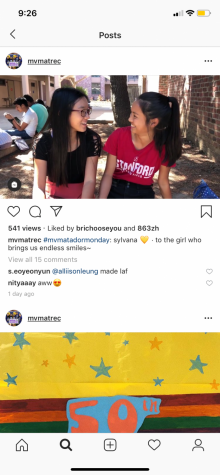 Matador Mondays are shared from the commission's Instagram account (@mvmatrec) where users can recommend students and teachers deserving recognition via a Google form linked in the bio. From there, the commission members go through the list of recommendations, select an individual and start the creation process, which involves filming selected students' friends for Instagram or writing announcements for teachers.
In addition to the video for Northrop, Chinese teacher Zoey Liu was recognized on the announcements. Garnering over 50 submissions on the form since its initial promotion, the response to Matador Mondays was much greater than what Mat Rec expected.
"Everyone thinks [Matador Mondays] is a pretty cool idea," Mat Rec member and junior Kayla Israni said. "They were a little bit confused at first, they were like, 'What are Matador Mondays?' but now they understand it."
Although the response to Matador Mondays was higher than expected, unanticipated problems like content not living up to expectations delayed Mat Rec in its first post. The members wanted to put up their first post and announcement on Sept. 16, but ended up kicking off the project on Sept. 23 instead. 
Mat Rec also believes that they can make many improvements to their work, but balancing Matador Mondays with other responsibilities like managing homecoming court make consistency and efficiency challenging.
"We still need to find our rhythm into being more efficient with Mat Mondays because that was an issue for a little bit," Ooi said. "[We] want to try and do something a little different every time so it's not boring and also unique to each person."
About the Writer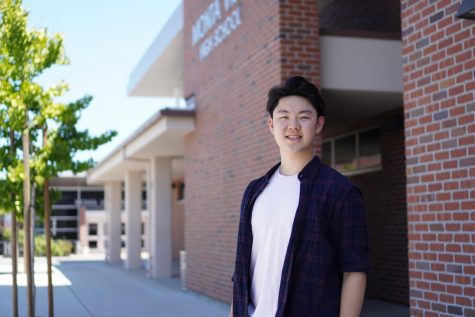 Tyler Cho, Opinion and Design Editor
Tyler is currently a senior and an opinion and design editor for El Estoque. He is a player on the varsity MVHS Boys Volleyball team and also participates in club volleyball. Outside of school and volleyball, he enjoys spending time with his family, playing bass guitar and spending hours on end absorbed with Starcraft.