Decor Dilemma: Exploring the ideas teachers have for designing their classrooms
Teachers begin redesigning their classrooms for the new school year
There's a visual language in every classroom — one that transcends blank walls to reveal teachers' interests, past lives of alumni, or curriculum. Evident through posters, projects, photos of happy faces or a zen garden, the walls of a classroom make it apparent that many teachers customize their rooms to fit their personality or intentions for the year.
Beginning in early July, multiple buildings throughout campus were renovated. Whether it be the annual polishing of floors in the F building, the new heating and cooling system, or flooring and fresh paint in the A and C buildings, classes had to be stripped of decorations and desks late last school year.  
For history teacher Robyn Brostowicz, these changes provided an opportunity for her to purge old items, and start with a fresh slate this year. 
"I love the way my room looks and smells," Brostowicz said. "It has a fresh feel to it. It's definitely worth it in terms of coming back to a clean start, for sure." 
Since the renovation process of 24 classrooms required that all items — including posters, pictures, student work and personal memorabilia — be taken down, the process provided teachers with a blank canvas when they returned this year.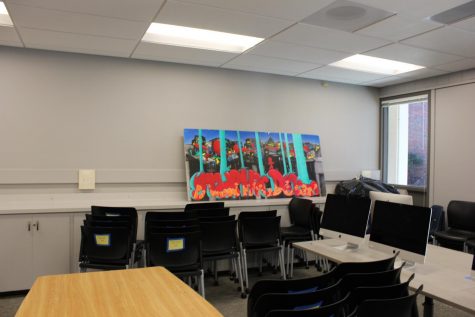 For art teacher Brian Chow, planning the layout of his three shared classrooms proved to be essential for staying organized. For Chow, labeling every box with the specific location he needed it to be returned to helped him while moving back into his Commercial Art classroom in the A building.  With more wall space this year — the result of the removal of excess windows and whiteboards — the other teachers sharing classroom A106 with him, Debbie Frazier and Jay Shelton, have briefly discussed how to organize their new shared space.  
"[It's] absolutely crucial to make the room feel comfortable," Chow said. "I did actually have it pretty well laid out in my head, but since I do share the room with two other people, [we] should have an equal opportunity for everyone to pick spots where they want to put stuff."
He notes that he wants his three classrooms to provide a cozy atmosphere where students can be inspired by others' artwork. Still in the decorating process, he plans to continue what he has done in the past years prior and showcase inspirational pieces. 
"[I hang up things] related to the curriculum," Chow said. "If we're doing design, then there will be design type of things that are in here … student examples or other examples of artwork that might spark imagination."
To junior Molly Mobley, the room decor and setting of her classroom creates an atmosphere that she believes is crucial to her experience in class. 
"I think it definitely does have an effect on the students," Mobley said. "I feel like a homey vibe that's welcoming is a lot better for someone's well-being and their mental health because  it makes you want to be there. It makes you want to do well."
While Chow utilizes his prior students' artwork to motivate current students, economics teacher Pete Pelkey plans to incorporate various calming items, such as a small zen garden and fountain, to further his aim of creating an inviting space. In addition, Pelkey says he will continue the trend of organizing his desk to be in the center of the classroom. 
"The desk has to be in the center of the room," Pelkey said. "I'm in the center of the room, which means I'm not scared of you and that I want you to be here. Then I make it a happy place because the feng shui of the room is very important." 
Similarly, Brostowicz explains how decorating her room with personal items opens a door for her to connect to students. 
"I think it gives [the students] a little bit of insight to me as a person and as a teacher," Brostowicz said. "And hopefully that gives them a little bit more willingness to trust me as a person since I've opened up and shared some of the things that are important to me."
Illustration by Emily Xia