With you until the end: seniors and teachers reflect on their relationships
"I feel like teachers really do have that — Hi, Mr. Shelton!"
It's a Wednesday afternoon, 10 minutes after school has ended, when Yearbook Editor in chief Vanessa Lau spots Yearbook adviser Jay Shelton walking toward his car, cutting off mid-sentence to yell the greeting across the staff parking lot.
"Hi! Is that your interview?"
"Yeah."
"Don't say anything weird!"
"I'll try not to," Lau calls back teasingly.
The friendly banter ends as Shelton gets into his car and Lau returns to the interview. Like Lau, through their years in high school, many students have developed close relationships with teachers beyond the scope of a typical classroom, especially through activities such as yearbook, robotics or drama.
There are over 600 seniors graduating this year. Each student will leave their legacy through the connections they've built over the years, whether it be with teachers, coaches or friends. Although they are leaving this school, they will have a lasting impact on the people they have joked with playfully, ranted to in frustration, supported and cared for, through the irreplaceable memories they have created here.   
Years of memories
Rows of computers line the desks and colorful posters adorn the walls of room A103. The cozy room is home to dozens of students who meet during seventh period each day, taking photographs, writing profiles or designing spreads for El Valedor. Each day, amid the chaos, two figures keep everything in check: Shelton and Lau.
Over her three years on the yearbook staff, Lau has forged a close relationship with Shelton. By the end of Lau's sophomore year, Shelton viewed her as one of yearbook's strongest workers. Lau was appointed editor in chief her senior year, leading her peers with a style in direct contrast to Shelton's.
"I have to be loud," Shelton said. "I can't let things go. I have to bring everything up and I'm just impressed the way she can be subdued and reflective. She doesn't get excited like I do. She doesn't get angry at them like I do. But everything is taken care of."
According to Shelton, Lau laid a solid foundation for El Valedor this year through creating a secure environment for all students. At the end of each day, Lau is the last student to leave the room; she will wait anywhere from five minutes to half an hour for every other student to leave before she packs up. Though past editor in chiefs have gained the trust of their peers, Shelton shares that Lau is a rare editor who has had no students "[go] to war with her" or reject her opinions.
But beyond establishing trust with her peers, Lau has built a strong bond with Shelton. Shelton describes their relationship as one of coworkers or coparents, since Lau is mature enough that Shelton has never had to intervene with her leadership. As Lau rarely asks for help with personal problems, she is grateful that Shelton often checks up on her proactively.
"It's just the idea of having a teacher really believing in my abilities, because there's very few teachers I feel that I have really connected with, and he's one of them," Lau said. "So I think it's just the idea that there's someone there for me, that's really nice … It's just that constant presence he has in the back of my mind, like 'Okay, I have someone watching over me.'"
Shelton routinely checks to makes sure Lau is doing OK, pulling her aside to share songs from his playlist or engage in conversations ranging from Marvel and DC movies to college life to managing the yearbook. In turn, Lau makes a point to take care of as much of the yearbook as she can, keeping a calm demeanor and notifying Shelton of problems only when absolutely necessary.
"I've had wonderful editors before, but in my 23 yearbooks, I'd put her among the best at high, high growth," Shelton said. "That's saying a lot — they've gone on to do a lot of great things. But as a person I find her so interesting."
Loving the craft
When Monta Vista Robotics Team (MVRT) president Andy Ding joined the team his freshman year, his first impression of advisor Ted Shinta was that he was "to the point." Initially, most of their interactions consisted of Shinta telling his students to put tools back in the right places.
But in his next few years as part of MVRT, Ding got to know Shinta on a closer level by learning about his past military career and working with him in robotics. By his senior year, Ding became the MVRT president and worked alongside Shinta to lead a club of around 140 students. Shinta describes their roles not as student and teacher, but as leaders in a company, with Ding assuming the position of CEO and Shinta acting as a board member and supervisor.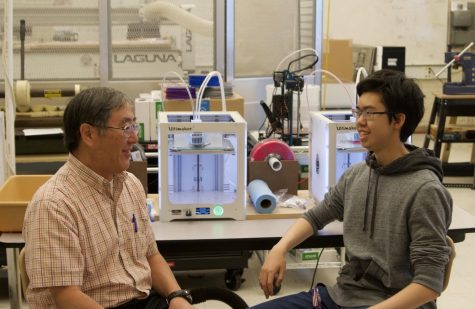 "He's smart — Andy's very smart," Shinta said. "And he's polite, and he's a hard working guy. In robotics, there's a lot to learn that is apart from school. A lot of what they do is stuff that people do in industry, so he's stepped up and learned how to do all that."
As most of the officer team was graduating last year, Ding had to step up to his job as president without much experience. Even so, Shinta describes him as being a "pretty clear choice" for being president. Shinta appreciates the fact that he is upfront and doesn't try to conceal anything. He feels that often, as a teacher working with students, they aren't always straightforward.
"But in working with Andy, I've really seen that he is really upfront and keeps me informed," Shinta said. "It's important for the student to take the initiative because I'm pretty busy. And so I might not even know what's happening if I'm not even being informed by whoever the president is."
From his "deadpan humor" to his calm demeanor when dealing with obstacles during build season, Ding's unique qualities are valued by Shinta and his peers. Shinta admires Ding's honesty above all; whenever Shinta checks with Ding about his next steps for the club, Ding never tries to sugarcoat the truth.
"I like Andy — I really do like him," Shinta said. "And I think he's going to do well, once [he] leave[s] school and go[es] to college and go[es] into the workplace, because he has the kind of personality that's easy to work with, and is hardworking, honest and bright."
Playing the role
When drama teacher Jeffrey Adams first came to MVHS in the 2017-18 school year, he didn't know much about the drama program. He was filling in for Sara Capule while she was on maternity leave, and one of the first students he met was drama student Andy Chen, a stage manager for the musical "Urinetown."
"He's been my go-to guy for a lot of stuff, whether it's as a TA or coming into the department not really knowing a lot about how the system works," Adams said. "He had the answers for everything. So if I have something I need, he finds a way to make it happen."
Chen is only a student in Adams' seventh period Advanced Drama class, but is an official TA for his third period as well an honorary TA for his fifth, in which Chen voluntary helps out during his free period. He also often eats lunch and hangs out before or after school in Adams' office, even when no one else is in the black box theater. Within a year, the two have formed a close bond.
"Since he first arrived, I always kind of talked to him daily, whether it's about working drama or just personal life," Chen said. "He's the type of teacher where you can literally go to him for anything: personal problems, school problems, just talk to him. He's really open. He's not scary at all."
Adams is also appreciative of the support Chen provides, as he is good at reading emotions. When Adams is having a rough day, Chen shows up to rehearsal with a warm cup of coffee for him without being asked. The two also share a similar sense of humor, with Chen occasionally sending Adams an email with memes.
"He brings his own Andy sarcasm and wit to all of his characters," Adams said. "I think he gets off task quite a bit in the rehearsal room, which I always find funny and appreciate. But yeah, he always brings his unique sense of humor to every role. He does have a pretty [cool] Mr. Wong impression if you ever want to ask him about that."
The two often see each other outside the school day as well. Chen admires Adams' acting skills, who is a working actor over the summers. Chen would go with his friends to watch Adams' performances, in theaters as far as San Francisco and talk to him about his performances afterwards. Additionally, Chen takes vocal lessons with Adams' wife after school.
"I value his leadership as a student, but also value his friendship, as well," Adams said. "[He]'ll be missed next year for sure. I think people appreciate Andy for who he is. He's very true to himself … Whatever school ends up getting Andy and his sense of humor, they're going to be a lucky, lucky program."