Back to back: How boys volleyball overcame immense expectations
A year ago the boys volleyball team won NorCals, the highest possible achievement, and with that, the bar for this season was set — anything short of a NorCal Championship would be a disappointment. Winning a championship is hard, but repeating one — that's a whole different story.
Relief — that's what Coach Paul Chiu felt last year when the boys volleyball team took home its first major championship. He says it was delightful to watch everyone celebrate the NorCal Championship — the parents, the athletes, the community all rejoicing in the heat of the moment. But beyond those emotions, he could rest easy, at least for the moment, now that he had accomplished what he had set out to do as a coach at MVHS.
"It was a relief that we finally got to the top of the mountain," Chiu said. "We got the monkey off my back and off the school's back."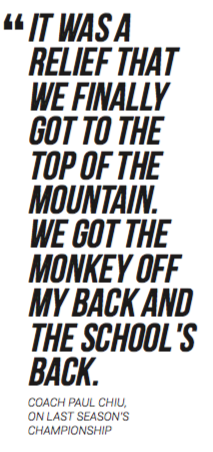 The lead up to last year's iconic championship victory began three months earlier at the Best of the West Tournament in San Diego, where the team finished in second place after losing in the final. The result was unexpected, according to senior and captain Gautham Dasari, but this performance set forth the momentum that carried  them throughout the season and into the team's NorCal championship.
"We beat the number one team in the nation, and then everyone's like, 'Who's this team in purple?' They were all shocked. No one [had] ever heard of us," Dasari said. "[This year] we're getting the recognition — it's a great feeling. People know that we put in the work, and we're a team that deserves to be talked about as one of the best in the country."
Naturally after last season's triumphant performance, the team had high expectations for Best of the West this year in March — they believed it would, once again, set the rhythm for what they foresaw as another NorCal winning season. However, the team suffered three defeats in six matches in an overall disappointing tournament.
The losses were difficult to handle because, as seniors Ryan Tagawa and Rithvik Madhdhipatla describe it, the team expected to have an undefeated season. Dasari's main focus this season has been winning CCS, a feat the team was unable to achieve last season after losing in the final to Bellarmine College Preparatory. Senior and captain Kevin Mathew admits that the only way to truly succeed this season is to win NorCals. Chiu adds that for the last four years, the expectations he sets for his team have been nothing short of winning both     CCS and NorCals. There's no doubt that the pressure — both from the outside and from the athletes themselves — is  immense.
Yet according to Chiu, pressure is something the team has thrived under for a good part of the past decade. He says that every volleyball team in the area knows exactly who MVHS is and exactly what they are getting themselves into as the match begins. In that sense, the team has been playing under this pressure for so many years that they've learned to ignore it.
"We're used to that up here — we were an underdog and a big surprise down in SoCal but up here, we're the top dog," Chiu said. "Last year we lost to Saratoga HS and if you saw their celebration afterwards you would think they had just won CCS or something, so these guys are used to it because the teams we play up here understand who we are and want to beat us. The pressure of being a top dog — the boys are familiar with that."
The pressure doesn't change, according to Chiu, regardless of whether MVHS is the underdog or the favorite. Although it may feel like the Matadors are the team to beat, Dasari explains that this belief also contributes to a lack of discipline from opponents.
"Other teams are playing like, okay, 'We have to get past MVHS.' We have this target on our back, and when another team plays us, they just play like they have nothing to lose. So they'll go out swinging like crazy," Dasari said. "They're just hoping that we make the mistakes, and they're just playing like they have nothing to lose, and hoping that we help them by losing the game."
Even though MVHS is a "targeted team," solid fundamentals and simple, straightforward, volleyball allow the team to continuously find success. Chiu sees his team in the same light as that of the New England Patriots. He explained how the Matadors' multi-year run of rock-solid success, while also managing a revolving door of new players, is a direct resemblance of the six-time Super Bowl champions.
"There's a culture we've built up over the years, I can take a lot of credit but the kids, once they come here they buy into the system, so to speak, they're all home grown, and we do creative things but there's a consistent attention to detail," Chiu said. "I tell these guys it's the little things that when you do well, it adds up to team success."
In order for the team to succeed, it is less about what the opponent has in store for that game and more about what the Matadors do on their half of the court. Dasari explains that the team rarely watches film or creates a specialized game plan for a particular opponent which they are playing.
"For example, [against] Harker HS, we know they tip, so we shift up," Dasari said. "[But] we never do anything that's that drastic of a change. [Coach Chiu] knows in the way that he organizes our lineups, he knows that if we just play how we always play, if we play consistent and clean volleyball, we should be fine."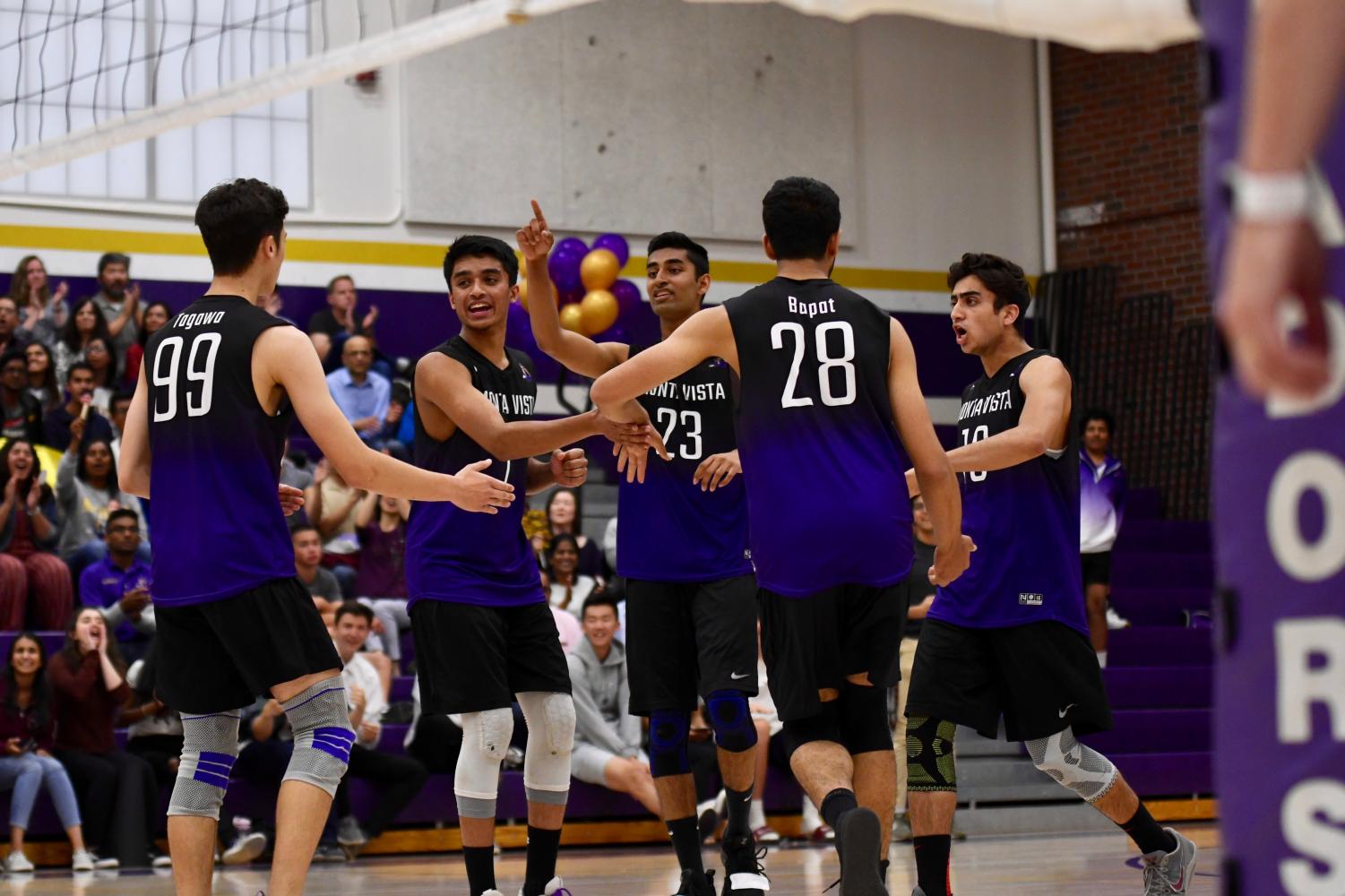 Mathew admits that ideally, the team plays at its best against every possible opponent — but in reality, that isn't the case. Doing the same thing over and over can grow mundane sometimes, and against some less talented teams, MVHS has confidence that it will come away with a victory. Realistically, according to Mathew and Dasari, the team has a switch which can be flipped on when the opponent is more talented and the game is close.
"Sometimes we do have to rely on that [flip of a switch], which is the issue," Dasari said. "If we're playing a not-so-great team, we sometimes tend to play down to their level."
To combat the occasional monotony that Mathew mentioned, Chiu has introduced numerous new drills over the past couple seasons to keep practices productive but also enjoyable. One example is a drill which Chiu calls "don't drop the baby" where two teams play against each other, but each team also has a designated ball which is called the "baby." The teams have to try to score a point while simultaneously passing around the "baby" — if one player has the "baby" and the ball comes towards him, he has to pass the "baby" in order to manage the incoming ball.
"It's pretty chaotic, but it's also volleyball IQ where you've got to develop a strategy to pass the baby around at the same time," Chiu said. "It teaches you how to play when you're under a lot of mental stress — to think about not dropping the baby."
It's moments like these that have made this season unlike any other, according to both Madhdhipatla and Tagawa. They described this year's squad as something special, admitting that they would "always take one for the homies."
"Every time we walk into the gym it's [about] more than just volleyball," Madhdhipatla said. "It's about our teammates."
Madhdhipatla adds that this year, the team feels more tightly knit, allowing for a more calm vibe both at practice and in games. Dasari's dad, Ajith Dasari, who attends nearly every game, says that this group of boys knows exactly where their priorities are, and Chiu instilled the appropriate team culture years ago. While it would be easy for star players to take over for MVHS and make this an individual show, Ajith says that is not the case with this group of players. Proof of this is in the team's newly added bench celebrations, something Ajith admits he has never seen before this season.
"Most of the time, whenever there is a kill or whenever they get a point, I look at the bench because they are so exciting to watch," Ajith said. "I see all the camaraderie and rapport the guys have, that they are truly supporting the team. That is very impressive, when you have a team of all 18 people screaming."

Players like Tagawa believe it's the hard work that has allowed this team to live up to expectations. It's hard work that lets the players ignore the pressures, from themselves, from the opponents and from the surrounding community. While Dasari, Madhdhipatla, Mathew, Tagawa and the other returners enjoy reminiscing about last season's triumphs, they know that if they want to return to the top of that mountain and relive the championship feeling, they will have to work for it.
Hard work is something Chiu has always preached to his players — Tagawa and Madhdhipatla recall a moment from their sophomore year which encapsulates everything about this team's mentality, success and ability to live up to expectations.
"So we were having some trouble setting up the net and coach pulled all of us aside… and he basically said 'If you wait for anyone to do your work, you're [screwed].' He said 'I don't want any of you guys to be a bum […] who wins the lottery,'" Tagawa said. "Coach has always had that mindset where you always have to put in the work, and you can't be waiting on other teams to catch up."
About the Contributors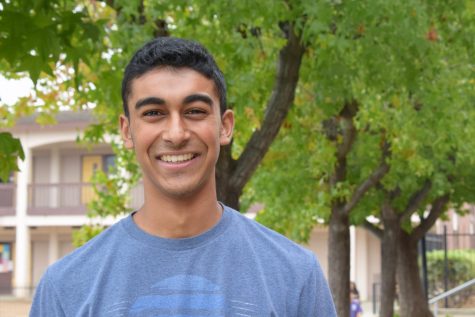 Roshan Fernandez, Co-Editor-In-Chief
Roshan is a senior and co-editor-in-chief for his school's publication El Estoque. He enjoys writing, reporting, interviewing and photography. He was previously a sports editor and a visuals editor in his junior and sophomore years respectively. When he is not writing for El Estoque, he can be found playing soccer or spending time with friends.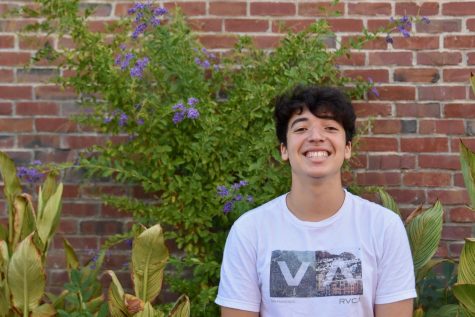 Kamyar Moradi, Staff Writer
Kamyar is currently a senior staff writer for El Estoque. In his free time he loves to spend time with his friends and family, talk about sports to whoever is willing to listen and enjoy music from the best rapper alive, Montana of 300.