Behind the budget: School Site Council 2018-19
Members of School Site Council share the work they have accomplished in the 2018-19 school year
F
ield trips are often hallmarks of many students' high school experiences. For them, memories are created while traveling outside of their mundane daily routines. However, the work put into funding these trips to Southern California, New York or even a 25-minute drive to Great America remain largely invisible to students. The meetings that the School Site Council (SSC) holds play an integral role in these events, and ultimately, our school.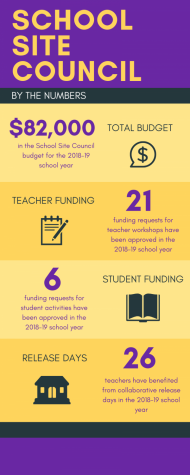 SSC consists of 16 members — teachers, students, parents, administrative staff and classified staff. Assistant principal Nico Flores plays a large role in SSC by accepting and managing funding requests and preparing meetings. Junior Dan Sachs and senior Vivek Kamarshi are two of four student members on SSC, and their roles include attending six meetings throughout the school year and making sure they accomplish what they planned for during these meetings. SSC operates with a budget of around $82,000 and has helped fund activities for both teachers and students, as well as worked towards connecting the MVHS community.
To Flores, SSC is an exciting team to be on because its budget is a spending account, rather than a savings account. According to him, it provides a freedom in direct contrast to how people instinctively act with money. Rather than saving funds for future years, the goal is to spend all the money by the end of the school year in order to better the school community each year.
Behind the process
Before groups with funding requests attend a SSC meeting, they must fill out a request form detailing their event information and the various costs. They enter the totals for different aspects of their trip: lodging, registration, transportation, meals, incidentals and substitute teachers. In addition, they provide responses to three questions on the form: a brief overview of the event, how it will benefit the school and how they will share what they learn with others.
Once the form is complete, requests are directed to Flores and are clarified if needed. Groups requesting funding then attend a SSC meeting and present their funding request, while SSC discusses whether the funding is necessary as well as an appropriate amount to fund.
Serving the staff
The School Site Council is often a driving force behind many teachers' career development. Though it's rarely mentioned, SSC has funded several critical teacher conferences, ranging from those centered around content for AP U.S. History classes to those designed to expand techniques for sports medicine. Flores says that 21 teacher funding requests have been approved in the 2018-19 school year.
"The teachers are doing it to get better at teaching," Kamarshi said. "It's the school's incentive to make that possible for them payment-wise, like hotel fees and registration fees, which can be really expensive as well."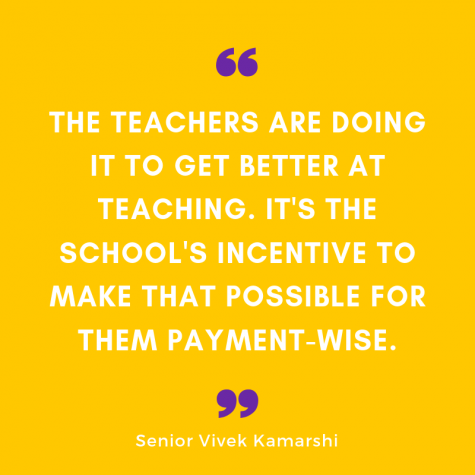 Additionally, SSC is keen to collect resources. Whenever a teacher attends an educational conference, they are encouraged to share their resources among other teachers upon their return. For example, history teacher Bonnie Belshe often shares primary sources and curriculum information for AP U.S. History with history teacher David Hartford after attending conferences. History teacher Scott Victorine applies his learning from conferences to help teachers and students through teaching the power of positive psychology.
After each career development opportunity, teachers are also asked to fill out a form to provide feedback for the event. If they deem the event useful to their career development, then they can suggest another visit in two to five years. Otherwise, they can let other teachers know not to attend the same conference, saving future teachers the trouble.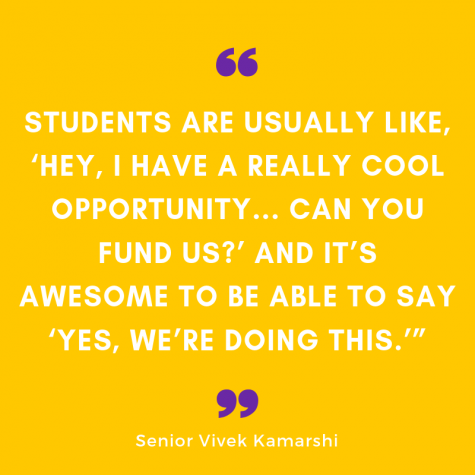 "It's really nice to see that some teachers receive funding for field trips from conferences," Sachs explained. "When they come back, you can see that they're using it, they're spreading their knowledge not only to the MVHS community, but also to other attendees of conferences, for instance."
Teacher release days are another form of support for staff members. Groups of teachers who need extra time to collaborate on course content and communication may request a release day. Release days provide teachers with an additional day of collaboration while substitute teachers are hired to cover their absence. This school year, eight groups of teachers have been funded for release days, helping 26 teachers.
Supporting Students
Just as with teachers, SSC supplies a financial backbone for many student activities. Clubs planning events with large expenditures, such as trips to national competitions, often seek out SSC for financial assistance. This school year, six student events have been funded by SSC.
Within the last two years, many clubs have gained funding for events from SSC to go to competitions and larger trips, such as Variations' trip to Carnegie Hall in New York, Speech Club's national tournament, Chess Club's national competition and journalism conferences, among others. Even field trips have been funded by SSC.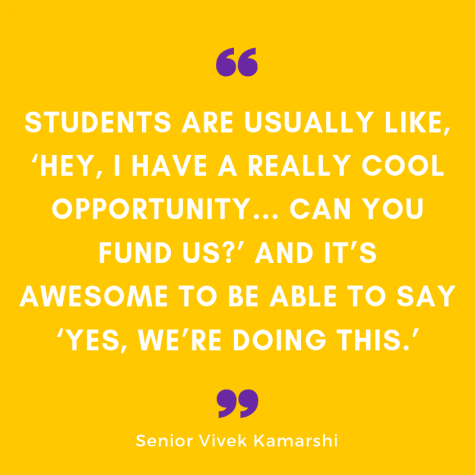 "There has been an AVID field trip that we received a lot of feedback from students who said that it was amazing to go see schools in Southern California," Sachs said. "It's really nice to be able to give students the opportunity to see the world."
Carrying this sentiment, Sachs believes that funding students is one of the most fulfilling aspects of being a part of SSC. Likewise, Kamarshi shares a similar point of view, noting how much he enjoys listening to students propose their funding requests.
"I really like the student presentations," Kamarshi said. "It's nice to hear from a student perspective because the students are usually like, 'Hey, I have a really cool opportunity but our club's a little low on money. Can you fund us? That'd be super cool.' And it's awesome to be able to say 'Yes, we're doing this.'"