Bouquet of orchids
The Malihini Orchid Society hosts the 2019 Annual Orchid Sale and Culture
Story by Alyssa Hui and Claire Wen
Photo essay by Helen Chao, Hannah Lee, Collin Qian and Herman Saini
"They're hardy plants."
The temperature can reach below freezing before there's flower damage, while other variations can handle triple digit heat. They populate environments from tropical rainforests to the Himalayas to the tops of oak trees.
The orchid family Orchidaceae ranks as the second largest family of flowering plants, and its species can be found growing all over the world. The non-profit volunteer organization Malihini Orchid Society is dedicated to appreciating and cultivating the diverse orchid species and hybrids, hosting its 2019 Annual Orchid Sale and Culture Demonstration on April 6 and 7.
According to Bill Weaver, president of the Malihini Orchid Society, the club tries to hold a show or a sale at least once a year, and is one of several different orchid societies in the Bay Area. Although the biggest challenge is usually finding a place to hold the event, this year, they were able to easily find an open space at Main Street.
"The Main Street folks here let us borrow this space that's not in use," Weaver said. "They haven't found a client for this [building] since the last one moved out, so they were nice enough to give us the space, put up our banners for us, let us use these advertising things here and put [the event] on their website. Then, we do this and we try and get people to come in here and then go visit all the stores around the mall here."
Attendee Keenan Hampton enjoys events like these because the smaller venue allows buyers to have more direct communication with the people who grow the orchids, rather than the employees selling them in a store.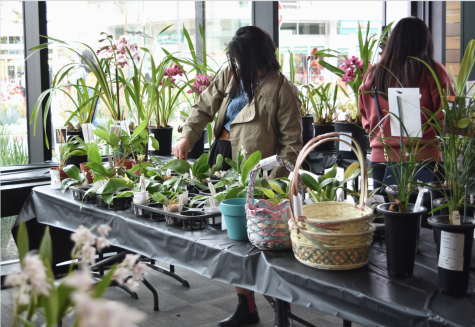 "I don't like having to go through a store and having to ask people how did they care for these orchids to be told, 'Oh, I just buy them from a grower,' like, might as well go directly to the grower," Hampton said.
As part of the event, the club organized volunteers to run the event and four vendors, who are not necessarily members of the club, to sell the orchids.
Dan Asbell, one such vendor from Asbell Orchids, was first introduced to orchids by his father, and for the most part, it was simply a hobby at the time. After his mother became sick, however, Asbell moved back to help his father take care of his mother, and the pair got back into hybridizing orchids, crossing plants from different species of orchid. It had initially been a retirement business for his father, but from there, they expanded.
"Once you've got it hybridized, and you do it every year, when they start to bloom, as long as you continue to make the hybrids every year, you'll continue to have new first little seedlings every year," Asbell said. "So once we've got that pipeline full, then we can, every year, see new kinds of stuff, new color forms, new whatever, save the best of the best as parents in the future, and we can continue to increase and see new flowers, stuff that nobody else has a lot of times."
After cross pollinating a flower, Asbell waits nine months for the seeds to mature. Orchid seeds are unique in that they only have an embryo without an endosperm (the nutrient store in the seed that typically feeds the embryo), so they only have a size of around 50 plant cells. In the wild, only handfuls of seeds survive the process of germination, so Asbell kills the bacteria, increasing their germination rate to 98%. He then plants the seeds, never knowing quite what to expect.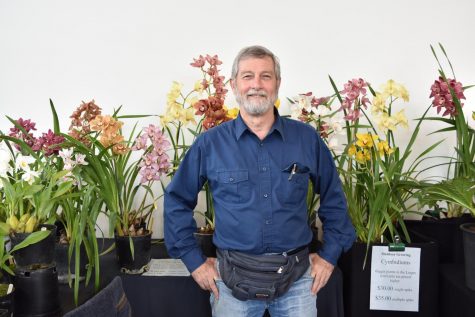 "Genetics is a funny thing," Asbell said. "You just can't predict with any high degree of certainty what you're going to get. If I know certain parents, the pattern is such and such […] I can predict some things but even then you're going to get some surprises. And if you're doing intergenetics that have never been done you have no idea. So yeah, that's why sometimes it can be real fun."
Although the day-to-day work of weeding and caring for the plants isn't always exciting, Asbell always enjoys seeing the results of his work. However, it takes quite some time before they are visible.
"They're six to seven, sometimes eight years before they bloom for the first time," Asbell said. "We get a few precocious ones that can come early. And their hybrids may or may not come early, so they're always good to hybridize. There's also one reason that that orchids tend to be a little bit more expensive than other plants because it just takes a while to get them going."
Despite being costly, there are many orchid enthusiasts who buy and plant them. As both her mother and grandmother are passionate about orchids, Hampton has loved the plants since a young age.
"There's always something new to learn, in my opinion, especially it's pretty hands-on and it's not as like intense care, [where] you have to water them almost every day like tomatoes or herbs," Hampton said." It's like just water them once a week. It's pretty manageable."
Weaver's interest in plants and orchids stems from his childhood.
"I've been a plant geek since I was a little kid. I mean, I had a garden at home," Weaver said. "We lived across from the school, so when lunchtime came, I ran home and watered my garden. Then, I bought my first orchid in 1979 at a flea market at a drive-in theater in San Luis Obispo when I was in college. Now, I have probably 4,000 plants […] and it's just a hobby."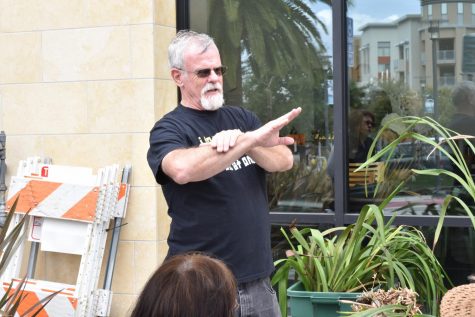 Weaver, who is now an expert on the species, admits that the majority of his knowledge about orchids came from actually killing them. As there was no internet when he bought his first orchids, he had to learn from his own experiences and ask others who were successful in growing them.
"[The internet] also makes it more confusing because everybody's got an opinion as with most things, so you have to be very careful when you're looking at the information," Weaver said. "When I tell people how I grow something I try to emphasize [that] for my environment, where I'm growing it, I do it this way. You need to do it to match your environment."
However, even with his troubles in the beginning, what Weaver likes most about orchids is how little maintenance they require. He explains that they're super simple to grow, as long as they're not overwatered.
"They've evolved to basically not need a lot of care," Weaver said. "People think they're delicate, [but they're not]. Orchids are great. They have evolved structures that store water between waterings, they store nutrients, they'll put up with a lot of bad care. The only thing they don't handle well is too much water."
Similar to Hampton and Weaver, vendor and Malihini Orchid Society member Angelic Nguyen has also been interested in orchids ever since she was a little girl, painting orchids on silk and on dresses. Growing up in Vietnam, which is home to over 700 different species of orchids, the flower serves as a reminder of the country after she moved to the U.S.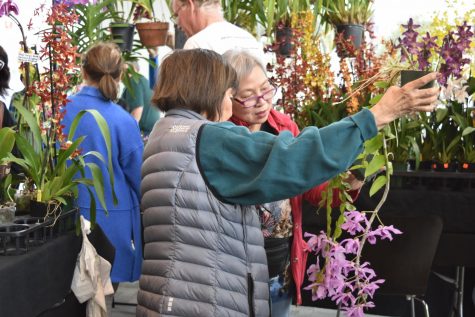 "When I just [came] here, [I was] thinking about, dreaming about a little greenhouse and a small house, and then we can grow some orchid [ourselves]," Nguyen said. "So that's why I start, and I bought one orchid and so now I come up with 10,000 more."
Following her aspirations, Nguyen began experimenting with planting orchids but, like Weaver, initially killed a lot of them. Realizing that she had to learn how to care for the plant, Nguyen joined the Malihini Orchid Society about 20 years ago. She now runs the business Orchid Design, and is now one of the board members of the Malini Orchid Society.
The club holds monthly meetings where speakers come to talk about different parts of orchid culture, such as the genetics of orchids or the World Orchid Conference that was held in Costa Rica last year.
"It's something that touches on orchids, but it's not always like, 'This is another one of the same plant,'" Weaver said. "We try and keep it varied so people can relate. [There's] something for everybody."