A night of dreams
2020 officers discuss the process of holding the 2019 junior prom
The planning process for the 2019 junior prom began a year ago, with the decision on a venue. Like years past, it was held at the Corinthian Grand Ballroom in San Jose. Junior and class officer Christopher Cellini described some of the items that required planning.
After deciding on a location, the next step was choosing a theme for the dance. The class office finally settled on "A Night of Dreams."
"We knew that the theme doesn't make a big difference in how the game goes," class officer and junior Dan Sachs said. "But we did want it to be something nice and nothing too complex that people have to dress differently for, so 'A Night of Dreams' was just an fitting thing for what we wanted."
For Sachs, the most difficult part was deciding on prices of tickets, keeping in mind the accessibility of tickets while also ensuring that the class of 2020 did not lose money. Ticket sales began on March 1 for ASB card holders at $55 and continued throughout the month, rising $5 each week.
"So we we kind of averaged out how much money [we] would need to make in order to get to break even," Sachs said. "And then, we've had, starting the first week, a little below that the second week, right at that price and then higher and higher in the next two weeks. So that way, we would have enough money to be able to add some things that some decorations and some other treats for junior prom, and also for the future."
Although the initial calendar for sales ended on March 22, there was also an emergency ticket sale three days before prom for any stragglers who wanted to purchase a last-minute ticket. Aside from the ticket, the bid packet also came with coupons for tux rental and for dress alterations, as well as chocolate.
There were 355 juniors who bought prom bids, and according to Cellini, the class officers were excited for them to enjoy a night with their friends and also interact with people they may not regularly see.
While planning for the venues involved multiple steps, according to junior Jocelyn Tseng, the individual planning for pre-prom, where friends get ready for the dance and eat dinner, as well as post-prom activities after the dance, was also very stressful. According to Tseng, having to plan out the prom activities schedules involved ensuring that the picture-taking sight would be open and the restaurants reserved.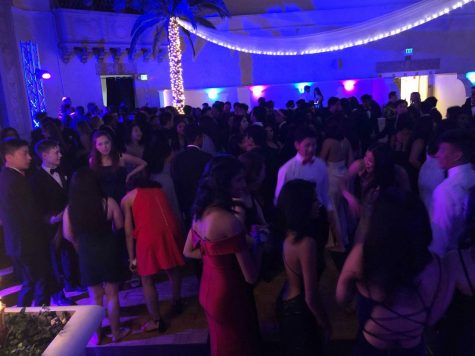 However, regardless of the amount of work involved, at the end of the day, Cellini believes that the night was enjoyable.
"It's very exciting always to get to plan these things out, especially because a lot of the time, people don't realize how much work goes into it too," Cellini said. "So to actually experience the workload, it's really rewarding in the end, because then when we actually [had] the [junior prom], it [was] a really exciting and really, really fun night."