The Class of 2021 prepares for its first-ever bonding activity
Three class officers explain their process for organizing and executing class events
Despite an unsuccessful campaign last school year, the class of 2021 has set the date for their first‐ever bonding activity: a relaxing movie night to be held after school on Friday, March 29. After months of consideration and negotiation, the officers are optimistic that the event will be successful.
According to class president and sophomore Sarah Tan, Leadership students plan events by first brainstorming within each class office and looking at what other classes have done before. For example, because the class of 2019 had organized a movie night before, Tan was able to ask them questions and get advice. For the class of 2021, their biggest struggle has been picking suitable dates.
"A lot of the conflicts that arise would be like trying to fit it into the schedule of the general events of the school year," Tan said. "For example around May, there's AP testing or finals and in April there's Powderpuff and voting [for next year's student body representatives]."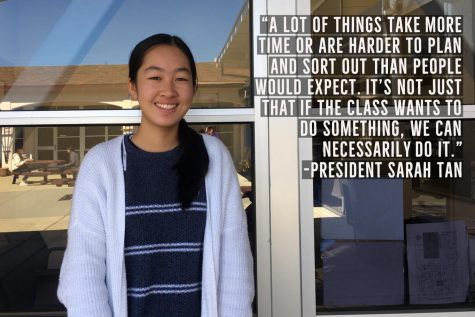 To help the planning process progress smoothly, Tan focuses on facilitating discussion and keeping the rest of class office on track. However, she also notes that roles are often fluid when working on a project to ensure that the total workload is efficiently distributed, especially because everything needs to be done within a short time frame.
"One thing that people don't often see about Leadership is the behind the scenes and how a lot of things take more time or are harder to plan and sort out than people would expect," Tan said. "It's not just that if the class wants to do something, we can necessarily do it."
Yet as they were making this decision, another struggle the class office faced was determining what the event was going to entail. From a sophomores-only dance to a karaoke night, the officers needed to balance an idea's appeal with its practicality. Their final decision was to play "Spider-man: Into the Spider-verse" in the Leadership room and offer free food.
"I had the idea of 'Go big or go home,' because I didn't want us to go into junior year without a class bonding," secretary and sophomore Melannie Ooi said. "We had really random ideas that [we decided would be] good but then [even though we were] down for them, we had to decide how to make it happen."
With junior year approaching, the 2021 class office is now looking forward to saving money for future events such as Junior Prom. The officers hope to further establish a better relationship between their team and the rest of the class, as well as advocate for improved communication.
"Our class wasn't that great at managing last year, so this year I've been trying to focus on raising money as much as possible … so we'll be ready in a good position for JP next year," treasurer and sophomore Annabelle Choi said. "Everything we do, we try to keep as transparent as possible so people know that we're not biased and we try to keep [things] as the class wants [them]."
About the Writer
Flora Peng, Staff Writer
Flora Peng is currently a junior and staff writer for multimedia.  She enjoys reading, going on long walks, and hanging out with her friends.