Finding home in Bay Area for educators
Educators and Landed reveal how they're working together to make it possible for teachers to afford down payments on homes
Five o'clock alarm. Fifty to 120 minutes of sitting in a car stuck in traffic. Stress.
This is how English teacher Kate Evard describes her trips to school every day.
Evard recently moved to Aptos, a town in Santa Cruz County. While Evard said her 10 years of teaching experience and equity in her previous home make it possible for her to own a house in Cupertino, she chose Aptos for the larger square footage available for the price as well as the lack of traffic congestion.
"The problem is that younger teachers [and] new teachers are not being able to afford housing," Evard said. "It's the technology here that [thrives and the] people [who] have a lot of money are the ones that are that are buying houses and driving up the cost."
The issue of affordable housing for teachers is also recognized by FUHSD assistant superintendent Tom Avvakumovits. According to Avvakumovits, the lack of affordable housing prevents great teachers from remaining in the school district.
He explains that even though a school's environment may play a significant role in a teacher's decision to continue their jobs in the Bay Area, the lack of affordable housing around the schools forces many teachers to commute long hours. After several conversations with teachers, he realized there are instances in which teachers commute one hour or more just to be able to teach at FUHSD schools.  
"It's not surprising when people say, 'Hey as much as I love MVHS, I'd like to buy a house. So I [would] move to Oregon or I moved to Tracy and then buy a home there and live there,'" Avvakumovits said. "And then we lose great teachers. So anything I can do to help any type of partnership [that resolves this problem], I will look into."
True to his word, Avvakumovits provided FUHSD with a potential solution to assist with  this problem. He discovered the company Landed through reading the newspapers. Landed is an organization that assists school districts with minimizing the issue of affordable housing for teachers and other district employees.
"I am interested in any organization that will provide any measure of assistance to help teachers [and] it's not just teachers," Avvakumovits said. "We have a lot of support staff like the office secretaries, the janitors, the food service workers, so when I say teachers, I'm really meaning staff as an important distinction."
Upon learning about Landed, Avvakumovits reached out to the company. He then con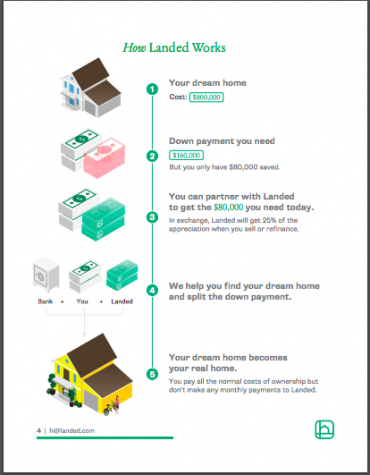 versed with business development and partnership employee Nikki Lowy. According to Lowy, Landed offers down payment assistance and financial wellness education for educators, while focusing on building partnerships with their customers.
Lowy explains that through reaching out and targeting expensive cities, Landed was able to expand their business, which makes 25 percent of the appreciation when the owners sell their homes. Since one of Landed's many goals is providing a home for educators, Lowy was attracted to this motive.
"I think the mission just spoke to me, [which was the] equity from a social justice standpoint," Lowy said. "[This was a] kind of a really unique business. One of the bigger things was that I met the co-founders, I was just so impressed with [their energy]."
Regardless of the introduction of Landed in hopes of minimizing the affordable housing dilemma, Avvakumovits continues to believe that the lack of housing for teachers will continue to be a problem.
"I'll just reiterate that we don't want to lose great staff, and there are things that are outside of our control. I cannot control the price of housing – neither can you," Avvakumovits said, "But if there are partnerships out there, either with city governments or private entities, I […] will continue to look because we see this as a crisis that could get a lot worse before it gets better."