Step out into sunshine
A recollection of National Coming Out Day
To celebrate LGBTQ+ awareness and acceptance, MVHS' Gender Sexuality and Alliance (GSA), held its biggest event of the year: National Coming Out Day. The door, courtesy of the drama department, was garnished with various flags representing different sexualities and genders. The event physically and metaphorically depicted the coming-out process as people signed flags and whiteboards, then walked through the door frame.
"I'm really proud of us and the way it went," GSA officer and junior Maya Tate said. "It went really smoothly and for our club — we got a huge turnout. We got a lot of teachers and counselors [and] a bunch of people who weren't in our club [so] I think it's the biggest one we had [in] a pretty long time."
GSA officer and senior Stephen Migdal describes the freedom in the way people choose to come out and the opportunity for everyone to celebrate the day in their own manner.
"The nice thing about Coming Out Day is you can do as much or as little as you want," Migdal said. "You don't have to come out, you don't have to sign any of the flags, you don't have to write your label, but it was nice to see people that were comfortable doing that. It's really exciting to see people that aren't in the club show up and benefit from one of our events."
It's with those choices and flexibility that GSA officer and junior Natasha Lee states how it changes the "Coming Out" experience by accepting that aspect of their individuality and embracing who they are
"I think seeing other people walking through the door and owning themselves, maybe inspired them to have the courage to … actually come out with their sexuality, and … being themselves," Lee said. "Seeing other people being so visible, at least for me, it makes me braver to be able to stand up and feel like this is who I am and actually come out there."
Members of the club and others from around the school joined together as they shared their experience. One statement seemed to resonate between them all: the undefined emotions from the burden lifted away.
About the Writer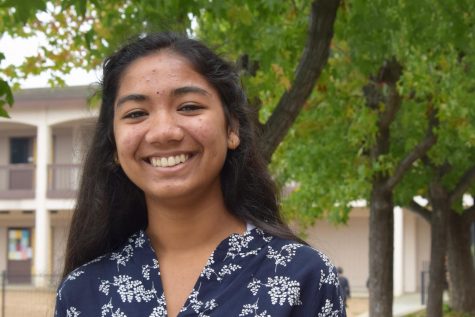 Dhruvika Randad, Staff writer
Dhruvika Randad is a first-year staff writer, as a sophomore, on El Estoque. In her free time, she loves to read lots of books, write poetry, and have fun.