New faces fill old shoes
New staff members discuss their reasons for excitement over their new jobs
For assistant principal Janice Chen, it was the thrill of coming back to her alma mater, to the place where she had begged for rides to lunch outings, where she had sweated bullets competing on the volleyball team. It was her graduation ceremony, with the warm sun glaring into her eyes and beating down on her classmates in their white and purple robes as they looked down from the bleachers at the huge crowd that had amassed below. It was her first school rally, surrounded by hundreds of spirited students, listening to the echoes of the yelling and stomping and losing her voice from the screaming.
For Chen, returning to her school 19 years after graduation is a privilege. To be able to work here would not be something she'd pass up easily.
"It's very nostalgic for sure; walking around campus, there's a lot that's the same, but a lot that's changed and definitely been updated," Chen said. "A lot of new construction, new buildings, new staff, new faces, and so it feels it feels like I'm coming home. But home has changed a little bit, and that's kind of expected to because a lot of time has gone by, but it's exciting for sure."
Although new attendance technician Supriya Lawrence isn't an MVHS alumnus like Chen is, she is just as appreciative of the environment at MVHS as it offers her a change of scenery. As a new staff member, she is very enthusiastic at the prospect of giving assistance and providing resources to students who need her help.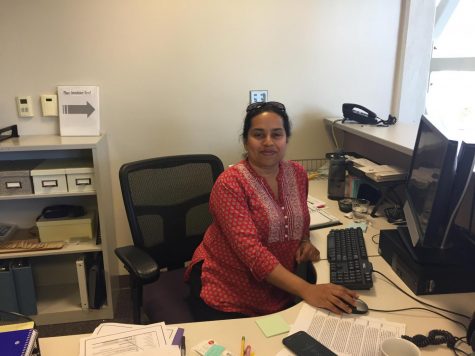 "I thought this would be great because I'm moving from an elementary to a high school, which will give me a different dimension," Lawrence said. "Part of my job is to be a disciplinary, but I'm also here to help students succeed, so I'm always open to you coming and talking to me."
New history teacher David Hartford, who, like Chen, was previously a student teacher at MVHS, is excited to start work due to his familiarity with the environment — and in particular, the academic drive of the students. Having previously worked as a student teacher at MVHS, the dynamic at the school as well as the collaboration between teachers helps ease the transition.
"The environment here at [MVHS] is unlike anything that I've seen in high school before," Hartford said. "Having been to a couple other schools and kind of witness the interactions and the systems that are in place, it was an easy choice for me that as soon as an opening came that I wanted to come back."
But with all the academic intensity comes a lot of pressures on students, which may result in some not feeling comfortable and not being able to thrive. Knowing this, Lawrence wishes to be able to freely communicate to students and show them kindness so that they feel comfortable in high school.
"This really struck a chord with me: 'Kindness is more important that wisdom, and the recognition of this is the beginning of wisdom,'" Lawrence said. "I think that is especially important in high school, it's really important that we are respectful and kind to each other because we're all growing."
Like Lawrence, Chen recognizes that students will look back on how they felt in high school. From her past experiences at MVHS, Chen recommends that students step out of their comfort zones to be more active in high school. She encourages her students to involve themselves in clubs and academics, as she believes that those are the memories people carry with them later on.
"You stick with what you know, and then before you know it, it's over, and then it's gone," Chen said. " You're going to remember the way people made you feel, how your teachers made you feel, your friends made you feel, those are the memories I that'll stick with you."