Neuroscience club holds a guest talk about eating disorders
Hang on for a minute...we're trying to find some more stories you might like.
W

hen parent and psychotherapist Jenny Mayhew saw a Schoolloop email stating that MVHS Neuroscience club was holding a guest talk with Stanford professor Cara Bohon about eating disorders, she cleared her entire schedule and rushed over to room B101 during lunch on Oct. 13, 2017. As a psychotherapist, Mayhew treats eating disorders, anxiety and depression, and the guest talk related to her own profession and also attracted many other students.

Bohon's speech covered topics ranging from her research with bulimia nervosa and eating disorders to obesity, which is what attracted Mayhew in the first place. Bohon is an assistant professor of psychiatry and behavioral sciences at the Stanford University Medical Center and mainly focuses her research on conducting experiments and meeting with clients. Her interest in eating disorders and interventions stemmed from her own personal experience with it, as one of her best friends in highschool suffered from anorexia.

"It sparked a curiosity in me about [how] this is affecting people who otherwise … might say have really great lives and things seem to be going really well," Bohon said. "Entering undergrad, I studied psychology in an effort to pursue that line of work or working with patients with eating disorders and trying to help them get better and trying to understand [how] eating disorders are developed and why they are maintained so we can better treat [patients].

Bohon believes that eating disorders mostly affect teenagers and young adults, which is why she wanted to talk about this topic specifically. Students can easily be influenced by peer pressure to look or act a certain way in order to conform to social ideals.

Senior Min Hoo Lee, the president of the neuroscience club, sent out an email to Bohon, along with 30 other professors, in early August to extend invitations for a guest talk. The officer team was looking for certain qualities like being a researcher or majoring in a specific field that stood out for each professor highlighting the importance of neuroscience and chose Bohon because of the overlooked aspect of eating disorders.

The talk showed the impact of neuroscience and also targeted the problem of the lack of women in STEM fields. Lee specifically choose Bohon because she was a female and he has noticed the club mostly consists of females. Bohon was interested in reaching out to female students due to a large number of female students in the club.

Although the talk some purpose of inspiring students, it also sparked interest in Mayhew. Mayhew, who has always had an interest in psychology, had her own experiences with eating disorders as an adolescent, which led her to being a psychotherapist specializing in treating eating disorders for 26 years. During the talk, Mayhew learned some things that she never knew before and believed was helpful for her own profession.

"I hope that [MVHS students] learn that mental disorders are very much related to brain science and that field is very important because it helps clinicians like me to implement a more effective intervention for clients. It also helps clients understand that their mental disorders are not all their fault which decreases their shame," Mayhew said.

Lee also wanted to invite a guest speaker to show the transition from high school to graduate to a job and also to show all the areas of potential uses for neuroscience.

Bohon emphasized the idea of choosing a career that holds special interests to the students because she wants students to be less stressed about the future.

"Additionally I think high school is a time when people are starting to think or feel pressure to think about careers and opportunities they are going to need in order to pursue those careers," Bohon said. "I like reaching out to high school students actually to hopefully to try to ease that pressure a little bit and share my own experience that I did no research in highschool […] and despite that lack of experience I still ended up having a pretty successful research career."

With the speech targeted to one of the aspects of the immense field of neuroscience, it also brought attention to pursuing a career that students want to follow.

"I hope that [MVHS] students learn that their career path can take them to a lot of unexpected places and that it's important to listen to what their interests actually are and to follow that path," Mayhew said.

Neuroscience club has five other guest speakers lined up for the year to help students figure out what topics they find most intriguing for themselves and that there are possibilities of combining multiple interests into a career.

"The common belief about neuroscience is it's about the brain but there is so much more," Lee said. "If you study your brain and how it connects to the other part of your body or maybe even computer science in that way you can see how vast neuroscience us and the potential there is for the future."
About the Writer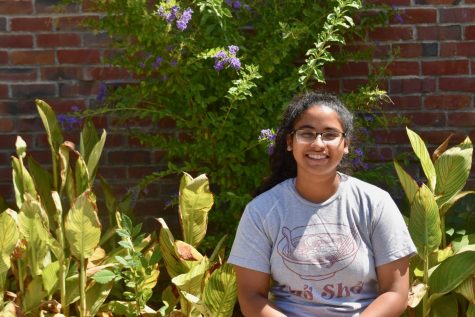 Jai Uparkar, News Editor
Jai Uparkar is a senior and a third-year staff member. She previously served as a print features editor and multimedia news editor, and now serves as a print news editor. She plays tennis and in her free time, she likes to take Buzzfeed quizzes and film videos about local businesses in Cupertino.