Drama: A college conundrum
E

ven though MVHS may be considered STEM focused by many, every year the Drama department draws in its share of enthusiastic and talented students. However, not all of these students continue with drama in college, despite their high school passion for the performing arts. For the students who do pursue the arts in college, opportunities can be few and far between.

Senior Kayleen Nordyke has been involved with drama since middle school and is interested in continuing drama in the future. Although her parents support her, they urge her to consider a major in a STEM field. Nordyke agrees with them as she recognizes the instability of a job in acting or singing.
"A lot of directors out there possibly don't appreciate or don't like the art you're putting out there," Nordyke said. "People have different views so the chances of making a career out of it is very rare and very hard."
Because of this, Nordyke has disregarded the idea of majoring in drama, but she will try to stay actively involved in the performing arts at whatever college she may end up. On a side note, Nordyke has been looking to pursue a career in chemistry rather than drama as she feels that will be a more practical major in the future and she enjoys the subject immensely.
Senior Kristy Maanavi, however, feels as though the risks associated with a career in performing arts are worth it if she is pursuing something she genuinely enjoys. Despite the concerns from other students, Maanavi believes in staying true to herself, even at the expense of other opinions.
"I have a real passion for theater and as of right now, it's one of the only things that I think makes me really happy, and as a career I believe that you should do something that makes you happy even if it might not be necessarily practical," Maanavi said.
Still, Maanavi is currently leaning toward double majoring to have a backup plan just in case her plans go astray. She agrees with Nordyke about the practicality of a Drama degree and its benefits in the future.
"[When] you get out you don't really get high paying jobs and the [entertainment] business itself is really hard to break into," Maanavi said. "And if you go in STEM, you're not almost guaranteed a job, [but] you know that there's going to be jobs out there waiting for you while in drama, especially since not a lot of people do go to the theater as much as they go like movies."
Senior Ben Pribe shares Maanavi's passion for drama but doesn't see it as a viable option for his career. He has been involved with drama since sixth grade, and because of this, he can't see himself not continuing it in some capacity in college. He, like Nordyke, plans on participating in drama as an extracurricular in college, while majoring in something more practical, such as Chinese.
"I'm not going to major in [drama] though, just because I'm not sure how viable that would be in terms of career," Pribe said. "But it's something that I enjoy doing and I might change my mind [in] the future. I might double major in it."
Despite the differing opinions towards continuing drama in college, Pribe, Maanavi and Nordyke all have something in common: the MVHS Drama Department will always remain a significant part of their lives no matter what they decide to do in the future. It molded them into who they are today, for the better, according to them. It's given them a place, a home and a family.
"I think drama has given me a place where I can be myself, I can do what I want and [it] gives me more depth into my character as a person so I'm not just a normal student at Monta Vista," Nordyke said.
About the Writer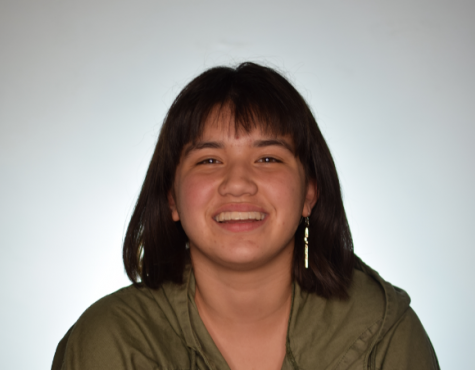 Emma Lam, Staff writer
Emma Lam is a senior and a third year member of El Estoque. She enjoys pitching creative ideas in her section as well as designing pages. She currently serves as a copy editor and in the past has served as a Special Report Editor and Public Relations