A vested interest: Art Club's first meeting of the year
As a way to kick off the new school year Art Club held its first meeting in room F103 this Monday, Sept. 11,  to introduce the club and the new officer team.
In their powerpoint, the new club officers went over a few interesting facts about themselves —  such as their favored art mediums — as well as new club policies. The presentation was led by Co-Presidents, seniors Ashley Chang and Grace Qing, with additional information presented by Vice-President Annabel Li and the other club officers. This year, Art Club is looking to keep members invested and interested by offering more opportunities for member involvement.
In addition, the club is implementing a new point system that is based on participation — each meeting, competition and event has a point valued assigned to it. Once a member has reached a certain number of points, they will receive a prizes including an art club sticker, a small stuffed animal, apparel and a combination of the three.

For junior Alisha Gao, the changes Art Club is making is what drew her back to the club. Gao was a member her freshman year but, due to other time commitments, ceased to attend club meetings. Though Gao took a break from the club during her sophomore and junior years, Gao is planning on rejoining the club this year."Last year we had a hard time retaining members, so this year we did implement a reward system and prizes in the hopes of [giving] more incentive for people to arrive and plus this year we have many cool projects like the mural and the art festival. We're hoping that will be a catalyst for member interest," vice president senior Annabel Li said.
"I'm really interested in the art that the seniors or the upperclassmen and the work of other students," Gao said.
The club is also planning on collaborating with other clubs to create events for members to take part in. By allowing members to contribute their own ideas, the club is hoping to attract more members with less art experience.
"This year in Art Club we're really focusing on what the members want to do, so for example we want to reach out to them and find out what specific activities they're interested in and we hope to bring that into Art Club to build a stronger artistic community," co-President senior Grace Qing said. "In Art Club we really hope to bring in beginners because we want to make Art Club as [much] of an inclusive environment as possible, regardless of your experience."
About the Writer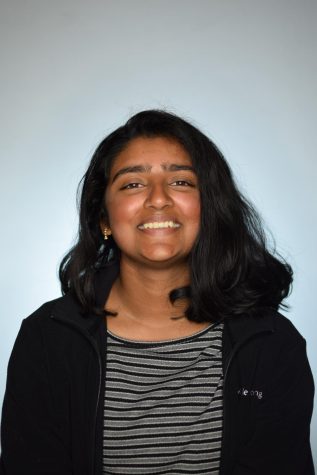 Priya Reddy, Staff writer
Priya Reddy is a senior at MVHS, a third year staff member and a managing editor. Priya was a multimedia Special Report editor her sophomore year and a print Special Report editor her junior year. She likes to read, watch trashy action movies and take long naps.