Restaurant Roulette: The Original Pancake House
Twice a month, El Estoque goes to restaurants around Cupertino and takes a chance by asking the waiter to personally choose our food for us. This week, we continued the alphabetical theme with a trip to The Original Pancake House.
Despite being located in a central spot on De Anza Ave., The Original Pancake House was not very crowded. An employee stood near the door to greet customers and immediately led people to their tables. The staff was friendly, the service was quick and the atmosphere was warm and welcoming. It truly gave the comfortable and homely feeling that you'd expect at a traditional breakfast diner.
Location: 1366 S De Anza Blvd, San Jose, CA 95129
Overall Rating: 4/5 stars
---
Regular Coffee




Price:

$2.19


Rating:

5/5 stars
One of the waitresses was going around to each table offering freshly-made coffee from a pot. Sugar packets were on the side and creamer was served with it. The mug was an average size, enough to last me through the whole meal.
---
Fresh Fruit Crepe


Price:

$13.95




Rating

: 5/5 stars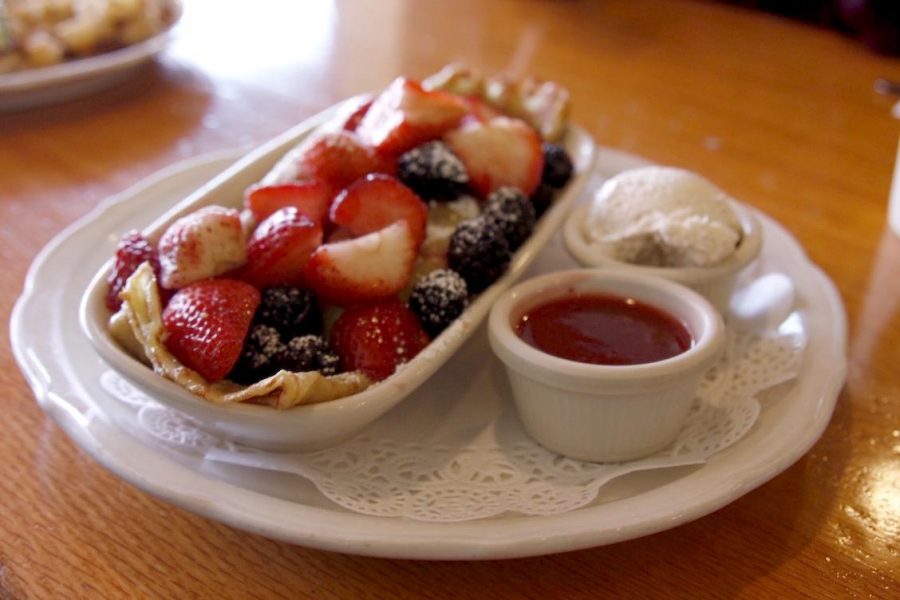 This dish was quite filling and offered a blend of sweet and sour flavors, although at times the raspberries, blackberries and strawberries became a bit too tart. The crepe itself was smooth and airy, and the large variety of fruit added a nice texture. The powdered sugar and whipped cream were the perfect addition to sweeten the dish. Overall, it was a well-proportioned entree with a balanced mixture of tastes.
---
California Benedict


Price:

$11.95


Rating:

4/5 stars
This dish was the perfect size for one person. The English muffins were small, yet filling, and the hashbrowns were a crispy side to compliment the eggs. The soft avocado and egg gave the muffin a melt-in-your-mouth texture, and the crispy bacon contrasted that well. The dish was a bit bland, but there was the option of adding hot sauces, as well as salt and pepper, to add flavor.