Former Stanford Dean shares advice and wisdom in assembly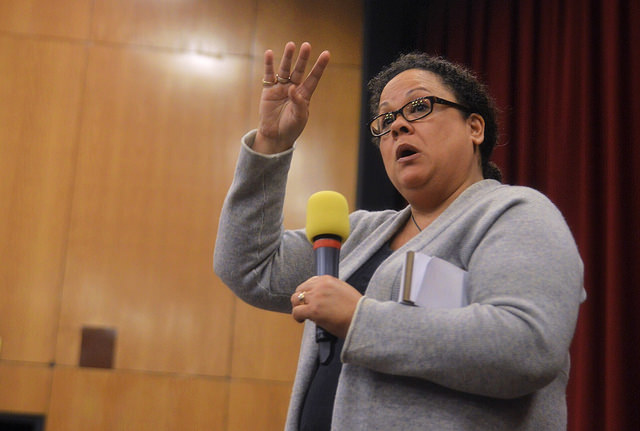 Avni Prasad
March 31, 2016
At the front of an auditorium filled with students, guest speaker Julie Lythcott-Haims pauses for silence, scans the room , and then says, "Your worth as a human exists because you exist. You are a human being deserving of love and kindness and passion. I am going to pretend I am a surrogate mom and say we love you because you exist."
In the crowd, a student yells "I love you mom."


Lythcott-Haims is the author of "How to Raise an Adult," a former Dean of freshmen at Stanford University, and a mother of two. Students and teachers filled the auditorium during 7th period on March 7 to hear her talk about the important lessons she has learned from working closely with college students and criticize the role of  "helicopter parenting."
"We [parents] are treating you like bonsai trees," Lythcott-Haims says to the crowd. "But, you are not bonsai trees; you are wildflowers.
Scroll below for a look at the Lythcott-Haims's tips for students.
---
How did you come to speak to students, teachers and parents at MVHS?
---
Have you ever presented to faculty and teachers before?
---
How different is it for you to do an assembly at a place so close to home?
---
What is about this generation that compelled you to write a book?
---
Have you ever received criticism that Stanford, the school you were a dean for, often perpetuates students to strive for that perfect resume you advocate against?
---
Are the students wrong or is the system broken?
---
Should schools be taking further steps to regulate student stress? If so, how?
---
If you could give a message to the students and parents of MVHS, what would it be?
---
Reporting and photography by Alina Abidi, Itay Barylka and Avni Prasad