Track and Field: First home meet of the season brings multiple wins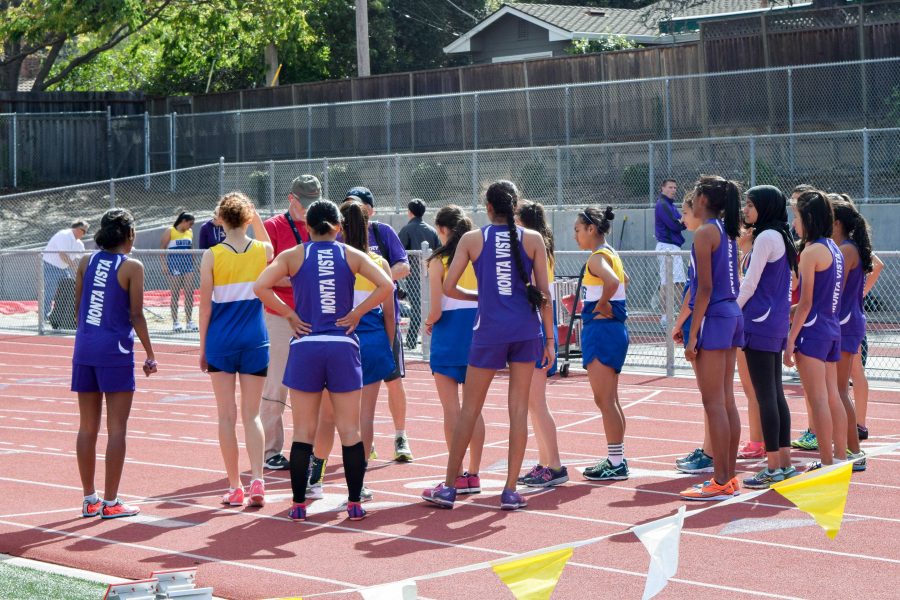 Co-reported by Hannan Waliullah and Emma Lam
Photos by Hannan Waliullah, Emma Lam and Fatima Ali

T

he starting gun went off, signaling the start of the first 4×100 meter relay.


As the lead for the MVHS team, freshman Reema Apte began to run, cheers all around the field resounded, shouting for the team to keep running. She reached the second runner and proceeded to hand off the baton, yet fumbled it during the transition. The team fell behind, until the last handoff to the anchor. The anchor sped up, easily passing by all of the other contestants, until the very end.

At the same time, a voice was heard all around the field over the speakers, as head coach Kirk Flatow called out the names of the upcoming events. Different groups of students from Santa Clara HS, Fremont HS and MVHS alike walked around the field, some beginning to warm up while others lay in the grass. The air was cold and windy, making a group of girls, only in track shirts and shorts, shiver.

This was the beginning of MVHS' first home meet, on March 22, and the second meet of the season. As a team, MVHS held its ground against Santa Clara and Fremont, winning in events such as the boys 1600 meter and girls 400 meter, with junior Kelly Bishop clocking the winning time at 1:03.28. As individuals, each one had their own goals and expectations set for themselves prior to the meet.
Blowing past
Freshman Sarah Feng had felt somewhat ready before running the mile, hoping to beat her personal record for the day. When her event was called, she nervously stood up, did a few stretches, then took her place at the starting line. She recalls that her goal in mind was to beat her time, and to always keep improving.
"I'd like to keep on improving for every race," Feng said. "And not have a bad race."
But when the gun went off to start, she focused only on the task at hand, and took off.
And that was running. Fast.
Feng ran the mile in 5:13.83, blowing past her old time. Yet even after the mile, Feng felt as though there was something she had been missing during the event. She was happy about the time, but felt conflicted due to her execution of the race; pacing wise. 
"That race could have been executed better, in terms of pacing and the way I ran it," Feng said.
Feng continued on to running the 800, her next event, learning from her previous mistake in the race, and ended up with a time of 2:29.22.
Returning from an injury
Faced with a pre-season injury, sophomore Niveda Balemurughan found it hard to compete in almost anything. She had to change her focus completely, from beating her time to fixing and healing her injury instead.
So when it seemed that her injury had healed, she decided it was time to come back to the track. The very first meet against Saratoga High School, Balemurughan had to sit out, racking her mind with disappointment.
This meet was Balemurughan's first one fully back in action, and she was excited and nervous at the same time.
Before her two events, the 100 and 200 meter dash, Balemurughan had been worrying about whether she would do well for her first time back.
"
"I think I'm probably going to do average, I mean there's a lot of people that I can probably outrun," Balemurughan said. "But on the other hand, there's a lot of people who could outrun me. But overall, I'm feeling optimistic.""
She made her way to the starting line, and looked at the competition besides her, noticing they were all from MVHS. She began to sprint. Reaching the end, she sprinted the last few meters and stopped.
She had completed her first event back. With a time of 15.65.
But Balemurughan feels that even though she was injured, she could have done better during her 100 dash, and hopes that by the next meet, she can finally overcome her injury.
"My performance wasn't as good as it usually is. I think my goal is to keep practicing and strengthening my injury," Balemurughan said.
Scrawny but brawny
Junior Adam Jancis felt nervous. He thought it was a nice day, a bit chilly, but he had warmed up and was ready to run.
"We start by running two laps around the field," Jancis said. "And you do dynamic workouts so you stretch high knees butt kicks all of those exercises."
He had felt nervous before starting his run, not thinking about anything else that might happen. He made his way to the track, surrounding by other people. He was standing on the starting line for the 4×100 relay. To the left and right of him were racers from other schools FHS and SHS. They were bigger than him. They looked stronger as well.
Jancis felt scrawny in comparison.
"
"[Bigger people] can pump their arms faster and they can just power forward more," Jancis said. "[But,] I have a taller structure so my strides are longer.""
He had run his hardest, ending up in third place. Jancis had beaten his previous personal record of 50 seconds by three more, ending up with a new record of 47 seconds. Although he felt good about that fact, Jancis described his time as okay, wishing he could have done better.
Jancis warmed up for his next event, the 100 meter race, hoping this time to win an event.
Stronger than before
Her nerves used to catch up to her, making it hard for junior Salma Sheriff to run her main event distance, the 1600, 3200 and 800.
After a quick tighten of her headscarf, she put her foot down on the starting block and began to get ready for her emerge.
Physically ready, mentally ready.
The thoughts came rushing through her mind, but she knew better; Sheriff had pushed aside the negative pre-race thoughts she was faced with last year. This was a new year, the first home meet of the season — a fresh start.
"Last year I was really nervous, I'd run around in place because I was always really [worried] about doing badly, since it was my first season," Sheriff said. "This year, I've calmed down a bit because I'm more used to it. I can get into game mode, and still do well."
The pre-race jitters in her mind differed substantially from last year's.
"Before, I'd be thinking [to myself], 'Oh my gosh, I can't catch up to that girl!', but I've been working on that. Now it's just, 'Run faster!'" Sheriff said.
Sheriff ran her events, the 800, and ended up with a time of 2:44:21 in fourth place, and 5:52:62 in the 1600.
"
"Last year I was really nervous, I'd run around in place because I was always really [worried] about doing badly, since it was my first season," Sheriff said. "This year, I've calmed down a bit because I'm more used to it. I can get into game mode, and still do well.""
Satisfied, she walked away with confidence in her mind. Running well in two events had been a great start, and her nervousness for the rest of the season vanished. Everything was going well. Last year, she felt that she was working hard but not giving races her all, but she could now see the results of her efforts.
---
PHOTO SLIDESHOW
Click on the photo below to view more photos from the Track and Field meet.