Key Club: What to expect for Thanksgiving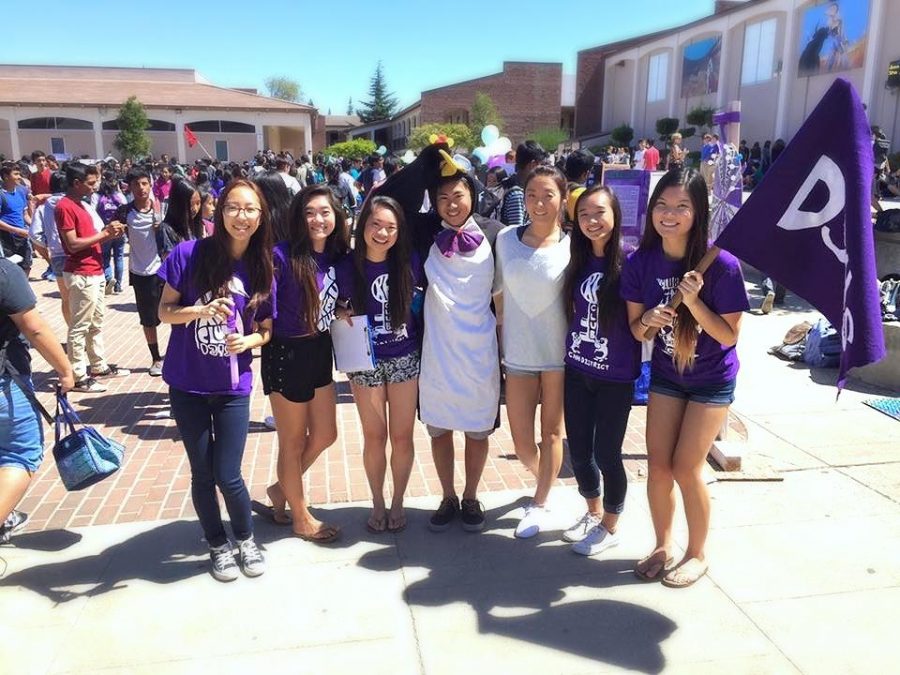 Karen Ma
November 19, 2015
With the beginning of November, there's a lot for MVHS students to look forward to: Thanksgiving Day, a four-day weekend and two Thanksgiving-themed events hosted by Key Club, the largest international volunteering service organization for high school students, according to its website. With the upcoming charity events on Thanksgiving Day in San Jose, club officers disclose event details and what to expect.
Thanksgiving Dinner
When: 12:30 PM – 4 PM on Thursday, Nov. 26
Where: 30 Kirk Ave in San Jose
Key Clubbers will be hosting an event called the "Thanksgiving Dinner", where volunteers meet at the Alum Rock United Methodist Church in San Jose to help set up, clean up and serve food to low-income families and the homeless, as well as take care of the children of the families.
"They have a little festival area with a jump house and little games," said junior Esther Na, club director of membership. "It's really cute."
Senior club secretary Valerie Lo recounts her first experience last year attending the dinner. Going into it, she'd expected the event to be simply cooking and serving food. Coming out, she had a complete change in prospect and attitude, and a new, unforgettable experience.
"It was actually like hanging out with the kids, who are really happy, and it was really gratifying," Lo said, with a smile.
These types of events are exactly what Key Club offers to its members (aptly named the "penguins"), and anyone else interested, in hopes of introducing them to new environments and changing their perspectives. Senior club co-vice president Cindy Li explains that the goal of the club is to help the community in different aspects while interacting with other fellow key clubbers.
"I feel like [Thanksgiving Dinner] is a very good opportunity for volunteers because you get to see a lot of people who aren't as fortunate as us," Li said. "We try to have as many of these events as possible, because it really opens our eyes to something that we don't face on a daily basis."
Li says that her favorite events to participate in are those for charity. An active Key Clubber like her fellow officers, she hopes to reach out to people in our community and show just how rewarding it is to give back.
"Just [performing]  these really simple acts of kindness, like where we help serve food, it's the most meaningful because you get to see other people who are so happy to receive so little," Li said. "It's just really eye-opening."
In addition, club newcomers like freshman Satoshi Ueda actively seek activities which interest and appeal to them. Ueda, an avid penguin, takes part in activities in Key Club to help others, meet new people and have fun with his friends. Though he does not know what to expect, he plans to attend the Thanksgiving Dinner to give back and gain experience working with charity, which he hopes to continue throughout high school.
Turkey Trot EXPO
When: four hours between Friday, Nov. 20 and Wednesday, Nov. 25
Where: Sunnyvale Sports Basement
Besides the largely anticipated dinner on Thanksgiving Day, penguins can also consider volunteering in the annual Turkey Trot EXPO, a recurring event in which people of all ages participate, along with their family members. In prior years, club members were assigned to stations to aid the participants in the race.
Senior co-president Julianna Xie reflects on the previous year, when she and Wang had manned the water station.
"It was actually really fun [watching and]  cheering on the runners, since some of them were in cool costumes and stuff," Xie said, "and I'm just like, 'Wow, I'm actually helping these people not die.'"
This time, members taking part in the Turkey Trot have a new task. Days prior to the event, while passing out the race bibs in preparation, volunteers will also ask participants to donate to the Second Harvest Food Bank, a charity in Santa Clara and San Mateo Counties with the motive of ending world hunger.
About the club
As an international service club, Key Club members volunteer with students not only from individual schools, but from high schools within their district.
Senior club co-president Heidi Wang explains that due to the vastness of the club, while volunteering, members have the opportunity to interact with others as well.
MVHS members, as well as members from schools such as Cupertino HS, Lynbrook HS and Gunn HS, comprise the Division 34 South Penguins, which is part of the California-Nevada-Hawaii (CNH) District. Divisions congregate once a month for meetings, discussions and activities.
"I hope that [people]  will see volunteering and community service in a different way, because that's how it changed for me in freshman year — I thought volunteering was just picking up trash on the side of the street," Xie said. "In Key Club, we have a lot more fun events that we try to cater to members' interests, and I hope they get to feel like they've contributed to their community."