Avoid locker room theft by locking up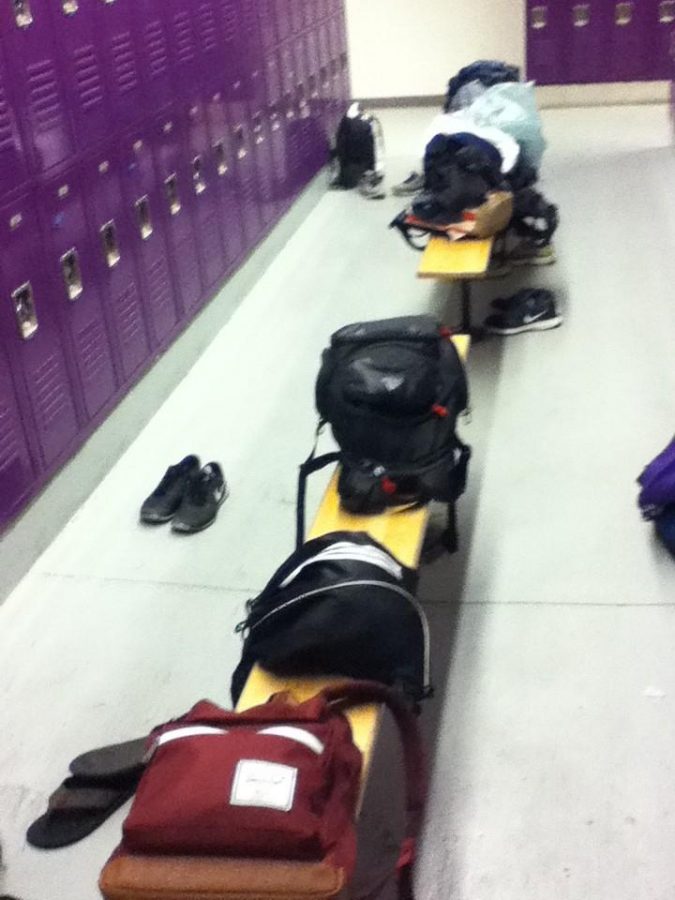 Sebastian Zhang
November 15, 2015
Co-written by Om Khandekar
At the start of each school year, students in physical education are given their own lockers to keep their belongings safe when they're in class. Over the years, the physical education teachers have noticed an unsettlingly high frequency of personal items stolen from the locker rooms. The reason? According to P.E. teacher Jeff Thomas, many students leave their belongings out on the benches beside their lockers, or sometimes forget to put the locks back on their lockers, making it easy for others to steal.
"The main problem is, kids don't lock up their stuff and then their stuff gets stolen, or misplaced," Thomas said. "It could be everyday or every other day, or once a week. There's no timetable for it."
Only a small number of individuals comprise the population of thieves. Thomas explained that it is only a couple of students out of the twenty-three thousand that steal. That number, though small, is enough for students to lose belongings every week.
Thieves can be anyone.
"It's not some sinister guy in a hood stealing your things," Thomas said. "Sometimes it's the guy right next to you."
According to Thomas, thieves typically strike when a class comes in before another one finishes, and one person out of that entire class goes through the backpacks that are lying out. Another common time for theft to happen is during the seventh period classes, when coaches sometimes leave the locker rooms unlocked for sports teams to come in.
He also noted that theft occurs much less frequently in the girls' locker room. Girls who steal tend to get caught quicker than the boys do, for some unexplained reason.
The P.E. teachers tell students who have belongings stolen to report it to the office. However, this does not ensure that students will have their stolen items returned. Student conduct liaison Thomas Michaelis, who handles most of the theft investigations, states that he has a never caught a thief, and that there is little that the school can do to prevent theft. He is too busy with other duties to monitor the locker rooms. While installing security cameras in the locker rooms would be effective, that would be against the law.
Because theft has been a big problem, and cases typically remain unresolved, Thomas stated that the most effective way to prevent theft is for students to lock up their belongings. This may seem like a simple precaution, but some students do not feel the need to lock up.
"I heard someone crying because she lost like $70, I think," freshman Katerina Pappas said, "and I went to check in my wallet because I had like $15, but it was gone."
Pappas and her friend, freshman Karen Sanchez, both said that during their third period P.E. class, many of their peers do not lock up their backpacks like the P.E. teachers tell them to. One day, the girls entered the locker room to a scene of panic and fear as many other freshman discovered that someone had gone through their belongings during the period. Ultimately, when they reported the theft to P.E. Teacher Mrs. Jensen, she merely stated that the kids should have locked up their belongings in their locker like they were told to in the beginning of the year.
Sophomore Steven Ataee says that both "safety in numbers" and "pure laziness" cause him to leave his belongings outside. Even after being stolen from, Ataee doesn't hesitate to leave his belongings outside on the benches.
"I keep my wallet in the phone pocket of my backpack, which is really obvious, and I have lost money — people have just taken it out," Ataee said. "For about a week, I did lock up my stuff, but after that, I was like 'Nah, it's okay.'"
Whether students lock up their belongings is a personal choice, but because locker room theft has shown to be a big, perhaps once underestimated, problem.
"Lock your stuff up, lock your valuables, even if you're just walking away to the bathroom," Thomas said.