Two freshmen bond over feeling like the outsider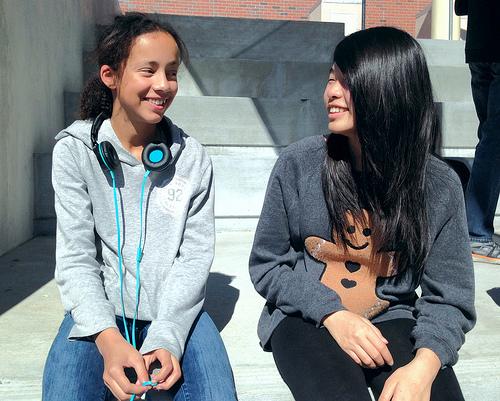 Avni Prasad
February 28, 2015
Groups of three or four," JAVA teacher Debbie Frazier says.
Her third period JAVA class scrambles routinely to the same group they chose at the beginning of the year. And routinely the same girl is left without a group.
"Mel," Frazier says as she narrows down her eyes on a frizzy-haired, petite freshman, "You need to join a group."
She looks around waiting for a group to welcome her in, but no one says anything, so she sits down by the closest group next to her. The group doesn't make room for her. They don't say "hi" to her. They don't acknowledge her.
Freshman Mel Hauradou was born in 2000 in Aix-en-provence, France. At the age of six she was swept away from her quaint life and forced to move to "the foreign America".
"I didn't ever want to leave," Hauradou said. "I wanted to stay in France where I had my friends."
Her pleading with her father was futile. She landed in America without knowing a single English word and was put into first grade at a public school near by. It took Hauradou about three years to learn the language. In first grade, she attended an English as a Second Language (ESL) class.
"In second grade," Hauradou said, "I was just thrown into a regular [English] class and failed a bunch of my tests."
Test after test, F after F, Hauradou was constantly reminded that she was different. Her solution to being different was to act reclusive. In sixth grade, she moved to International School of the Peninsula where she had the option of taking a French or English path, of which Hauradou choose French hoping to meet students with a similar experience as a French-American citizen. She felt most comfortable here where she made friends who had also moved from France.
"It was a small school [with] only 42 people in my grade," Hauradou said. "But we were close."
After three years, Hauradou came to MVHS feeling like an "intruder." About 88 percent of MVHS students attended Kennedy or Lawson Middle School and came to MVHS knowing many classmates, but for Hauradou, on her first day of school, there was not a face she recognized. Moving schools meant more than a different environment and different teachers: it meant starting with zero friends.
"Everyone already knows everyone [from middle school]," Hauradou said. "I am the only one who doesn't know anyone. In my [literature] class, I always work on my own, but it doesn't bother me. I work better alone."
Hauradou claims to be "socially inept," but that does not concern her. At lunch and brunch, she is entertained with playing clash of clans or watching Anime.
"My dad encourages me to make more friends," Hauradou said. "He thinks I am a loner, which is probably true. I just enjoy playing on my phone more than socializing. I don't see anything wrong with that."
However, Hauradou wished to find someone who understood Hauradou's sarcastic personality, French background and obsession with Eminem. In October, she found a friend: a shy, serious girl from Taiwan who had never heard of Eminem. All freshman Amber Hu and Hauradou shared was a PE class, a Biology class and a feeling of being an intruder.
"It's not hard to adjust to the [academic] pressure," Hu said. "The hard part is making new friends when you are not familiar with the place, the social life and the language."
On Hu's first day, she tagged along with her cousin, freshman Emily Su. However, Hu never felt like she fit in with her and her "American-born" friends. Hu tried to find people like her — people who were new to MVHS. Hu was not drawn to the loud girl in the front of her in Biology class who always asked questions or the fast runner in her PE class who was always energetic. She was drawn to the quiet girl in the corner who tried to avoid talking as much as possible. Hu understood being shy was just a protection.
"The less you say," Hu said, "the less of a chance of being wrong, the less of a chance of being judged."
"It is easy to go unnoticed in this big school," Hauradou added.
They both look forward and simultaneously blurt, "but I don't want to be noticed." They look at each other and laugh at their accidental harmony.
"It must suck being popular," Hauradou continues with more confidence in her voice. "Everyone is on your back about what you did… There is no cure for my lack of social skills. Maybe as the years go by people will be forced to notice me, but I like what I have now — I am more than satisfied with one really good friend."
Hauradou pauses and looks over at Hu. A flush of red whipped across Hu's face.
"My great friend Eminem," Hauradou said sarcastically as a mischievous smile flashes across her face. Hu covers her mouth trying to conceal her laugh.