Mike Honda vs. Ro Khanna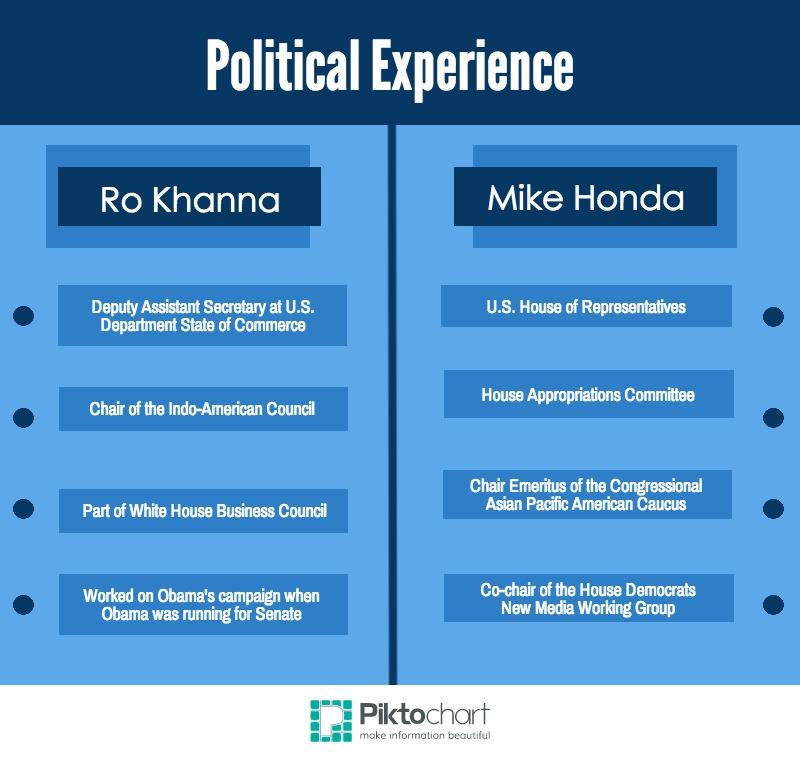 Neha Patchipala
November 2, 2014
Who are Mike Honda and Ro Khanna?
Incumbent Mike Honda and challenger Ro Khanna are currently vying for a seat in California's 17th Congressional District. The election will take place on Nov. 4.
Mike Honda and Ro Khanna both want to make major changes in the areas of technology, education and in the economy and are developing new programs and plans to achieve their goals. In addition, both candidates are liberals, with similar views on issues such as gay marriage and equal pay for both genders. The most recent polls place Honda and Khanna at about 38 % each with 25% of voters undecided.
What are their backgrounds?
Honda, while born in California, spent his childhood in Colorado, living in an internment camp during World War II. He and his family, who are all of Japanese heritage, moved back to California in 1953. Honda graduated from San Jose State University with a Bachelor degrees in biological sciences and Spanish, along with a Masters degree in education.
Khanna was born in Philadelphia to Indian immigrant parents and graduated from the University of Chicago with a B.A. in economics. He later earned a law degree from Yale University.
Why are they running?
Both of the candidates are driven by their personal experiences.
Honda is driven by his experiences as a child in a Japanese-American internment camp. Many Japanese-Americans were treated unfairly during World War II, which is why he wants to make improvements in the social justice system. He also wishes to make sure that the voices and opinions of communities are heard. His goal is to ensure that nothing involving the isolation of certain groups happens again.
Khanna's motivation to become involved in helping the public stems from his grandfather, who participated in Mahatma Gandhi's efforts to free India from Great Britain. In addition, Khanna's parents, immigrants who came to America to better provide for their children, have influenced his decision to run for Congress, where he hopes to address issues regarding working families and immigration.
What are their policies on education?
Honda stresses the fact that all children have the right to a good education, regardless of their backgrounds. Like Khanna, Honda wants to make changes in STEM, an aspect of education that both candidates agree defines a 21st century education. He also wants to make improvements in student privacy, No Child Left Behind policies and tests that are administered to English Learners.
IDEA stands for The Individuals with Disabilities Education Act, which Honda plans to implement as a representative in Congress. The main purpose of this act is to provide students with disabilities and special circumstances with aids and resources.
Khanna believes that the nation hasn't done enough in regard to investing enough time and money into the education system. As a member of Congress, his plan is to implement STEM courses and new technology into schools. This will be done by incorporating coding and Massive Open Online Courses (MOOC's) into the curriculum and by improving Internet connections in classrooms.
In addition, he also want to better the public school system, as cuts in funding have led to the discontinuation of important classes in the arts and Physical Education. To make this a reality, some changes he plans on making include increasing the salaries of the better teachers at schools and redefining the program No Child Left Behind.
What can students do?
For more information on how to become a volunteer for Ro Khanna's campaign, check out this article. Interested in becoming a volunteer for Mike Honda's campaign? Visit this link.