Ultimate frisbee takes flight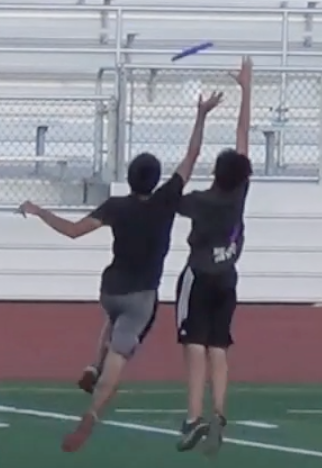 It's called ultimate. But is this sport actually superior to the rest? The majority of people would doubt this, with ultimate not even being one of the top 10 sports in the country, according to many sources, including sporteology.com. However, members of Monta Vista Ultimate Frisbee are on a mission to change this.
Last year, a group of friends interested in the sport decided to start playing pickup games every now and then. More and more people began joining these games and eventually members created an official school club. To many, this seemed like a silly idea because few people considered this sport worthy of having a club. But defying the odds, the club has grown to about 80 members since its initiation last year.
"Ultimate is a really casual environment," MVUF president senior Young Guo said. "Everyone is just out here having a lot of fun. What originally started out as a group of friends playing ultimate just for kicks, turned into a club and now we have so many new members who are just interested. I think a lot is just coming out here and having fun, getting some exercise."
Freshman Kashish Singal, who became attracted to ultimate after being introduced to it in middle school, believes that it is the sport's informality that makes so many want to join.
"This sport is more fun if you want to play with your friends because it's not all about being competitive," Singal said.
Most of the rules are taken from common sports such as football and soccer allowing people familiar with those sports to easily pick up the game. Secretary and treasurer junior Charles Chen, said that having roots from a variety of different sports is what makes ultimate so unique and appealing.
"It's a novel sport," Chen said. "It's just a little bit different than anything else."
Along with simplicity, the sport costs little money to play. The only thing needed is a frisbee, which can be bought for just a few dollars.
Over the past few years, ultimate has drastically changed from being a little known sport to one of the most trending in the country. With idols to look up to such as Brodie Smith, and games starting to be televised on ESPN3, more and more people are getting inspired to try the sport out.
Weekly Schedule
MVUF hosts weekly club meetings on Mondays at lunch in A201 to discuss game strategies.
"The goal of the Monday meetings is for people to come and learn more about technical aspects of things and then when they come to these games on Fridays, they can apply these skills they have learned," Guo said.
These "Frisbee Friday" pick-up games usually take place on the football field, unless the field is pre-occupied. Around 20 people show up each week, allowing for a game with minimal substitutions. Members arrive at the field at around 5:30 p.m. to warm up and the game goes on from roughly 5:45 to 7 p.m. There are no quarters, no referees, just a bunch of students trying to relieve some tension off their over-stressed lives by way of a friendly competition.
Tournaments
Although most members of the club take the sports very casually and play it just for the fun and exercise, some members have formed a competitive team to play in tournaments in the past.
"Last year we went to a couple of tournaments and this year we are probably looking to do the same," Guo said.
Along with these out of school tournaments, MVUF also hosted a 16-team, single elimination, intramural tournament last Spring. It was not only for people part of the club but for any students in the school who either enjoyed playing the sport or just loved competition.
People came out to watch the games during lunch and it was a big success, encouraging people who got addicted to the sport to join the club. The club plans to host an intramural tournament again in the Spring, hoping to have even more success than they had last year.
The future of ultimate
Guo and other members of MVUF believe that ultimate should and will eventually become a school team sport, like football or basketball. But until then, they will continue to be ambassadors of the sport and strive to increase its popularity. Because to them, it truly is the ultimate sport.